College Football Pick: Utah Utes vs. UCLA Bruins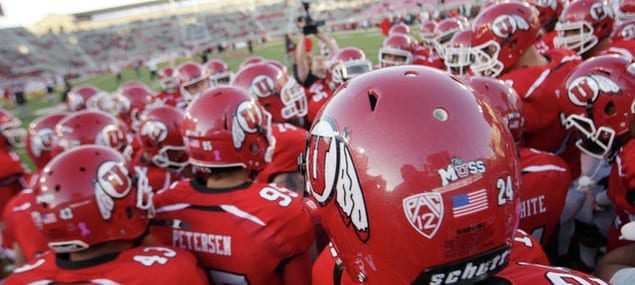 Utah Utes (5-2 SU, 4-3 ATS) vs. UCLA Bruins (2-5 SU, 3-4 ATS)
College Football Week 9
Date and Time: Friday, October 26, 2018 at 10:30PM EDT
Where: Rose Bowl, Pasadena, California
TV: ESPN
By: Loot Levinson, NCAA Football Handicapper, Predictem.com
Point Spread: UTAH -10/UCLA +10
Over/Under Total: 53.5
The Utah Utes battle the UCLA Bruins at the Rose Bowl this Friday in Pac-12 action. We like the Utes to cover the number on the road this week. Granted, the Bruins have righted the ship to some extent, with two straight wins. Amazingly, they are now one of four teams with two losses atop the Pac-12 South Division and suddenly have some hope moving forward despite a putrid 0-5 start in Chip Kelly's first season at the helm. But in Utah, they will be facing one of the Pac-12's better teams, as the Utes are coming off a dominant win over USC on Saturday. Let's see what we can come up with in this Utah vs. UCLA preview!
Is UCLA Revived?
Well, they have looked better as of late. They have been proftiable for sportsbooks all season until last week. And in last week's home-win over Arizona, they got some of the better QB play they've had this season thus far, with former Michigan starter Wilton Speight coming in and despite some early rust, leading the Bruins to a one-point win. The previous week, as touchdown underdogs, they beat Cal, 37-7, so the signs for a turnaround are positive. Then again, they beat a Cal and Wildcats team that was really struggling and last week's home-triumph over Arizona was only a one-point win. And now Speight has been reported out, leaving Dorian Thompson-Robinson as their top option. Injuries are really doing a number on this squad, a group that can ill-afford a disproportionate amount of setbacks.
Still, maybe Thompson-Robinson can get more out of this offense after looking pretty good against Cal in their upset 30-point win a few weeks back. Running back Joshua Kelley has been pretty good, with aerial production coming from Caleb Wilson and Theo Howard. 68 points combined in their last two games has been promising, But it bears mentioning that in Utah, they are facing one of the better defenses in the conference—a punishing group that has a solid system and coaching in place that recruits with the idea of a stout defense in mind.
The Utah "D"—Still Their Bread n' Butter
UCLA getting a spurt against Cal and Arizona is nice. It shows they're not flat on their backs yet. But Utah still stresses defense and despite recent positive developments on offense, it's still their main forte. They have the top-ranked defense in the conference across a lot of pertinent areas—best rushing defense, best total defense, best defense in the red-zone, best on third down, and the top-scoring defense. Their run-defense is actually the top-ranked group in the country. They make plays, get after the quarterback, and can really do it all. And UCLA has an offense that has been put in knots by teams like Fresno State and Colorado, so it's fair to wonder how many points they will be able to muster against what is likely the toughest defense they face all season. And it certainly wont be a surprise if we tune in on Friday and find the Utes "D" registering key stops, getting turnovers, punishing the Bruins, and registering a slew of three-and-outs.
On the Other Hand, You Have the UCLA "D"
You have bad defenses, then you have the UCLA defense. There seems to be a systemic failure on that side of the ball. Recent neglect in this area has created this dreary period in the history of this defense, where they are out-manned and out-performed at nearly every turn. Some athletic talent is present and they can make plays, with four picks, eight turnovers, and even a defensive score in their last two games. Against the better teams they play, however, it's a major liability. At the end of the day, it's hard to cover spreads when the team you have cannot stop the run or register a timely stop in spots like these. Sometimes, you just have to be in the fourth quarter, watch an opponent get first downs on every run, and then start to see how costly it is to have a defense this leaky on your ticket.
What makes that UCLA defense a real burden is the growth of the Utah offense in recent weeks. If it comes around to the level of the defense, Utah could be ready to take the step from respectable conference team to legitimate power. We are starting to see a balanced attack with growing playmakers, led by a rising force at QB in Tyler Huntley, a quarterback that can do a little bit of everything. He has 11 TDs through the air with 4 more on the ground.
Looking to make a lot of things happen, Utah back Zack Moss already has 753 rushing yards with 8 TDs. Britain Covey is a nice weapon. In the last three games since losing to Washington State, they have scored 40 in each game, while averaging a robust 485 yards per game. And they're doing this against teams like USC and Stanford. They're not beating Arizona by 1, they're beating them by 30. I think we're looking at a better group now than the one that lost to the Washingtons several weeks ago.
Lay the Points on the Road Favorite
UCLA winning two in a row sets up well for the purposes of catching a little extra value heading into this game for Utah backers. If the Bruins were 0-7 instead of 2-5 with some momentum, this number may have been a bit un-doable. At the end of the day, it's unclear how much beating Cal and Arizona means for the purposes of this matchup. Let's acknowledge, however, that this conference has been so wacky over the past few seasons that no result can really be that surprising.
It's in LA, a place where not a ton of Utes highlights are traditionally manufactured. It's just that so many matchup components seem to fall in the Utes' favor. They run the ball a lot and UCLA can't stop the run even a little bit. Guys like Huntley and Moss had field-days last season against this defense and are both better now. UCLA's offense with their humdrum air and ground attack sets up well for the Utah "D" to have a field day. I see Utah winning by a healthy amount. I'm taking the Utes.
Loot's Pick to Cover the Point Spread: I'm betting on the Utah Utes minus ten points.
<h4 class="widgettitle">NFL Picks</h4><!-- [et_pb_line_break_holder] -->
<div style="width:340px; margin: 0 auto;"><!-- [et_pb_line_break_holder] --> <a class="twitter-timeline" data-width="340" data-height="500" data-link-color="#008156" href="https://twitter.com/PredictemPicks?ref_src=twsrc%5Etfw">Tweets by PredictemPicks</a> <script async src="https://platform.twitter.com/widgets.js" charset="utf-8"></script><!-- [et_pb_line_break_holder] --></div>