[et_pb_dcsbcm_divi_breadcrumbs_module hide_homebreadcrumb="off" homebreadcrumbtext="Home" separator="sep-raquo" hide_currentbreadcrumb="off" homebreadcrumborientation="left" _builder_version="3.8″ fontsbreadcrumbs_font="Lato||||||||" fontsbreadcrumbs_text_color="#000000″ fontsbreadcrumbs_font_size="15px" fontsbreadcrumbs_line_height="16px" fontsseperator_font="||||||||" fontsbreadcrumblinks_font="||||||||" fontsbreadcrumblinks_text_color="#2567cf" custom_margin="25px|||" custom_margin_phone="30px|||" custom_margin_last_edited="off|desktop" custom_css_main_element="font-family: Helvetica Regular;" global_module="3641″ saved_tabs="all"][/et_pb_dcsbcm_divi_breadcrumbs_module]
College Football Pick: Wisconsin To Beat Season Win Total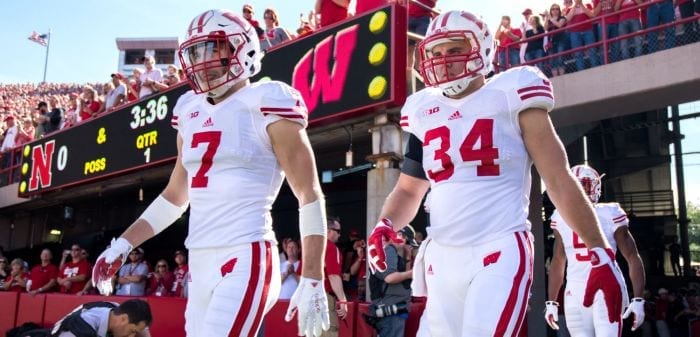 By Mike Mann
The pieces are in place for Wisconsin to again contend for a BCS Playoff spot. 5dimes Sportsbook has them at +2750 to win the championship. The bet we will focus on here is 10 season wins over under. 5Dimes has the over at 10 -115. Let's breakdown the 2018 team and get a head start in our College Football Betting.
The Schedule
The Badgers, who posted 56-11 record over the past fourteen years, benefit from the easiest ranked schedule in the Big Ten (99th) this year. Their lineup of games contains only two teams that ended last season ranked and just five that finished with a winning record. Three easy non-conference matchups greet Wisconsin to begin the year with Western Kentucky, New Mexico and BYU, a trio that should add to the Badgers consistent run of success against non-conference opponents. While the Badgers do face five conference away games, they are a perfect 11-0 under head coach Paul Chryst on the road in Big Ten play. They will certainly need to follow the same recipe for traveling success with road matchups against Iowa, Michigan and Penn State awaiting them, but the fact that they avoid both Ohio State and Michigan State cannot be understated. 
Offense
Ten starters are back for a Badgers offense that will for once be the strength of the team. They will operate behind what is considered the best offensive line in college football, It is full of future NFL talent in Beau Benzschawel, Michael Deiter, David Edwards and Tyler Biadasz. Running back Jonathan Taylor returns for his sophomore season after earning 1st Team Big Ten honors with 1,977 yards rushing to go with 13 touchdowns and an impressive 6.5 YPC average. The quarterback position is in good hands as junior Alex Hornibrook will again pilot the offense. He has posted an impressive 20-3 record as a starter throughout his career. For years Wisconsin has been known as a team that primarily relies on its defense, but this season should be an interesting one for Badgers as they will be relying on their well-rounded, battle-tested offense to lead the way. The importance of all that experience cannot be understated, especially when playing in a conference as well rounded as the Big Ten. There will be a couple close games on the schedule, and having players that have been through the process and know how to handle the pressure could easily be the difference between getting those additional wins needed to clear their over/under. 
Head Coach
Head Coach Paul Chyrst has been able to continue a recent run of success since arriving in Madison three seasons ago, having led his team to a 34-7 record and back-to-back trips to the Big Ten conference championship game. Just as impressive has been his ability to rally the troops after suffering defeat, as he has lead his team to a 6-1 record following a loss. Nine teams in the Big Ten had coaching or coordinator changes in the offseason and Wisconsin was fortunate to maintain their stability and not be one of those teams. With the talent around him and his consistent ability to get the best out of his players, it would be no surprise to see Chryst leading his team to their sixth trip in the past eight seasons to the Big Ten title game.
Defense
The offense may have a big edge in experience, but even with just four starters returning to the defense there is still plenty of talent. TJ Edwards and Ryan Connelly are both back at linebacker after leading the team in interceptions and tackles respectively a season ago. D'Cota Dixon, who beat out the fourth pick in the draft Denzel Ward to earn 1st Team All Big-Ten honors a season ago, returns to lead the defensive backfield while senior nose tackle Olive Salapolu hopes to be the strength of the front line. Even with the loss of starters, the ample talent throughout the defense is unquestionable and you can expect the unit to be one of the best in the conference again in 2018. Last season the team was able to finish in the top five in the four major defensive statistical categories, and while they may not be at exactly the same elite level as prior, they are still one of the few fortunate teams in college football that is able to reload on a yearly basis. 
Considering their schedule, ample talent and a proven winner in coach Paul Chryst, the Badgers are in prime position to contend for not only a conference but also a national championship. As a big favorite to win the Big Ten West they are a great value bet to win the conference with odds of +400. The biggest value for preseason Wisconsin betting comes with their over/under of 10 wins. Last season they were able to get through the regular season unscathed and with the strength of their roster and especially the way their schedule lines up, there is no reason to believe that they can't pull off the same feat again. With two mulligans built in and a highly manageable docket of games that avoids some of the best of the conference, you can get great valye bettnig the Badgers to cover the over 10 wins.
<div class="widget105"><!-- [et_pb_line_break_holder] --><h4 class="parlays">Best Parlays</h4><!-- [et_pb_line_break_holder] --><!-- [et_pb_line_break_holder] --><table id="parlay"><!-- [et_pb_line_break_holder] --> <tr><!-- [et_pb_line_break_holder] --> <th><span class="team"></span></th><!-- [et_pb_line_break_holder] --> <th>2 Team Parlay</th><!-- [et_pb_line_break_holder] --> <th>3 Team Parlay</th><!-- [et_pb_line_break_holder] --> <th>4 Team Parlay</th><!-- [et_pb_line_break_holder] --> </tr><!-- [et_pb_line_break_holder] --> <tr><!-- [et_pb_line_break_holder] --> <td><a href="https://affiliates.sportbet.com/tracking/Affiliate.aspx?idBook=2&mediaTypeID=220&AffUrlID=80&LandingPageID=55"><img src="https://www.predictem.com/wp-content/uploads/2018/06/sportbet-sm.png"></a></td><!-- [et_pb_line_break_holder] --> <td>2.74 to 1</td><!-- [et_pb_line_break_holder] --> <td>6.24 to 1</td><!-- [et_pb_line_break_holder] --> <td>13 to 1</td><!-- [et_pb_line_break_holder] --> </tr><!-- [et_pb_line_break_holder] --> <tr><!-- [et_pb_line_break_holder] --> <td><a href="https://record.bettingpartners.com/_5vfuDOH_H2wWPf2JTsWUjGNd7ZgqdRLk/1/"><img src="https://www.predictem.com/wp-content/uploads/2018/06/bovada_sm.png"></a></td><!-- [et_pb_line_break_holder] --> <td>2.64 to 1</td><!-- [et_pb_line_break_holder] --> <td>6 to 1</td><!-- [et_pb_line_break_holder] --> <td>12.3 to 1</td><!-- [et_pb_line_break_holder] --> </tr><!-- [et_pb_line_break_holder] --> <tr><!-- [et_pb_line_break_holder] --> <td><a href="https://record.webpartners.co/_jGZUKO3JWgwmunhzcKAZ62Nd7ZgqdRLk/1/"><img src="https://www.predictem.com/wp-content/uploads/2018/06/mybookie-sm.png"></a></td><!-- [et_pb_line_break_holder] --> <td>2.64 to 1</td><!-- [et_pb_line_break_holder] --> <td>6 to 1</td><!-- [et_pb_line_break_holder] --> <td>12 to 1</td><!-- [et_pb_line_break_holder] --> </tr><!-- [et_pb_line_break_holder] --></table><!-- [et_pb_line_break_holder] --><div class="widget-footer"><a href="https://www.predictem.com/best-sportsbooks/parlays-odds/">See all Sportsbook Parlays</a></div><!-- [et_pb_line_break_holder] --></div><!-- [et_pb_line_break_holder] --><!-- [et_pb_line_break_holder] --><!-- [et_pb_line_break_holder] --><style><!-- [et_pb_line_break_holder] --> #parlay {border-collapse: collapse;<!-- [et_pb_line_break_holder] --> width: 100%; border: 0px;<!-- [et_pb_line_break_holder] --> font-size: 14px!important;}<!-- [et_pb_line_break_holder] --> #parlay td, #parlay th {<!-- [et_pb_line_break_holder] --> border: 0px;<!-- [et_pb_line_break_holder] --> padding: 8px;<!-- [et_pb_line_break_holder] --> text-align: left;}<!-- [et_pb_line_break_holder] --> #parlay th {<!-- [et_pb_line_break_holder] --> padding-top: 5px;<!-- [et_pb_line_break_holder] --> padding-bottom: 5px;<!-- [et_pb_line_break_holder] --> font-weight: bold;<!-- [et_pb_line_break_holder] --> line-height: 14px;<!-- [et_pb_line_break_holder] --> text-align: center;<!-- [et_pb_line_break_holder] --> color: #000;}<!-- [et_pb_line_break_holder] --> #parlay tr {border-bottom: 1px solid #edeef0;}<!-- [et_pb_line_break_holder] --> .team {font-size: 16px;}<!-- [et_pb_line_break_holder] --></style>