College Football Picks: Cal at Oregon 10/5/19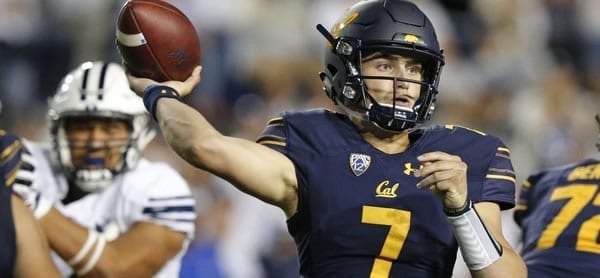 California Golden Bears (4-1 SU, 2-3 ATS) vs. Oregon Ducks (3-1 SU, 2-2 ATS)
College Football Week 6
Date and Time: Saturday, October 5, 2019 at 8PM EDT
Where: Autzen Stadium, Eugene, Oregon
TV: Fox
Point Spread: CAL +18/ORE -18
Over/Under Total: 47
The Cal Golden Bears come to Eugene for a big Pac-12 showdown with the Oregon Ducks at Autzen Stadium on Saturday. Oregon has been able to bounce back from a painful week one loss with three straight wins, which led to them having last week off. As they were at home resting, Cal was in a war at home, falling to Arizona State, 24-17, losing their unbeaten record in the process. Will the Ducks continue putting together an excellent conference resume? Or can Cal rebound from the loss and some injury setbacks to score an upset or at least hang in there to make a run at the spread?
Does Last Season Tell a Story?
Cal didn't just wake up this season with a good defense, as that was something they built on last season when they started playing well on that side of the ball. It didn't really work previous season against the Ducks, however, and that was in Berkeley, with the Ducks putting up 42 points. Oregon QB Justin Herbert was very efficient on the day, going 16-for-22 passing with a pair of TD throws. He relied heavily on a running-game that returns two backs who feasted on this Cal bunch with CJ Verdell and Travis Dye each going over 100 yards that day. Cal quarterbacks were awful on the day, throwing four picks and not making much happen aerially. Still, it's worth mentioning that the defense scored two of those Oregon TDs, perhaps painting the Cal "D" in a better light for the purposes of this matchup. But Oregon's offense and playmaking defense were major matchup issues at Cal last season, and they might resurface this week in Eugene.
The Power of Rest
We're dealing with a lot of youth and it's still very early in the season, making fatigue less of an issue. Still, Oregon got last week off. And that was following a pretty cushy three-game run against Nevada, Montana, and a Stanford team that hasn't fired yet in 2019. After week one, Oregon looked to be woozy after a crushing loss to Auburn where they almost seemed to give the game away in what would have been a big win. But it's been smooth sailing since with three straight walkovers, and you follow that with a week off, and that could be an edge. Contrast that with a Cal team that has already had to play on the road at Washington and Ole Miss, with this already being their third really tough conference game, whereas Oregon had one easy conference win. Oregon has been at home all season besides their road-win over Stanford. There's just something to be said at this level when a team is dug in at home, rested, in their stomping ground, facing a team they matched up very well with last season. That's especially true when that opponent is coming off a punishing game where their starting QB hurt his shoulder and had to be taken out of the game.
Which Defense Can Thrive in this Spot?
The Cal defense has gotten a lot of attention. Maybe it's the plot-twist that makes it so notable. Sure, they're a rising "D" and that alone will get attention in this conference. But it's hard to remember a Cal team that even played much defense until now. In recent memory, they were the Hawaii of the Pac-12, all aerial offense and wish for the best as far as the rest of it goes. So when a program like that starts stringing together some great defensive performances, it gets noticed. But perhaps people aren't thinking about the Oregon "D" and what they can do. Even in their one loss, where they showed no late-clutch, they were still really stiff for most of the game. And while Nevada, Montana, and even Stanford aren't well-functioning offenses at this level right now, allowing a combined 15 points in those three games shows some spark. Last season, Cal saw all too well what this playmaking Oregon defense can do and against this secondary, led by Jevon Holland and his two picks, this Cal offense look for a lot better results.
But the Cal defense, a much-ballyhooed unit, has shown some signs of fraying already. Granted, it didn't manifest until last week, but the "D" seems to melt late when under pressure. Even with the offense sputtering, the Cal "D" was going to be needed to beat ASU, and their resistance waned throughout the game. There are certainly some difference-makers on this unit, like ever-active linebacker Evan Weaver and playmaking safety Ashtyn Davis, who doubles as a dangerous return man. But watching ASU and Eno Benjamin run on this group last week makes you wonder how Cal will fare with an Oregon run-game that had two 100-yard runners against this defense in '18.
More NCAAF Picks: Michigan St at Ohio St Point Spread Pick >>>
Where the Cal Offense Stands
This was an offense that was trying hard to eke out some progress, and it looked like they had finally gotten somewhere with Garbers and Company. With Christopher Brown, Jr. and Marcel Dancy, the run-game was showing signs of life and Garbers was gaining comfort while working with good targets like Kekoa Crawford, Nikko Remigio, and guys like Jordan Duncan and Jake Tonges. But some of these guys are banged-up. Devon Modster, a good athlete and former QB at UCLA, didn't show much in week one. He had 23 yards on four completions with a costly pick, to boot. He looked capable enough back there when they were running the ball with some success late in the first half. Otherwise, it was a struggle. Gaining a foothold on offense was elusive. The front-line, at times, was pushed around. And late, the offense melted under the pressure of a close, tough game.
Take the Points on the Road Dog
This is a crazy conference where any team can win on a given day. I think the contrast between the two squads creates imagery that is too stark and might mislead some people. Granted, the dichotomy is jarring—a rested Oregon team on the heels of three easy wins against a weary and battered road Cal squad that is dealing with injuries. All shakes out for an Oregon blowout, right? And while on the surface that might be sound reasoning, it's a type of logic that doesn't play in the Pac-12. I think Cal can thrive in this role after falling flat last week as the ranked favorite. I think Oregon wins, but finds a way to not put that much distance between themselves and Cal. I'll take the points.
Loot's Pick to Cover the Point Spread: I'm betting on the California Golden Bears plus 18 points.
100% Free Play up to $1,000