College Football Season Win Bets – Conference Best Bets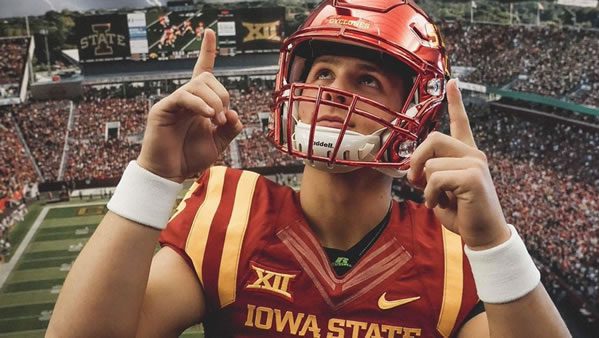 The 2021 college football season is thankfully now just over a month away, and below, you will find some preseason bargains that are worth taking advantage of on Bovada, with one team highlighted from each conference plus a bonus pick for each of the Power 5s.
Georgia Tech Yellow Jackets
Conference: ACC Coastal
2021 Over/Under: 5 wins
Geoff Collins enters his third year as the Georgia Tech head coach, and the pressure is on for a turnaround in Atlanta. The Yellow Jackets ended their last two seasons with just three wins in each, which was the first time they have finished consecutive years with three or fewer victories since the late 80s.
Georgia Tech will start their 2021 season with a 2-0 record thanks to easy matchups against Northern Illinois and Kennesaw State at home at Bobby Dodd Stadium. Unfortunately for the Yellow Jackets, things get a lot more difficult from there, as they miss both Syracuse and Louisville from the ACC Atlantic but instead get matchups against Clemson and Boston College. They also have the disadvantage of getting their two best chances at conference wins (Duke and Virginia) on the road while also ending their season with non-conf matchups against powerhouses Georgia and Notre Dame.
With additional games against North Carolina, Pittsburgh, Virginia Tech, and Miami, I don't see much of a chance of Georgia Tech getting the necessary wins to clear the five-win over/under mark and will be making them go under their total. It also appears to be a smart strategy when betting the Yellow Jackets during the season to only back them versus the number when you think they are going to win the game outright, as they are 21-2 against the spread in their last 23 victories and 2-21 against the spread in their previous 23 losses.
PICK: Georgia Tech under five wins
---
ACC Bonus Pick: Boston College Eagles
BC has gone 22-4 in their last 26 games regular-season games against unranked non-conference opponents and is in great shape to add to that record with three easy wins lined upstart to the year against Colgate, UMass, and Temple, followed by a matchup against Missouri that they have the benefit of hosting at Alumni Stadium. They also avoid both North Carolina and Miami from the ACC Coastal while also getting four of their toughest conference games (NC State, Virginia Tech, Florida State, Wake Forest) at home.
PICK: Boston College over seven wins
---
SMU Mustangs
Conference: American
2021 Over/Under: 6 wins
SMU is still searching for their first AAC championship, but the 2021 season appears to be their best chance yet to get there thanks to 18 returning starters, a strong head coach in Sonny Dykes, and a schedule that lines up well for success.
The Mustangs should begin their season with a 3-1 record with wins expected against Abilene Christian, North Texas, and Louisiana Tech and a likely loss at TCU to end September (though they did upset the Horned Frogs on the road in 2019). The only conference game they will definitely not be favored is on the road against Cincinnati, but the odds are certainly in their favor in AAC matchups against South Florida, Navy, Tulane, and Tulsa. The remaining games are at Houston and Memphis, along with a home matchup against UCF that could end up being the deciding factor of whether or not the Mustangs can claim a spot in the conference title game that has eluded them thus far.
How they finish their season will determine how far that SMU can go, which is something they need definitely work on having gone just 8-20 in their last 28 games in November. All that matters for this bet though is them clearing the six-win plateau, which I think they should do with little problem and make for one of the better preseason investments available.
PICK: SMU over six wins
---
Iowa State Cyclones
Conference: Big 12
2021 Over/Under: 9.5 wins
The Cyclones head coach Matt Campbell has won Big 12 Coach of the Year honors three times in the past four seasons. He returns a stacked lineup that includes two Heisman candidates (quarterback Brock Purdy and reigning Big 12 Offensive Player of the Year Breece Hall), a wide receiver star in the making in 2020 Big 12 Offensive Newcomer of the Year Xavier Hutchinson, and the most recent winner of the Big 12 Defensive Player of the Year (linebacker Mike Rose).
As pointed in an expansive team preview, you can find a link for on the side of this page of the five games that Iowa State has against teams expected to begin the season in the top 30, four of them (Iowa, Oklahoma State, Texas, and TCU) they get at home where the Cyclones have gone 16-4 in their last 20 games. The road test against Oklahoma looms large in the second to last week of the season, but despite the likelihood of being a touchdown+ underdog against the Sooners, all hope is certainly not lost, especially when you consider they have beaten OU twice in the past four years, including a 36-31 upset as a 31-point underdog in Norman in 2017.
Iowa State has never finished a season in school history with double-digit wins, but I expect that streak to come to an end in 2021 and believe they are a great bet to exceed their expected 9.5-win total, along with Breece Hall becoming the first Cyclones player ever to win the Heisman Trophy at a bargain price of 40-1.
PICK: Iowa State over 9.5 wins
---
Big 12 Bonus Pick: Baylor Bears
Baylor should start their season with a 3-0 record thanks to games at home against Texas State, Texas Southern, and a road trip to conference bottom-dweller Kansas. Unfortunately for the Bears, from that point on, things get a lot more difficult, and they will likely find themselves underdogs in their remaining nine games on the schedule. Baylor has gone just 11-28 in their last 39 Big 12 games that don't involve Kansas, and I believe that sort of lack of success will continue this season, and they will end up not exceeding their win projection.
PICK: Baylor under 5.5 wins
BET YOUR 2021 COLLEGE FOOTBALL FUTURES FREE BY SCORING A 100% BONUS UP TO $300 AT
MYBOOKIE
(MUST USE PROMO/BONUS CODE PREDICT100 WHEN REGISTERING!)
---
Ohio State Buckeyes
Conference: Big Ten East
2021 Over/Under: 11.5 wins
In the three years since Ryan Day became head coach in Columbus, his Buckeyes have posted a record of 33-3, won three Big Ten titles, and last season made it to the BCS Championship before falling to Alabama. With the way their schedule is set up this year, they are in great shape to make it four straight seasons of dominant success under Day.
Ohio State avoids both Wisconsin and Iowa from the Big Ten West and gets their two most difficult matchups (Oregon, Penn State) at home, where Ryan Day has never lost a game, and the team has gone 57-3 over their last 60 matchups. The Buckeyes have dominated the Big Ten in recent history (74-5 last 79 conference games), and it certainly shows in their current streaks against this years' toughest opponents; Minnesota (11 straight wins), Indiana (26 straight wins), Penn State (8-1 last nine games), Nebraska (8-1 previous nine games), Michigan State (5-0 last five games, average win in last four by average of over 30 points per game) and Michigan (15-1 last 16, eight straight wins).
Picking the Buckeyes to go over their win total of 11.5 leaves them no room for any mishaps, but with the way the schedule is lined up for them, I don't see that being any sort of issue and behind a coach that is 28-1 in regular-season games I believe Ohio State is a great bet to exceed even their already lofty expectations.
PICK: Ohio State over 11.5 wins
---
Big Ten Bonus Pick: Maryland Terrapins
The Terps have finished with a losing record in six straight seasons, and thanks to a tough schedule awaiting them in 2021, I believe that string of futility is going to continue for a seventh. Maryland has five conference road games on the docket, including trips against Illinois and Rutgers, which are their best chance at Big Ten wins. This is not a good sign for a team that has won just three conference road games over the past four seasons while also posting an 8-23 record in their last 31 away games and a 12-38 mark in their last 50 games against the Big Ten. Combined with a non-conference game against West Virginia and drawing Iowa from the Big Ten West to go along with tough matchups against Indiana, Penn State, and Michigan, I just don't see a chance of Maryland getting the necessary seven wins to reward their backers.
PICK: Maryland under six wins
---
UAB Blazers
Conference: Conference USA West
2021 Over/Under: 7.5 wins
Since UAB returned in 2017 after a two-year hiatus from the world of college football, they have posted four consecutive winning seasons that include two C-USA championships and their first-ever bowl victory. They are favored to win the conference again going into this season, and with an expected win total of just 7.5, it's looking like there is a Blazers bargain to be found in Birmingham.
UAB should go 2-2 in their non-conference games, with a guaranteed win against FCS Jacksonville State to start their season, a heavily expected loss at Georgia in week two, and a likely split between a road game at Tulane and home matchup against up-and-coming Liberty. The conference schedule is where they should be able to make their mark, as they have during their recent run of success that has seen them go 24-6 in their last 30 games against C-USA opponents. North Texas, Southern Miss, Rice, Louisiana Tech, and UTSA can all be considered wins, which combined with the two expected non-conf victories would have them needing just one other victory to go over their total.
Matchups against Florida Atlantic, Marshall, and UTSA will be their toughest C-USA opponents, but getting FAU (and also Liberty) at home gives them a definite advantage considering UAB has gone 21-1 in their last 22 games in Birmingham.
The Blazers have resided at or near the top of the Conference-USA for the past three seasons, and there is no reason to believe that they can't continue that success in 2021 as well, especially needing just eight wins to cash in for bettors.
PICK: UAB over 7.5 wins
---
Massachusetts Minutemen
Conference: Independent
2021 Over/Under: 1.5 wins
UMass has a record of 19-81 since joining the FBS ranks in 2012 and is currently in the midst of a 1-17 stretch over their past 18 games. They enter this year with an average ranking of 129th by preseason prognosticators, but with an expected win total of just 1.5 games, there is still definite value to be found in Amherst.
There are seven games on their schedule that can be marked as losses right away; at Pittsburgh, Boston College, at Coastal Carolina, at Toledo, at Florida State, at Liberty, and at Army. That leaves five games left, with matchups against Eastern Michigan, Connecticut, Rhode Island, Maine, and at New Mexico State. They benefit from getting four of those games at home, where 10 of their last 12 victories have taken place, especially with two of those against local FCS opponents (URI and Maine) and another against a UConn team that is ranked right with UMass in the basement bottom of the NCAA. Counting on the Minutemen to show up on the road is never a wise investment (they are 2-26 in their last 28 away games), but if ever a team they could grab a travel victory against it would be New Mexico State, the only team ranked lower than UMass and one that has gone just 1-15 in their last 16 games against FBS opponents.
There is only room for improvement in Amherst, and I expect third-year coach Walt Bell to at least double his teams' victory output over the past two seasons and clear the minimal 1.5 expected win total.
PICK: UMass over 1.5 wins
---
Akron Zips
Conference: MAC East
2021 Over/Under: 2.5 wins
Akron has gone 1-22 over their last 23 games, and head coach Tom Arth is just 1-17 since taking over for Terry Bowden after the 2018 season.
The only game Akron figures to be favored in this season is at home in week three against lowly Bryant. The Zips don't get Mac West bottom dwellers Northern Illinois, Eastern Michigan, and Central Michigan on their schedule, and their best chance for conference victories (Bowling Green and Western Michigan) are both on the road.
Getting victories in 2021 was going to be a challenge already thanks to the tough schedule alignment, but more importantly, they also may have already lost their best player for the season with their top offensive threat, running back Teon Dollard, currently suspended due to a felony arrest on weapons charges back in March.
PICK: Akron under 2.5 wins
BE SURE TO BOOKMARK OUR
NFL PICKS PAGE
SO YOU CAN GET FREE PICKS EACH WEEK OF THE FOOTBALL SEASON!
---
Colorado State Rams
Conference: Mountain West-Mountain
2021 Over/Under: 4.5 wins
The Rams were able to get into a bowl game for five straight seasons between 2013-2017 but have since fallen on hard times, posting just an 8-20 record over the past three years. Head coach Steve Addazio enters his second season at Fort Collins, but despite getting 19 starters back may still be a year away from seeing success thanks to a difficult schedule that does the Rams no favors.
CSU opens with non-conference games against South Dakota State and Vanderbilt at home, followed by road trips to Toledo and Iowa. Just because South Dakota State plays at the FCS level does not mean that they can be taken lightly, especially considering they played for a National Championship last year and are expected to be one of the better teams at their level again in 2021. Vandy is the worst team in the SEC but, much like the Rams, has a lot of returning starters back and will need every win they can get considering they won't come easy for the Commodores in the conference.
I'm expecting a 1-3 non-conf record for the Rams to start the season, and things don't get much easier from there. They draw the two best teams from the MW-West in Nevada and San Jose State and get their three best chances for conference victories (New Mexico, Utah State, and Hawaii) all on the road. There is a legitimate chance they will not be more than a 3-point favorite in any game against an FBS opponent this season, and I will definitely be going with the Rams under for the season.
PICK: Colorado State under 4.5 wins
---
Colorado Buffaloes
Conference: Pac-12 South
2021 Over/Under: 4.5 wins
Karl Dorrell won Pac-12 coach of the year honors in 2021 after leading the Buffaloes to a surprisingly successful 4-2 season that included their first trip to the postseason in four years. With a tough schedule awaiting them, along with questions at quarterback and only three senior starters, it's not looking like there will be back-to-back bowls in Boulder.
Colorado has the misfortune of drawing both Oregon and Washington from the Pac-12 North while also getting tough non-conference matchups with Texas A&M and Minnesota. Home games against Arizona and Oregon State are likely the only times they will be favored in their Pac-12 slate, so the Buffaloes will instead have to look for success on the road with five of their nine conference matchups away from Folson Field. Unfortunately, this is not something that has been a particular strength of late, with Colorado having gone just 4-11 in their last 15 road games.
PICK: Colorado under 4.5 wins
---
Pac-12 Bonus Pick: USC Trojans
USC avoids both Oregon and Washington from the Pac-12 North and gets both Utah and Stanford at home, where they have gone 23-5 in their last 28 games. The Trojans should be favored in 10 or 11 games this season and also benefit from getting a bye week to prepare for their toughest matchup against Notre Dame in South Bend. USC has won ten straight regular-season games and has gone 12-3 in their last 15 conference matchups, and I believe they are well in line to add to both runs of success in 2021.
PICK: USC over 9.5 wins
---
South Carolina Gamecocks
Conference: SEC East
2021 Over/Under: 3.5 wins
Shane Beamer takes over as the head coach in Columbia with the lofty task ahead of attempting to right the ship that is South Carolina football. The Gamecocks have won just six games over the past two seasons, their lowest back-to-back victory total since the late 90s, and will hope that the new sideline leader in Beamer can offset his lack of experience (he has never been a head coach at the FBS level) and inject some much-needed energy into the SC football program.
South Carolina should start their 2021 campaign with a 2-0 record thanks to a home game against FCS Eastern Illinois and a road matchup with East Carolina. That should help Luke Doty establish momentum in his first season at quarterback, along with giving coach Beamer time to get more acclimated to his new role as well. After that, the Gamecocks should find themselves favored two more times with home games versus Troy and Vanderbilt, which if they were able to hold the line in their four favorited matchups, it would alone put them over their expected 3.5-win total.
South Carolina may not appear to have much of a chance of taking down Georgia or Texas A&M on the road or Clemson at home to end their season, but the Gamecocks have been plenty viable when getting points of late, with nine wins as an underdog over the past five seasons including upsets against #15 Auburn a season ago and at 3rd ranked Georgia in 2020 as a 21-point underdog.
PICK: South Carolina over 3.5 wins
---
SEC Bonus Pick: Texas A&M Aggies
The Aggies avoid both Georgia and Florida from the SEC East and get their toughest opponent (Alabama) at home, where they have gone 16-3 over their last 19 games. Jimbo Fisher is entering his fourth season as the Aggies head coach, and if the team can get the needed performance from whoever wins their quarterback competition, he could be in line to possibly match his success in Tallahassee when his FSU team took home a National Championship in his fourth year.
PICK: Texas A&M over 9.5 wins
---
Coastal Carolina Chanticleers
Conference: Sun Belt West
2021 Over/Under: 10 wins
CCC joined the FBS ranks in 2017, and it only took until their fourth season for them to make their mark in college football. The Chanticleers (it's a rooster) went 11-1 in 2020 and were an overtime bowl loss against Liberty away from ending their campaign undefeated.
With 19 returning starters back, including the reigning Sun Belt Offensive Player of the Year (Grayson McCall) along with Coach of the Year (Jamey Chadwell), there is no reason to believe a repeat performance isn't in the cards in 2021. The Chanticleers avoid Louisiana from the Sun Belt West and are guaranteed to be favored in at least 11 of their 12 games, with their road matchup against Appalachian State the only possible chance of an underdog situation. They have certainly found recent success in such a position, having gone 5-0 last year in games in which they weren't favored to win.
Coastal Carolina finished last season ranked 14th, and the way their roster and schedule line up for 2021, there is no reason to believe that they cannot duplicate or even exceed their previous performance.
PICK: Coastal Carolina over ten wins
STOP WASTING YOUR HARD EARNED CASH! STOP BETTING ON GAMES AT -110 ODDS! START LAYING ONLY -105 TODAY AT
BAS!
---