Colorado Buffaloes vs. USC Trojans Odds, Analysis, Top Bet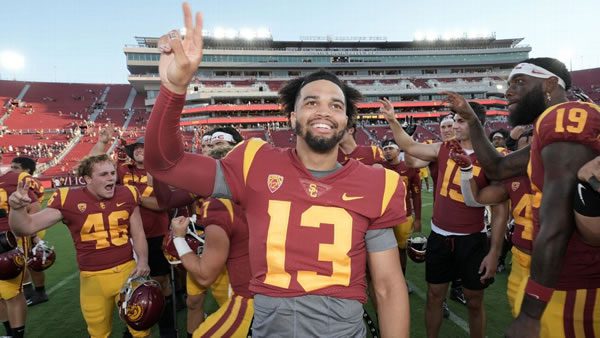 Colorado Buffaloes (1-8 SU, 2-7 ATS) vs. USC Trojans (8-1 SU, 5-4 ATS)
College Football Week 11
Date and Time: Friday, November 11, 2022 at 9:30PM EST
Where: Los Angeles Memorial Coliseum, Los Angeles, California
TV: Fox Sports One
Point Spread: COLO +34.5/USC -34.5 (Bovada – They're live betting platform is incredible! You can see everything they offer all on one page! They'll give you a 50% bonus for trying them too! It's where we bet!)
Over/Under Total: 66
The Colorado Buffaloes take on the USC Trojans in a Friday night Pac-12 showdown from the L.A. Coliseum. On the surface, it does indeed look to be a mismatch, with the once-beaten Trojans licking their chops with the 1-8 Buffaloes coming into town. Last week, the Trojans beat Cal, 41-35, with a late Cal surge making things a little uncomfortable late after the Trojans led 34-14 going into the 4th quarter. Colorado, meanwhile, got smashed by the Ducks, 49-10, last week and now faces another tough conference showdown on Friday.
Bad Spot for Colorado?
It almost goes without saying that a one-win team might be facing a gloomy outlook on the road against their 8-1 foe. But could it even be worse than what it seems on paper? It's been an excruciating season for the Buffaloes, and sure, they're not accustomed to much success in this conference, but it got really ugly with a mid-season coaching firing and a slew of unsightly results. Now they are taking on a USC team that is in a sort of cushy spot where they are facing Arizona, Cal, and now Colorado in consecutive weeks. Contrast that with a Colorado team that is in the midst of a grueling part of the season, facing Oregon and Southern Cal in two straight games they are ill-equipped to handle. You might be looking at a Colorado team that is even more ragged than normal.
Can Colorado Benefit from USC Apathy?
One can almost sense the Trojans are cruising a little bit, more focused perhaps on what lies ahead, which could be some big things. Against their last two opponents, the heavily-favored Trojans were palpably less urgent, allowing both Arizona and Cal to hang around and make it close, not coming close to covering the spread on either occasion. And granted, those were against some lower-end conference teams, just like what Colorado is. But in watching these teams recently, one gets the impression that Arizona and Cal are a lot more capable of hanging in there with a good team here and there than the Buffaloes. Still, two of the more mildly-impressive Buffaloes' showings this season have been in the last month—an easy cover against ASU and a win over Cal. And maybe holding a lopsided loss against Oregon against them too much misses the point, but it also suggests at this level, it's going to be tough sledding for the Buffaloes.
The Problem with Colorado this Week
I'm not sure how one can justify the stance that this equation will get better as the season carries on. There's just nothing they do well. There are bad teams, and usually, they'll have an aspect of something they do well, but it's pretty much 360 degrees of ineptitude on this squad. You see USC having trouble in defending the pass, but what can Colorado quarterback JT Shrout do about it? They can't run the ball, and they're reduced to scraps on offense. The other side of the ball isn't much more promising as they face the daunting prospects of curtailing USC quarterback Caleb Williams and RB Travis Dye with a ramshackle defense that generally gets exploited.
One can imagine USC coach Lincoln Riley using this week as a time to get back on point. After two weeks of somewhat close calls against teams in games in which they were big favorites, there's some bleeding going on. The injuries team-wide are pretty deep, and this is a bad time of the season to start ebbing. There are big things that lie ahead, with conference honors and maybe even something more-meaningful being on the table. They know they don't need to be shot from a cannon at home to dispatch a team like Colorado at the Coliseum. But given the last few weeks, might they have a little more of an edge than they otherwise would?
More Picks: Fresno St. at UNLV betting analysis and recommended bet for their Week 11 game
Only Hope for Colorado
After allowing a combined 115 points in their last three games, even Colorado might be able to hit the scoreboard a few times against this USC defense. If that becomes several times, covering this jumbo number might be far from a breeze. You might end up needing a USC team that is far ahead, still needing to press the issue for you to cover this spread. There is talent on this Colorado tram, even if it doesn't surface often. Guys are still jockeying for positions and trying hard out there. If the USC defense is, in fact, having trouble camouflaging their shortcomings and personnel losses, that offers a window of success for any conference team, even one in the dumps like Colorado. This recent three-game stretch of the Trojans suffering on defense hasn't exactly come against the more supreme offenses of the Pac-12. What's it realistically going to take from Colorado to make covering this number a major feat? 14 points? 17? That doesn't seem so crazy against what we've seen from this USC "D" recently.
Take the Points
It's not that hard to picture USC putting up the 63 or 70-point total that would put them in a good spot to cover the spread. I just think more of a 42 or 49-point output might not be enough. These jumbo spread games can be tricky when taking the dog, being that a blowout is always on the table in games like this. And it does not register much of a surprise when a team favored by 34.5 wins by 50. That's a distinct possibility. This Colorado team might just not be up for this in any kind of tangible form. I just can't lay 34.5 points with this USC defense in conference play right now, however doable it might appear. I'll take a leap of faith on the Buffaloes this week. I'm taking Colorado and the points.
Loot's Pick to Cover the Point Spread: I'm betting on the Colorado Buffaloes plus 34.5 points. Bet your Week Eleven college football predictions for FREE by scoring a 100% real cash bonus up to $500 when you enter bonus code PREDICTEM on the "Special Offers" page after you've made your deposit at Everygame Sportsbook, the oldest betting site on the internet! ROCK SOLID!