Cotton Bowl Picks: Memphis vs. Penn State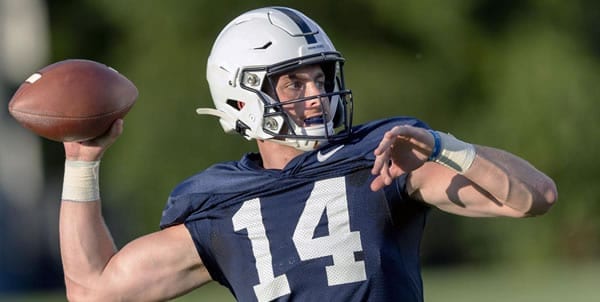 Memphis Tigers (12-1 SU, 8-5 ATS) vs. Penn State Nittany Lions (10-2 SU, 6-6 ATS)
When: Saturday, Dec. 28, Noon
Where: AT&T Stadium, Arlington, Texas
TV: ESPN
Point Spread: MEM +7/PSU -7 (MyBookie)
Total: O/U 60.5
Outlook
The obligatory Group of 5 berths in the New Year's Six games is here, and once again, it involves the champion of the American. This time, however, it's Memphis, not Central Florida, and the Tigers are going up against a Penn State squad that didn't exactly finish the year strong, losing its final two road games to finish with a second-place finish in the Big Ten East and just out of reach for the Rose Bowl, as that bid went to Wisconsin.
That gives us a pair of teams with very different potential mindsets for this game. On the Memphis side, it's a chance for the Tigers to prove itself as an elite squad that can play with the big boys. On the Penn State side, it's a question of whether the motivation will be there. In this situation, it's not the most uncommon thing for a top team to lose interest in a lesser bowl game than it could have gotten (see: Georgia, 2018, or Alabama, 2009) and end up producing a less-than-stellar effort that leads to a loss. If the Nittany Lions are ready to go, they'll end up with a victory. If not, the potential is there for a Memphis upset.
How the Public is Betting the Memphis/Penn State Game
The line has held at 7, and the total has increased a point since the opening at 59.5.
More Picks: OU/LSU Prediction Against the Spread >>>
Injury Concerns
Memphis: Tight end Joey Magnifico has an unspecified injury and is questionable while running back Patrick Taylor is questionable with an ankle issue.
Penn State: Running back Noah Cain is probable with an undefined issue while running back Ricky Slade is dealing with a disciplinary issue and offensive lineman Michal Menet has an undisclosed issue, making them both questionable. Despite a leg issue, quarterback Sean Clifford is expected to play.
When Memphis Has the Ball
Give the Tigers something to work with, and they will take full advantage. When you try to close off the running lanes, Brady White can pick you apart by going to Damonte Coxie and Antonio Gibson. Coxie is the big yardage weapon for the Tigers, while Gibson managed eight touchdowns on just 32 catches. Memphis averages more than 40 points a game and topped 28 in 11 consecutive games, underscoring just how deadly its big-play offense can really be.
Want to stop the passing game for the Tigers? Kenneth Gainwell might have something to say about that, as he gained 1,425 rushing yards and found the end zone 12 times for Memphis this year. He's a true bell-cow back, and the Tigers don't have a lot of depth behind him. Gainwell carried the ball 222 times this year, and the next man behind him, the injured Patrick Taylor, had just 70 trips with the ball this year.
This is an offense that is confident in its abilities and will take advantage of whatever is available to it, making the Tigers a nightmare to game plan for. However, there's an X-factor here: Mike Norvell is no longer on the sidelines for Memphis, having departed to take over Florida State. Ryan Silverfield is the new man in charge for Memphis in this game, and there's some good news for him: the two squads that had already played with interim leaders at the time of this writing, Florida Atlantic and Appalachian State, both won their bowl games. Florida Atlantic convincingly hammered SMU, while Appalachian State started in a fog. Neither one was facing an opponent of Penn State's caliber, and a slow start might be devastating here.
When Penn State Has the Ball
Penn State has been kind of a weird team on offense. Journey Brown was far from 100 percent in the first 2/3 of the season, barely touching the football in the Nittany Lions' first eight games, all of which were wins. In his final four games, he went over 100 rushing yards three times — and the Nittany Lions managed to lose one of those games. When Brown fails to record 100 yards rushing, Penn State is actually 8-1, and the one was Ohio State.
The Nittany Lions need to have a big game from Sean Clifford if he plays. He missed the Rutgers game, and the Penn State offense struggled to get going without him. Luckily for the Nittany Lions, the Scarlet Knights were so incompetent that their offensive struggles ended up meaning nothing, but Penn State has to have its offense ready from the beginning against Memphis because the Tigers actually know what they're doing on offense.
Betting Trends
The bowl season has not been kind to Memphis, nor has the month of December. The Tigers have failed to cover in any of their past four bowl games, and they're just 1-10 in their previous 11 games in the final month of the year. Plus, Memphis hasn't responded well to being an underdog in a bowl. The Tigers have failed to cover in each of their past five bowls when they've been getting points. In contrast, Penn State's motto might as well be a December to remember, as the Nittany Lions have covered in their past four December games. Plus, Penn State has tended to be a great bounce-back team, covering in seven of their past eight after an ATS loss.
For the totals, count on points. Memphis has hit the over in 10 of its last 12 games as an underdog, and Penn State has gone over in eight of its past nine non-conference games, including four of five in the bowl season.
Weather Report
Weather won't matter here, as the roof of JerryWorld will be closed should the weather in the Dallas Metroplex be less than ideal for football.
Dan's Pick to Cover the Spread
If not for what happened last year, this would be an ideal position to expect Penn State to pull a California and lose a game outright that it should win by double digits. After all, the Nittany Lions not only missed out on the playoff, but they missed out on the Big Ten's traditional Rose Bowl berth. But there are two reasons why I don't think that's going to affect Penn State. First, the Nittany Lions have only been a Big Ten school since 1992. The Rose Bowl is important, of course, but it doesn't mean as much in Happy Valley as it does to a school like California or Ohio State or Michigan, because that game has only been part of Penn State's tradition for the past quarter-century. When Cal pulled its no-show in the 2004 Holiday Bowl, the Golden Bears hadn't been to the Rose since 1958, and it was a massive deal to Cal fans. That's not the case here.
Second, Penn State knows full well what it's like to not show up in a bowl game. Last year, the Nittany Lions neglected to show up for three quarters and found themselves down 27-7 to a Kentucky squad that it had no business losing to. Penn State managed a late comeback, but too late, as it took a 27-24 loss to the Wildcats that put a damper on what had been an excellent season.
Losing to Kentucky is one thing. Losing to Memphis, a school from a lesser league would really ruin Penn State's year. Clifford should play, and as long as he's out there, this Penn State team has too much talent to lose to the likes of Memphis. I'm trusting the Penn State defense to do what it's done all season, and that's why I've got to take the Nittany Lions.