[et_pb_dcsbcm_divi_breadcrumbs_module hide_homebreadcrumb="off" homebreadcrumbtext="Home" separator="sep-raquo" hide_currentbreadcrumb="off" homebreadcrumborientation="left" _builder_version="3.8″ fontsbreadcrumbs_font="Lato||||||||" fontsbreadcrumbs_text_color="#000000″ fontsbreadcrumbs_font_size="15px" fontsbreadcrumbs_line_height="16px" fontsseperator_font="||||||||" fontsbreadcrumblinks_font="||||||||" fontsbreadcrumblinks_text_color="#2567cf" custom_margin="25px|||" custom_margin_phone="30px|||" custom_margin_last_edited="off|desktop" custom_css_main_element="font-family: Helvetica Regular;" disabled="on" global_module="3641″ saved_tabs="all"][/et_pb_dcsbcm_divi_breadcrumbs_module]
Duke Blue Devils at Clemson Tigers Pick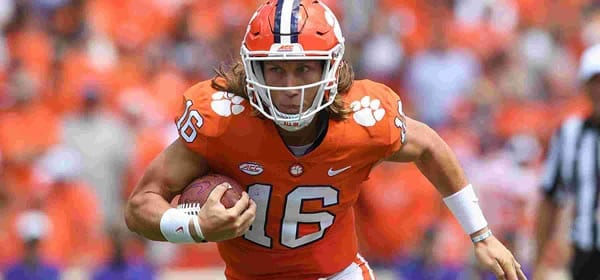 Duke (7-3 SU, 5-5 ATS) Clemson (10-0 SU, 6-4 ATS)
When: Saturday, November 17, 7 p.m. EST
Where: Memorial Stadium, Clemson, S.C.
TV: ESPN
Point Spread: CLEM -27.5/DUKE +27.5
Total: O/U 57.5
Power Ratings: CLEM -29
Takeaways From Week 10
Clemson kept up its dominance of the past month by defeating Boston College by a 27-7 margin to lock up the ACC Atlantic Division title. The Tigers weren't as offensively sharp as they'd been in blowouts of Wake Forest, Florida State, and Louisville, but their defense more than made up for it by holding the Eagles to 113 yards for the entire contest and bottling up star runner A.J. Dillon.
Duke guaranteed that it will again play in a bowl game by outlasting its bitter rival North Carolina in a 42-35 slugfest. The Blue Devils nearly blew the game with three turnovers but managed 629 yards of offense against the Tar Heels to hold onto the Victory Bell for the third consecutive year.
How the Public is Betting the Duke/Clemson Game
57 percent of gamblers are backing the Blue Devils overall, with 58 percent of bettors backing Duke at plus-28. The line has seesawed back and forth between Clemson minus-28 and Clemson minus-27 since opening at Clemson minus-27.5.
Injury Concerns
Clemson:
CB Mark Fields is dealing with a groin injury, while OL Sean Pollard has a back issue and RB Tavien Feaster is recovering from concussion-like symptoms suffered against Louisville. All are questionable, while WR Cornell Powell remains sidelined by academic issues and DE Richard Yeargin remains out with a neck injury.
Duke:
WR Aaron Young is questionable with a hamstring injury, while DT Ben Frye (knee), S Dylan Singleton (ankle) and DT Edgar Cerenord (Achilles) are all out for the season. LB Joe Giles-Harris (knee), S Marquis Waters (undisclosed) and S Michael Carter II (undisclosed) are questionable.
When Clemson Has the Ball
Clemson runs the ball better than anyone in the nation not named Oklahoma, and if the Sooners played in a conference that played a little more defense than the Big 12 does, the Tigers would probably rank first in the nation in yards per carry. Still, 6.7 YPC is pretty impressive, and Travis Etienne is the Tigers' main threat on the ground, with 1,076 yards on the year. He hasn't run the ball as much in recent weeks with Trevor Lawrence coming into his own as the Tigers' quarterback, but he remains a reliable weapon when Clemson chooses to use him.
Clemson coach Dabo Swinney will likely do exactly that in this contest. Duke is terrible against the run, ranking 102nd in YPC by giving up five yards per touch. Against Etienne and the Tigers' offensive line, that's a recipe for disaster. Duke ranks a respectable 34th nationally against the pass, but Clemson might not need Lawrence's arm in this contest.
When Duke Has the Ball
Duke funnels its offense through quarterback Daniel Jones, a smart, talented junior who isn't afraid to tuck it and run if he doesn't find an opening. Jones was instrumental in the victory over North Carolina, accounting for 547 total yards of offense in the win. When Jones throws it, he's likely to be looking for Johnathan Lloyd or T.J. Rahming, both of whom have over 500 receiving yards on the season. However, Jones likes to spread the ball around, as five other Duke receivers have caught 10 or more passes this season.
Deon Jackson is the leading man on the ground for the Blue Devils, but he's unlikely to be a factor in this game. Clemson's run defense is the best in the nation for a reason, as not even A.J. Dillon was able to reach 40 yards against the Tigers' front seven. Opponents simply don't gain yards on the ground against the Tigers, as they give up a mere 2.1 yards per carry. That means Jones will likely have to do his damage through the air if Duke is going to have any chance of staying in the game.
Betting Trends
Duke is 6-1 ATS in its past seven road games and 6-2 ATS against teams with a winning record. However, the home team is 8-2-1 against the spread in the previous 11 meetings in this series, and Duke hasn't covered against the spread in Clemson since 1997. That was also the most recent time that the Tigers failed to score at least 30 points on the Blue Devils in Clemson.
Weather Report
The high is expected to be 60 degrees, with four miles per hour wind blowing southeast and plenty of sunshine.
Dan's Pick to Cover the Spread
A week ago, Clemson faced an opponent that it matched up with perfectly. As talented as Boston College is, the fact that the Eagles are so run-heavy meant that they stood little chance of keeping pace with the Tigers. Even on a day when Clemson's offense wasn't producing, the Tigers were never in danger of losing the game.
This time, the Tigers are obviously the more talented team, but they're facing an opponent that matches up well with their weakness. Clemson isn't bad against the pass by any means, but it is possible for a good passing attack to throw against the Tigers and have success. Unlike Boston College, Duke is not afraid to throw it and will attack Clemson through the air.
But the danger is Duke's defense. The Blue Devils just can't stop anyone on the ground, which has been their Achilles' heel all season long. Duke has been gashed by the likes of Virginia Tech and North Carolina, neither of whom are anything special on the ground. Against a runner like Etienne, Duke is going to have a hard time getting its defense off the field without surrendering points in the process.
If I've got to pick a winner against the spread, I've got to go with Duke, because I believe Jones is talented enough to keep the Blue Devils within shouting distance and Duke has more to play for. Clemson has racked up enough style points to substantially impress the playoff committee as long as it doesn't lose, while Duke is still trying to improve its bowl position. A good showing against Clemson would go a long way toward moving the Blue Devils ahead of the likes of N.C. State or Boston College in the eyes of a bowl selection committee, which leads me toward Duke.
But that's not the best play here. The best play is the over. Daniel Jones will keep Duke in the game, but there's no way that Duke can keep Travis Etienne from running as much as he likes. Barring injury, the only one who's going to stop Etienne in this game is Dabo Swinney, and I don't think that's likely unless Clemson gets a big early lead. 57.5 points is just too low given two solid offenses and the poor run defense. Take the over.
<div class="clickable CTA" style="margin: 0 auto; background: #fff; border-radius: 10px; text-align: center; padding: 10px 20px 20px 20px;"><!-- [et_pb_line_break_holder] --> <img src="https://www.predictem.com/wp-content/uploads/2018/05/mybookie-logo.png" alt="MyBookieer" class="cta-image" /><!-- [et_pb_line_break_holder] --> <p style="margin-top: 5px; font-size: 22px; line-height: 30px;"><!-- [et_pb_line_break_holder] --> $1,000 Free Play Offer<!-- [et_pb_line_break_holder] --> </p><!-- [et_pb_line_break_holder] --> <hr class="cta-divider"><!-- [et_pb_line_break_holder] --> <p style="padding-bottom: 20px; font-size: 15px; line-height: 20px"><!-- [et_pb_line_break_holder] --> $1,000 Football Sign Up Bonus<br>Free Play - 15X Rollover<!-- [et_pb_line_break_holder] --> </p><!-- [et_pb_line_break_holder] --> <a href="https://www.predictem.com/out/Mybookie" rel="nofollow" target="_blank"><button class="et_pb_button" style="color: #fff; cursor: pointer; width: 90%;"><!-- [et_pb_line_break_holder] --> Bet Here<!-- [et_pb_line_break_holder] --> </button></a><!-- [et_pb_line_break_holder] --></div>
<div class="widget105"><!-- [et_pb_line_break_holder] --><h4 class="parlays">Best Sportsbooks for Parlays</h4><!-- [et_pb_line_break_holder] --><!-- [et_pb_line_break_holder] --><table id="parlay"><!-- [et_pb_line_break_holder] --> <tr><!-- [et_pb_line_break_holder] --> <th><span class="team"></span></th><!-- [et_pb_line_break_holder] --> <th>2 Team Parlay</th><!-- [et_pb_line_break_holder] --> <th>3 Team Parlay</th><!-- [et_pb_line_break_holder] --> <th>4 Team Parlay</th><!-- [et_pb_line_break_holder] --> </tr><!-- [et_pb_line_break_holder] --> <tr><!-- [et_pb_line_break_holder] --> <td><a href="https://www.predictem.com/out/SportbetP"><img src="https://www.predictem.com/wp-content/uploads/2018/06/sportbet-sm.png"></a></td><!-- [et_pb_line_break_holder] --> <td>2.74 to 1</td><!-- [et_pb_line_break_holder] --> <td>6.24 to 1</td><!-- [et_pb_line_break_holder] --> <td>13 to 1</td><!-- [et_pb_line_break_holder] --> </tr><!-- [et_pb_line_break_holder] --> <tr><!-- [et_pb_line_break_holder] --> <td><a href="https://www.predictem.com/out/BovadaP"><img src="https://www.predictem.com/wp-content/uploads/2018/06/bovada_sm.png"></a></td><!-- [et_pb_line_break_holder] --> <td>2.64 to 1</td><!-- [et_pb_line_break_holder] --> <td>6 to 1</td><!-- [et_pb_line_break_holder] --> <td>12.3 to 1</td><!-- [et_pb_line_break_holder] --> </tr><!-- [et_pb_line_break_holder] --> <tr><!-- [et_pb_line_break_holder] --> <td><a href="https://www.predictem.com/out/MybookieP"><img src="https://www.predictem.com/wp-content/uploads/2018/06/mybookie-sm.png"></a></td><!-- [et_pb_line_break_holder] --> <td>2.64 to 1</td><!-- [et_pb_line_break_holder] --> <td>6 to 1</td><!-- [et_pb_line_break_holder] --> <td>12 to 1</td><!-- [et_pb_line_break_holder] --> </tr><!-- [et_pb_line_break_holder] --></table><!-- [et_pb_line_break_holder] --><div class="widget-footer"><a href="https://www.predictem.com/best-sportsbooks/parlays-odds/">See all Sportsbook Parlays</a></div><!-- [et_pb_line_break_holder] --></div><!-- [et_pb_line_break_holder] --><!-- [et_pb_line_break_holder] --><!-- [et_pb_line_break_holder] --><style><!-- [et_pb_line_break_holder] --> #parlay {border-collapse: collapse;<!-- [et_pb_line_break_holder] --> width: 100%; border: 0px;<!-- [et_pb_line_break_holder] --> font-size: 14px!important;}<!-- [et_pb_line_break_holder] --> #parlay td, #parlay th {<!-- [et_pb_line_break_holder] --> border: 0px;<!-- [et_pb_line_break_holder] --> padding: 8px;<!-- [et_pb_line_break_holder] --> text-align: left;}<!-- [et_pb_line_break_holder] --> #parlay th {<!-- [et_pb_line_break_holder] --> padding-top: 5px;<!-- [et_pb_line_break_holder] --> padding-bottom: 5px;<!-- [et_pb_line_break_holder] --> font-weight: bold;<!-- [et_pb_line_break_holder] --> line-height: 14px;<!-- [et_pb_line_break_holder] --> text-align: center;<!-- [et_pb_line_break_holder] --> color: #000;}<!-- [et_pb_line_break_holder] --> #parlay tr {border-bottom: 1px solid #edeef0;}<!-- [et_pb_line_break_holder] --> .team {font-size: 16px;}<!-- [et_pb_line_break_holder] --></style>