[et_pb_dcsbcm_divi_breadcrumbs_module hide_homebreadcrumb="off" homebreadcrumbtext="Home" separator="sep-raquo" hide_currentbreadcrumb="off" homebreadcrumborientation="left" _builder_version="3.8″ fontsbreadcrumbs_font="Lato||||||||" fontsbreadcrumbs_text_color="#000000″ fontsbreadcrumbs_font_size="15px" fontsbreadcrumbs_line_height="16px" fontsseperator_font="||||||||" fontsbreadcrumblinks_font="||||||||" fontsbreadcrumblinks_text_color="#2567cf" custom_margin="25px|||" custom_margin_phone="30px|||" custom_margin_last_edited="off|desktop" custom_css_main_element="font-family: Helvetica Regular;" global_module="3641″ saved_tabs="all"][/et_pb_dcsbcm_divi_breadcrumbs_module]
Underdog Bet: Florida Atlantic Owls vs. Oklahoma Sooners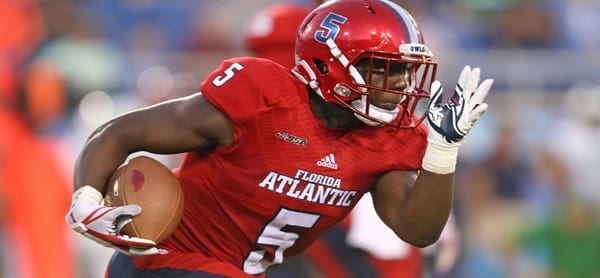 Florida Atlantic Owls (0-0 SU, 0-0 ATS) vs. Oklahoma Sooners (0-0 SU, 0-0 ATS)
College Football Week 1
Date/Time: Saturday, September 1st, 2018 –12:00 PM ET
Where: Gaylord Family-Oklahoma Memorial Stadium – Norman, Oklahoma
TV: FOX
Point Spread: Florida Atlantic +21 /Oklahoma -21
Over/Under Total: 68.5
The Oklahoma Sooners and the Florida Atlantic Owls will meet in a cross-conference clash due to take place at the fabled Gaylord Family-Oklahoma Memorial Stadium in Norman, Oklahoma. The contest is set for a high noon kickoff and is scheduled to be aired on FOX. The two teams have never met before in their program histories. Given the success that both teams had in 2017, this contest from some accounts is more high-profile than it appears to be on paper.
Florida Atlantic Owls Season Review
Last year, the Owls finished with an 11-3 record, capping off their 2017 effort with a catalytic ten consecutive wins. Despite starting off 1-3 against premium FBS competition, the Owls would lay waste to the Conference USA going undefeated in route to a conference championship and bowl game opportunity that saw it curate hosting duties in the Boca Raton Bowl. The Owls would swoop in once again and take advantage, destroying Akron by a score of 50-3.
The Next Big Thing In Mid-Major Football
This team has all the makings to not only repeat as conference champion but perhaps play in a game of consequence as a New Year's Six appearance is not out of the question here if the only loss on the season for this outfit comes in this fixture. The Owls feature arguably one of the best running backs in America in Devin Singletary. The numbers this bull has produced are frightening. In 2017, Singletary accrued over 2,000 all-purpose yards and found pay-dirt over 30 times. With a seasoned coach in Lane Kiffin who knows how to coach up teams against elite competition, FAU has all the glitz and glamour to be this year's Cinderella.
Oklahoma Season Review
The Sooners ended their season on a grisly note, losing to the mighty Bulldog Nation of Georgia in double overtime in the Rose Bowl. Overall, the Sooners finished with just two losses on the year in their 2017-18 campaign. A critical element of Oklahoma's game was their quarterback Baker Mayfield. Mayfield, of course, won the Heisman Trophy and became the top draft pick in the 2018 NFL Draft with the Cleveland Browns. Mayfield empowered the Sooners offense to be the most productive and prolific unit in all of America, last season. However, Oklahoma's offense sputtered and stalled against Georgia which led to their ultimate demise in the Rose Bowl despite owning a 17-point lead at one point in the game.
Where Do They Go From Here?
The question remains "Where does Oklahoma go from here?". The Sooners undoubtedly are an institution and are masters of locking and re-loading when it comes to talent. Nevertheless, the Sooners replacing Mayfield will be a tough chore no matter how good their skill players are at all levels. Many OU faithful are excited and eager to see vaunted recruit Kyler Murray take the field as he is a dual-threat quarterback that can incinerate defenses with both his arms and his legs. Operating a spread look with tempo, Murray is the ideal fit to spearhead Oklahoma's offensive attack.
Point Spread Pick: Take Florida Atlantic +21
The Over/Under in this market is 68.5 which suggests that this game will likely be a high-scoring one or a "shootout" for more appropriate terminology. Generally, a best business practice if you will, is to take the points in any shootout if that allotment is more than a touchdown. Fortunately for us, we get three touchdowns to work with here.
The achievements of Florida Atlantic are bound to be overlooked because they are a mid-major team going into the den of one of the most storied programs in all of college football. The Sooners are simply a blue-blood and when you back them at home, expect to pay a premium. Nevertheless, the fact remains that Oklahoma is not known for their defensive acumen and FAU has the blueprint to keep this mysterious post-Mayfield offense off the field for a considerable time if they can get Singletary going early. By no means would we suggest that an upset is in the works here, but we did see OU get submarined at home last year by a thirty-point plus pup in Iowa State, to be fair. However, we'll say that OU gets the win here but Florida Atlantic comes in under the number to pad their resume in making a case for NY6 bid should they lay siege to the Conference USA and UCF after that. Take the points.
<aside><!-- [et_pb_line_break_holder] --><div class="widget105"><!-- [et_pb_line_break_holder] --><h3>Biggest Sportsbook Bonuses</h3><!-- [et_pb_line_break_holder] --><div class="widgetlist"><!-- [et_pb_line_break_holder] --><div class="col1"><!-- [et_pb_line_break_holder] --> <a href="https://www.predictem.com/out/Bovada"><img src="https://www.predictem.com/wp-content/uploads/2018/04/bovada.png" width="150" alt="Bovada" /></a><!-- [et_pb_line_break_holder] --></div><!-- [et_pb_line_break_holder] --><div class="col2"><!-- [et_pb_line_break_holder] --><span class="list"><b>50% Cash</b></span><br><!-- [et_pb_line_break_holder] --><span class="list">5x Rollover</span><!-- [et_pb_line_break_holder] --> </div><!-- [et_pb_line_break_holder] --> <div class="col3"><!-- [et_pb_line_break_holder] --><a href="https://www.predictem.com/betting-sites/bovada/"><button class="btn-widget">Review</button></a><!-- [et_pb_line_break_holder] --></div><!-- [et_pb_line_break_holder] --></div><!-- [et_pb_line_break_holder] --><div class="widgetlist"><!-- [et_pb_line_break_holder] --><div class="col1"><!-- [et_pb_line_break_holder] --> <a href="https://www.predictem.com/out/Intertops"><img src="https://www.predictem.com/wp-content/uploads/2018/04/intertops.png" width="150" alt="Intertops" /></a><!-- [et_pb_line_break_holder] --></div><!-- [et_pb_line_break_holder] --><div class="col2"><!-- [et_pb_line_break_holder] --><span class="list"><b>50% Cash</b></span><br><!-- [et_pb_line_break_holder] --><span class="list">4x Rollover</span><!-- [et_pb_line_break_holder] --> </div><!-- [et_pb_line_break_holder] --><div class="col3"><!-- [et_pb_line_break_holder] --><a href="https://www.predictem.com/betting-sites/intertops/"><button class="btn-widget">Review</button></a><!-- [et_pb_line_break_holder] --></div><!-- [et_pb_line_break_holder] --></div><!-- [et_pb_line_break_holder] --><div class="widgetlist"><!-- [et_pb_line_break_holder] --><div class="col1"><!-- [et_pb_line_break_holder] --> <a href="https://www.predictem.com/out/Gtbets"><img src="https://www.predictem.com/wp-content/uploads/2018/05/gt-bets.png" width="150" alt="GtBets" /></a><!-- [et_pb_line_break_holder] --></div><!-- [et_pb_line_break_holder] --><div class="col2"><!-- [et_pb_line_break_holder] --><span class="list"><b>150% Cash</b></span><br><!-- [et_pb_line_break_holder] --><span class="list">4x Rollover</span><!-- [et_pb_line_break_holder] --> </div><!-- [et_pb_line_break_holder] --> <div class="col3"><!-- [et_pb_line_break_holder] --> <a href="https://www.predictem.com/betting-sites/gtbets/"><button class="btn-widget">Review</button></a><!-- [et_pb_line_break_holder] --></div><!-- [et_pb_line_break_holder] --></div><!-- [et_pb_line_break_holder] --><div class="widget-footer"><a href="https://www.predictem.com/best-sportsbooks/bonuses/">See all sportsbook bonuses</a></div><!-- [et_pb_line_break_holder] --> </div></aside>
<div style="width:340px; margin: 0 auto;"><!-- [et_pb_line_break_holder] --> <a class="twitter-timeline" data-width="340" data-height="500" data-link-color="#008156" href="https://twitter.com/PredictemPicks?ref_src=twsrc%5Etfw">Tweets by PredictemPicks</a> <script async src="https://platform.twitter.com/widgets.js" charset="utf-8"></script><!-- [et_pb_line_break_holder] --></div>