Fiesta Bowl Pick: LSU Tigers vs. UCF Knights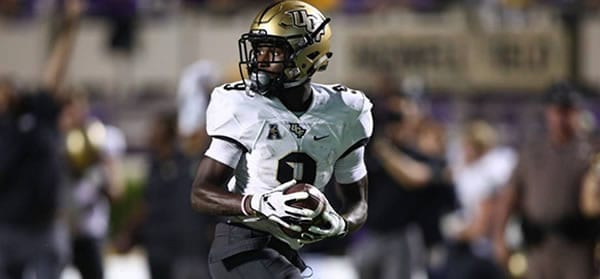 No. 11 LSU Tigers (9-3 SU, 5-7 ATS) vs. No. 8 UCF Knights (12-0 SU, 7-5 ATS)
PlayStation Fiesta Bowl Preview
Date/Time: Tuesday January 1st, 2019. 1:00PM (EST)
Where: State Farm Stadium Glendale, A.Z.
TV: ESPN
Point Spread:LSU -7.5/UCF +7.5
Over/Under Total: 55.5
The defending self-proclaimed National Champions in the UCF Knights will put their NCAA leading 25 game winning streak on the line in this year's Fiesta Bowl when they travel to Glendale, Arizona for a date with the no. 11 LSU Tigers. The no. 8 Knights are on the heels of their 2nd straight undefeated season including an impressive win over Memphis in the American Athletic Conference Championship Game without star quarterback McKenzie Milton. The Knights find themselves in another familiar situation similar to last year's historic run; UCF remains left out of the College Football Playoffs but with another chance to prove themselves against one of the premier teams in the SEC.
UCF pushing NCAA to extend CFP to 8 teams
After the Knights went undefeated last year and beat Auburn in the Peach Bowl, many fans thought it was more of a comical storyline that UCF self-proclaimed themselves as National Champions. Though perceived as somewhat of a joke, one accredited ranking (Colley Matrix) actually ranked UCF no. 1 in their final poll which allowed UCF an NCAA credible claim alongside Alabama as the 2017 National Champions. Despite the reasoning behind the claim, the Knights' claim sparked the debate about extending the College Football Playoffs to 8 teams.
Afterall a team that could make a legitimate claim at a National Championship, in theory, should at least deserve a shot in the playoffs. The playoff committee made an attempt to ease concerns that a non-Power 5 Conference team could earn a playoff big given the right situation. However, the Knights 2nd straight undefeated season proved that was not the case as they were once again left on the outside looking in. Yet, if you are a college football fan that would like to see the playoffs extended to 8 teams, then we should all be pulling for UCF on New Year's Day. Another big postseason win over a premiere SEC powerhouse for the 2nd straight season could force the playoff committee into action.
LSU's offense still searching for answers
When asked what is the difference between LSU and Alabama, LSU Jim Thorpe Award Finalists Greedy Williams responded by saying "Just being real, they can score the ball and we can't". While those are strange words from a player, it summarized the last decade for Tigers fans. Great on the defensive side of the football but just not enough offense to be elite. On offense this year, LSU has relied on their traditional heavy rushing attack which has perhaps been less dynamic. Still, running back Nick Brossette has tallied 922 yards with 14 touchdowns on the season. Running back Clyde Edwards-Helaire has also been effective averaging nearly 5 yards per touch. However, the concerns remain in the passing game where quarterback Joe Burrow has hit just 56% of his passes for 12 touchdowns and 4 picks on the season. The offense and coaching staff has simply shown little faith in putting games in Burrow's hand. As a result, the offensive output has been very modest.
UCF offense vs. LSU defense
Despite LSU's offensive concerns, the Tigers defense remains one of the most talented groups in the country. The challenge for the Fiesta Bowl will be slowing down a dangerous UCF offense that has been the focal point of their 25 game winning streak. Before the AAC Championship Game, the Knights lost star quarterback McKenzie Milton to a season-ending injury. I was one of many that thought the Knights winning streak would be ended by Memphis in the conference title game with backup Darrell Mack Jr. Instead, the Knights freshman quarterback delivered with a 6 touchdown performance (2 passing, 4 rushing) to lead UCF in a 56-41 victory.
In this Fiesta Bowl match-up, UCF's offense will need another big performance. Luckily, Mack will get the opportunity to take aim at a secondary that is without Kristian Fulton and Greedy Williams. Williams elected to sit out in preparation for the NFL. While LSU's defense will be without some key components, they are still more talented than any competitor UCF has faced this season. Mack will need to be efficient and get rid of the football quickly to mitigate the Tigers pass rush. Meanwhile, running back Greg McCrae (1101 yds, 9 TDs) will need to be effective as well to keep LSU guessing. The good news for UCF hopefuls is that who knows how many points will be required if LSU's offense continues to struggle?
Jay's Pick to Cover the Point Spread: Despite being an SEC guy, I think the match-up is pretty even with LSU's offensive tendencies. If UCF can hit a couple of big plays, they will compete. Take UCF +7.5