First Responder Bowl Odds & Picks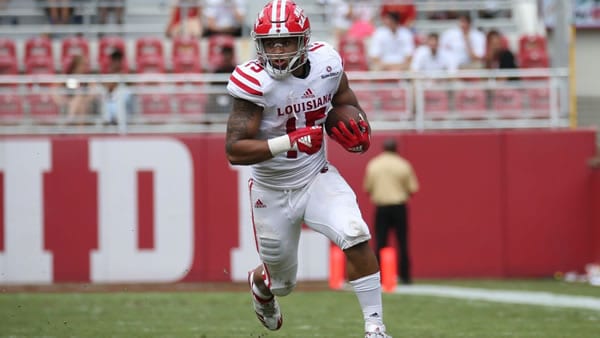 Louisiana Ragin' Cajuns (9-1 SU, 5-5 ATS) vs. Texas-San Antonio Roadrunners (7-4 SU, 6-5 ATS)
When: Thursday, December 26, 3:30 p.m.
Where: Gerald Ford Stadium, Dallas
TV: ABC
Point Spread: ULL -14/UTSA +14 (Find the top sports betting sites! You can get a 100% bonus on your next deposit OR bet on games at -105 instead of -110!)
Total: O/U 57
Outlook
Finally, we've got a game between teams who would have been eligible for a bowl even under the old rules. However, that doesn't necessarily mean that this game will be close, as Louisiana has looked dominant against everyone except undefeated Coastal Carolina. The only blemish on the Cajuns' record is that 30-27 loss to Coastal that they never got the chance to avenge, and they also won non-conference games against C-USA champ UAB and Big 12 runner-up Iowa State.
Texas-San Antonio doesn't have anything to match that. The Roadrunners, to their credit, have played well against some quality teams, giving BYU all it wanted in a 27-20 battle in Provo and falling by eight at UAB. But there was also a head-scratching loss at Florida Atlantic in there, and the Roadrunners now likely have to play without their coach, as Jeff Traylor has tested positive for the virus and will probably not be able to travel to Dallas. UTSA is in just its second bowl game, and it's got a shot to win eight games for only the second time in its history. Can they spring a surprise?
How the Public is Betting the Louisiana/UTSA Game
The public is overwhelmingly following the Cajuns, while the money is on Louisiana to a smaller extent. The number has moved from -13 to -14, with 69 percent of tickets on the Cajuns. The total has moved from 59.5 to 57.
Injury Concerns
Louisiana:
Louisiana reports no new injuries.
UTSA:
Safety Rashad Wisdom (arm) is questionable.
When Louisiana Has the Ball
Levi Lewis has had a solid season under center, but make no mistake: this is still a run-first team that prefers to let Elijah Mitchell and Trey Ragas power through on the ground. Between them, the two Cajuns' backs have amassed 1,411 yards and 16 touchdowns, with Mitchell doing more of the heavy lifting in terms of yards and Ragas taking the lead in scores.
When the Cajuns do pass, it's difficult for opponents to cut off Lewis' opportunities because he's got so many different ways he can hurt a defense. He's not shy about spreading the ball around to Jalen Williams, Peter LeBlanc, or Kyren Lacy, and if a defense does close off all three options, he's just fine with taking to the ground. Above all, the Cajuns make sure that they get points when they get close. Louisiana averaged fewer yards per game than both Appalachian State and Arkansas State, but the Cajuns scored more points per game than both.
When UTSA Has the Ball
If the Roadrunners are going to compete in this game, this needs to be Sincere McCormick's game from start to finish. McCormick is as close to a workhorse back as you'll find at this level of college football (Buffalo's Jaret Patterson excepted, as he's in a class by himself), as he's carried for 1,345 yards and 11 touchdowns on the season. Louisiana's run defense has been very suspect this season, as the Cajuns give up 180 yards a game on the ground, so if McCormick is ready to go, there could be a lot of holes for him in this game.
Truthfully, it's good news for UTSA that Louisiana's strength is its pass defense because Frank Harris really isn't that effective as a passer. He's barely registered more yards through the air than McCormick has on the ground, and although he's spread the ball well to Zakhari Franklin and Joshua Cephus, this is clearly an offense that prefers to move the ball on the ground. If UTSA can do that, the Roadrunners should be competitive.
Betting Trends
When the Cajuns face good teams, they tend to play defensive battles. In five games against teams with a winning record, the under is a perfect 5-0. On the UTSA side, the Roadrunners' defense tends to be at its best when they aren't expected to win. In its past five games as an underdog, UTSA has gone to the under in all of them.
The Cajuns have had a great year, but they haven't been all that great as a spread team, especially when expected to do well. Part of that was because expectations ballooned after Louisiana beat Iowa State, but since that game, Louisiana was just 3-5 ATS when favored. Meanwhile, UTSA has had a success allergy: since the BYU game, the Roadrunners have followed each ATS result with the opposite in their next match.
Weather Report
While much of the country has to deal with cold temperatures, these teams will be loving the warm temperatures of the Metroplex, with 70 degree weather in the forecast. However, wind could be a factor, as wind will blow at 14 miles per hour heading south.
Dan's Pick to Cover the Spread
With how run-heavy UTSA is and how much wind could play a factor in this game, the under looks like it could be an excellent play. Louisiana will likely focus on its ground game as well, which should mean a clock that moves throughout the contest. However, run defense isn't where Louisiana specializes, which says that this game could be a closer contest than people expect. I'll take a shot with the Roadrunners and the points here. Did you know that you could be betting on games at -105 instead of -110? Find this killer money saving offer at BAS Sportsbook!