Florida Gators vs. Florida State Seminoles Pick ATS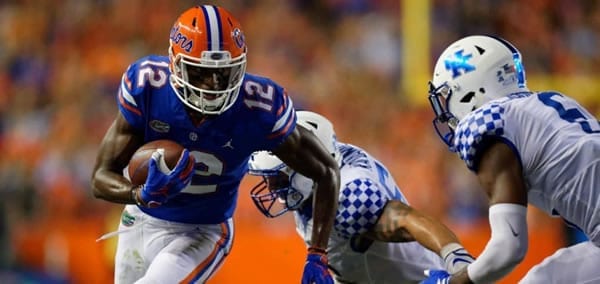 Florida Gators (8-3 SU, 7-4 ATS) vs. Florida State Seminoles (5-6 SU, 4-7 ATS)
NCAA Football Week 13
Date and Time: Saturday, November 25th, 12:00pm EST
Where:Doak Campbell Stadium - Tallahassee, FL
TV: ABC
Point Spread: UF -5/FSU +5
Over/Under Total: 52.5
POWER RATINGS – WEEK 13
FLORIDA GATORS -2
TAKEAWAYS FROM WEEK 12
Just a few weeks ago, the Florida Gators were primed for a trip to the SEC Title Game. They controlled their own destiny for the most part but then they lost to the Georgia Bulldogs. Florida just a week later, found themselves on the losing end of a 38-17 game against Missouri which was probably a hangover knowing that they lost their shot at an SEC East Title when they fell to Georgia. Since that time, they have gone 2-0 and last week….cupcake week… they beat the Idaho Vandals by a score of 63-10. There typically is not anything you really take away or learn in those type games, but one thing that I think is that the future of Florida football is Emory Jones at quarterback. Felipe Franks has been up and down and just has not ever become that consistent QB that he was billed as coming out of high school. Not only that, but Emory Jones skill set fits that of a Dan Mullen offense more so than Franks. Other than the QB situation, I really saw nothing else of substance this past Saturday from the Florida Gators.
As for Florida State, their season has been bad. Actually, it has been downright terrible from a Florida State Seminole standard. At one point during the season, head coach Willie Taggart even admitted that his team had quit. I have never seen a season where the Seminoles lose so many games but such wide margins. 24-3, 30-7, 59-10, 42-13.. I mean we have seen Florida State take a step back from their dominance over the years but never before have they been "beat down" like this in years past. The one positive though is that the Seminoles do enter this game on a winning note. They took down Boston College last week for their fifth win of the season, and an upset over the Gators on Saturday will make them bowl eligible. That adds a little motivation to this weekend for the Noles…. let's see how they handle it.
HOW THE PUBLIC IS BETTING FLORIDA AND FLORIDA STATE:
Florida comes into this game as a five-point favorite on the road over Florida State. On the season, the Gators have gone 7-4 against the spread, and the Seminoles have gone 4-7. The public loves Florida in this one. As of early Tuesday morning, nearly 75% of the public action had been placed on the Gators to get the road cover meaning that only 25% of bettors like the Noles at home. I assume that this spread is going to increase and by kickoff, the Florida Gators will be nearly a touchdown favorite come Saturday.
THE HISTORICALS
At one time back in the 1990s, this was a very heated rivalry mostly due to the fact that both teams were considered top teams and year in and year out both had a legit shot at a National Title. This series dates back to 1958, and since that time, these two teams have met a total of 62 times ( two of the meetings being in the Sugar Bowl). The Florida Gators lead the all-time series 34-26-2, but the Florida State Seminoles have won seven of the last eight played including the last five in a row. It appears this is the year the Gators will get back in the win column but you never know…in-state rivalries can be crazy.
INJURY CONCERNS
There is no new injury news from either team that will make any significant impact on this game Saturday. Both sides should be okay to go with no excuses.
WHEN FLORIDA HAS THE BALL
Florida at times has an offense that can score on anyone then there are those times when they sputter out. This Saturday they SHOULD and I say SHOULD be able to score on FSU. The Seminoles defense is nearly as bad as its offense, and the Gators are averaging over 30 points a game in 2018. Florida comes with a pretty balanced attack averaging a little over 200 a game on the ground and another 213 passing. This Saturday, the Gators need to show their dominance in the trenches and put this game away early. Florida does not want to have their first few series sputter out and give Florida State life and momentum. I predict a heavy dose of the run game to set up Felipe Franks and the pass. If the Gators can jump out to an early 14-0 or 17-3 lead, it could be lights out for the Noles. But again, if the Florida offense shoots themselves in the foot as they did against Georgia, this game could have a much different result than most think.
WHEN FLORIDA STATE HAS THE BALL
Florida State is going to have their hands full this weekend with the Gators. Florida State has one of the worst offenses in all of college football averaging just 22 points a game while the Gators defense is only allowing opponents to score 21 a contest. The key this weekend is just not to turn the ball over. The Gators defensive front is the real deal, and the Seminoles will need to mix up the playcalling to keep Florida on their heels, but turnovers CANNOT happen. It will take a solid effort from the Seminoles offensive line this Saturday if they have any shot of winning this game. It sounds simple but it is true: Win the turnover battle, establish a balanced attack, and keep this game low scoring. DO NOT get in a shootout with the Gators because FSU does not have the firepower to stay with them.
BETTING TRENDS
Based on the trends, I really like Florida State to cover this one. I am hoping over the next few days the public keeps pounding the Gators to get us a couple of more points to play with. Here are some reasons that I like FSU to cover against Florida.
- The Seminoles have covered six of the last eight years.
- The Gators are 1-4 the previous five times played.
- FSU is on a five-game winning streak in this series.
- FSU, as bad as their record is, they have played the much more difficult schedule, and their record is much worse than the actual talent they have on the roster.
WEATHER REPORT
This Saturday's Florida and Florida State game could be a messy one. Temperature wise in Tallahassee it will be a nice day with a high of 71 and a low of 52, but there is a good chance of thunderstorms that could affect the game and how it is played.
Game Prediction
Bob's Pick to Cover the Point Spread:TAKE THE FLORIDA STATE SEMINOLES PLUS THE POINTS AGAINST THE FLORIDA STATE SEMINOLES.
<div class="clickable CTA" style="margin: 0 auto; background: #fff; border-radius: 10px; text-align: center; padding: 10px 20px 20px 20px;"><!-- [et_pb_line_break_holder] --> <img src="https://www.predictem.com/wp-content/uploads/2018/05/mybookie-logo.png" alt="MyBookieer" class="cta-image" /><!-- [et_pb_line_break_holder] --> <p style="margin-top: 5px; font-size: 22px; line-height: 30px;"><!-- [et_pb_line_break_holder] --> $1,000 Free Play Offer<!-- [et_pb_line_break_holder] --> </p><!-- [et_pb_line_break_holder] --> <hr class="cta-divider"><!-- [et_pb_line_break_holder] --> <p style="padding-bottom: 20px; font-size: 15px; line-height: 20px"><!-- [et_pb_line_break_holder] --> $1,000 Football Sign Up Bonus<br>Free Play - 15X Rollover<!-- [et_pb_line_break_holder] --> </p><!-- [et_pb_line_break_holder] --> <a href="https://www.predictem.com/out/Mybookie" rel="nofollow" target="_blank"><button class="et_pb_button" style="color: #fff; cursor: pointer; width: 90%;"><!-- [et_pb_line_break_holder] --> Bet Here<!-- [et_pb_line_break_holder] --> </button></a><!-- [et_pb_line_break_holder] --></div>