Free Pick: Alabama Crimson Tide vs. LSU Tigers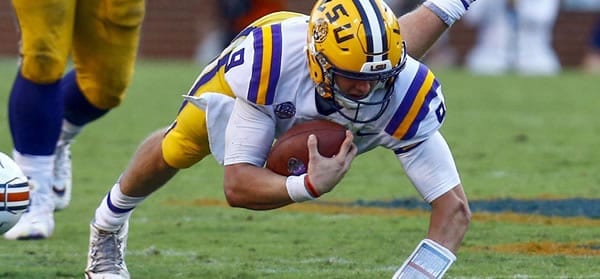 No. 1 Alabama Crimson Tide (8-0 SU, 5-3 ATS) vs. No. 4 LSU Tigers (7-1 SU, 5-3 ATS)
NCAA Football Week 10
Date/Time: Saturday November 3rd, 2018. 8:00PM (EST)
Where: Tiger Stadium Baton Rouge, L.A.
TV: CBS
Point Spread:ALA -14/LSU +14
Over/Under Total: 53.5
This Saturday marks one of the most anticipated games of the year between top-ranked Alabama, and the 4th ranked LSU Tigers. So far this year, Alabama has been unstoppable. They have dominated teams in every fashion of the game. The Crimson Tide offense leads the nation in scoring, by a wide margin, averaging an incredible 54 points per game. On the other side of the ball, Alabama's defense has been nearly as dominant holding opponents to just 15 points per game. If you have followed my picks this year, then you know how I feel about this Alabama team. Since around the 3rd week of the year, I have heralded Alabama as the best team in the Nick Saban era which is already responsible for 5 National Championships. Still, despite the prestige and accolades, this Alabama team still has a task unlike no other this week; Alabama must survive a Saturday night in Baton Rouge.
LSU by the numbers in Baton Rouge at night
If you are not from the SEC, perhaps you do not understand the significance of Baton Rouge during the day compared to at "night." During night games, LSU is the loudest place on earth and presents a home crowd atmosphere unlike any venue in college football. I have experienced LSU at night firsthand, and it is not some hype talk; it is a downright crazy environment. By the numbers, LSU plays their best football at night as well. Going back to 2005, the Tigers are 71-11 SU in Baton Rouge at night. The 86.5% winning margin at night dwarfs the 64% winning margin (103-29 SU) for day games during that same timeframe. So despite what the numbers on paper may indicate or the matchup advantages, we should expect LSU to give their best effort this Saturday.
Can LSU's defense slow Alabama?
This game will be talked about all week and debated until kickoff late Saturday evening. However, if we could boil this match-up down to one single question, it would be this: Can LSU's talented defense slow down this Alabama offense? If so, LSU has proved in recent weeks that the offense is starting to gain some momentum and perhaps they have enough physical attributes to challenge Alabama's big uglies in the trenches with their rushing attack.
For Alabama, it is no secret that the offense is absolutely loaded. Quarterback Tua Tagovailoa can go ahead and start making shelf room for his Heisman Trophy. I don't care what anyone says. The Heisman Trophy race is over. Tagovailoa has tossed 25 touchdowns without a single pick this season while completing 70% of his passes. Despite Nick Saban's reputation for running the football, Tagovailoa has turned Alabama into an elite passing attack and WR Jerry Jeudy has reaped the rewards with 777 receiving yards with 10 touchdowns. Alabama still has all the tools of a strong running attack, but they have been explosive through the air.
I am sure that Alabama is going to make plays. They are too talented to be downright shut out even if they were to have a bad night. However, I also think LSU has the talent to challenge this passing offense. The Tigers talent level in the secondary is among the best in college football. If they can get some help from the pass rush, I don't think we will see this group give up many big plays. Ultimately LSU is just physical. They corners challenge the receivers on every snap. The defensive line is physical and does a good job against the run. If there is a group that could match Alabama's physicality, it is this LSU team, and I think they will play well.
Can LSU's offense deliver?
The other main question is the same question that has kept LSU from winning the big games in recent years. Can the offense come up with a big performance? We saw the Tigers come up big in the victory over Georgia two weeks ago thanks to big games from running back Nick Brossette and quarterback Joe Burrow. However, this offense has been far from unstoppable or dominate. Like I said before even with a good defensive effort, LSU will have to score points to have a chance. To this point in the season, the Tigers have produced just 6 passing touchdowns. Therefore, if Alabama shuts down the run or at least limits the run. Can Joe Burrow lead this team with his arm?
Jay's Pick to Cover the Point Spread: I think it would be a stretch for LSU to score the outright upset. I just do not think their offense has enough firepower to deliver the upset. However, I do think they will play well in this game mostly defensively. I have only lost one Alabama game this year and just feel like this is a spot they will be challenged. Take LSU +14 at BetOnline who offers huge betting limits on college football.