[et_pb_dcsbcm_divi_breadcrumbs_module hide_homebreadcrumb="off" homebreadcrumbtext="Home" separator="sep-raquo" hide_currentbreadcrumb="off" homebreadcrumborientation="left" _builder_version="3.8″ fontsbreadcrumbs_font="Lato||||||||" fontsbreadcrumbs_text_color="#000000″ fontsbreadcrumbs_font_size="15px" fontsbreadcrumbs_line_height="16px" fontsseperator_font="||||||||" fontsbreadcrumblinks_font="||||||||" fontsbreadcrumblinks_text_color="#2567cf" custom_margin="25px|||" custom_margin_phone="30px|||" custom_margin_last_edited="off|desktop" custom_css_main_element="font-family: Helvetica Regular;" disabled="on" global_module="3641″ saved_tabs="all"][/et_pb_dcsbcm_divi_breadcrumbs_module]
Fresno State Bulldogs vs. Boise State Broncos MWC Prediction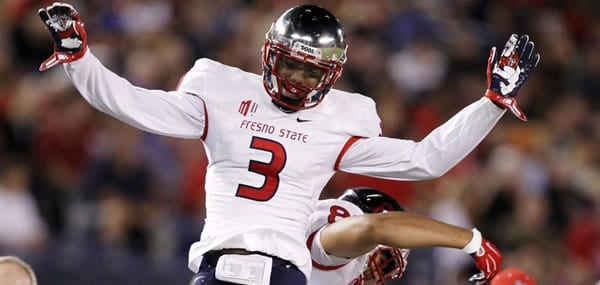 Fresno State Bulldogs (10-2 SU, 8-4 ATS) vs. Boise State Broncos (10-2 SU, 7-4-1 ATS)
Mountain West Championship Game
Date and Time: Saturday, December 1, 2018 at 7:45PM EST
Where: Albertsons Stadium, Boise, Idaho
TV: ESPN
Point Spread: FRES +2.5/BSU -2.5
Over/Under Total: 50
The Fresno State Bulldogs come to Albertsons Stadium to take on the Boise State Broncos in the Mountain West Conference Championship Game. Both teams are 10-2, with Fresno having won the West division with a 7-1 conference record and Boise taking down the Mountain division with the same mark. Last week, Boise beat a 10-1 Utah State team, 33-24, to win the division and earn a spot in this game. Fresno finished the season strongly and now looks for revenge against their tormentors. Their only loss in conference came to Boise State a few weeks ago, and they also fell to the Broncos in last season's title-game, 17-14. I like the Broncos to win this game and cover the spread.
Deep Recent History
It's unusual for teams even within the same conference to play four times over the course of two seasons. Last year, they played a late-season game, followed the next week with the title game. Fresno won the regular season game, before losing in the MWC title game. On November 9, Boise was able to beat Fresno St. on this very field, 24-17. Fresno was able to take a 17-3 third-quarter lead, before the Boise defense tightened up, with QB Brett Rypien and Company making a late spurt. RB Alexander Mattison, who has surged late, was tremendous, while Rypien was accurate in leading the Broncos to the big win.
Boise's Late Surge
After losing to San Diego State and struggling hard to beat Nevada. A lot of people were soured on Boise. But they really put it together late, winning their last 7 games. Among those wins include triumphs over the best teams in the conference, good squads like Utah St. last week and this very Fresno bunch a few weeks back. I think it's fair to say that while Fresno deserves endless kudos for a 10-win season and returning to this spot that Boise has thrived against better company.
With Boise, you see them evenly-matched with the better teams in the conference like Utah State and Fresno. And what's allowing them to thrive are the same things that allow a champion boxer to shine. They absorb bad things without flinching and always seem to save their best for the end, closing strongly and showing a knack for manufacturing wins when the chips are in the middle. In these last three games with Fresno, we've seen both defenses thriving. Fresno has one of the best defenses in the country, allowing an average of fewer than 14 points a game, with Boise also strong on "D." This last cluster of games has seen a lot of close ones, with Boise just finding a way.
Boise's Offense Better
With Brett Rypien, the Broncos have a seasoned 4th-year starter who has seen a bit of everything. Junior back Mattison is a well-cemented part of this offense and is surging late. Both men were key in the 24-17 win over Fresno several weeks ago. Mattison ran for 144 yards and had eight touchdowns in his last four games. Rypien, nearing the end of his career, has also upgraded his game and we saw both able to thrive late against Fresno.
Fresno's offense looks for better results and they do have tools. QB Marcus McMaryion has really seen his play come together this season, but when the Boise defense stiffened, this offense had no answers. It doesn't help that their ground-game lags far behind Boise's, but they will need to be more-clutch on Saturday—there are no two ways about it. The first time around, they faltered badly in critical situations, converting only two third-down attempts and showing no fire late when the game was up in the air. What can change from last time? Boise is even hotter now, back on their home-field, and with the knowledge that they can beat this team.
Boise and the Intangibles
The first game illustrated that the differences in these teams are hard to capture statistically. Fresno rates higher on defense, but whose defense stepped up when these teams last played and the time before that? Fresno has the higher-ranked passing attack, led by one of the best receivers on the west coast with KeeSean Johnson, but what happened last time and why have they managed just 31 points in their previous two games against Boise? A lot of this comes down to "unmeasurables—the experience, poise, and class of Boise State.
There is a big gap in quality when you go from the lesser teams in the Mountain West to the more-premier teams. So when gauging Fresno, one must use the right context. What teams do against UNLV, San Jose, and New Mexico doesn't much matter when Boise is on the opposite sideline. So whereas we see a powerful Fresno offense against lesser MWC teams, they looked one-dimensional against Boise. Whereas we saw an iron-clad and top-ranked defense against the also-rans in the conference, we saw a more-exploitable "D" against Boise State.
Lay the Points on the Home Favorite
None of this is meant to undercut Fresno or dismiss their chances. If anything, they've shown they can compete well with Boise, even on the blue field. Their defense is exceedingly-legit, their QB has upgraded his form big-time this season, and they have ample weapons on both sides of the ball. Boise, however, is peaking and has certain weapons that are just a bit more compelling than what Fresno brings to the table. It won't be easy, but I like Boise to get the win and cover at home.
Loot's Pick to Cover the Point Spread: I'm betting on Boise State minus 2.5 points.
<div class="clickable CTA" style="margin: 0 auto; background: #fff; border-radius: 10px; text-align: center; padding: 10px 20px 20px 20px;"><!-- [et_pb_line_break_holder] --> <img src="https://www.predictem.com/wp-content/uploads/2018/05/mybookie-logo.png" alt="MyBookieer" class="cta-image" /><!-- [et_pb_line_break_holder] --> <p style="margin-top: 5px; font-size: 22px; line-height: 30px;"><!-- [et_pb_line_break_holder] --> $1,000 Free Play Offer<!-- [et_pb_line_break_holder] --> </p><!-- [et_pb_line_break_holder] --> <hr class="cta-divider"><!-- [et_pb_line_break_holder] --> <p style="padding-bottom: 20px; font-size: 15px; line-height: 20px"><!-- [et_pb_line_break_holder] --> $1,000 Football Sign Up Bonus<br>Free Play - 15X Rollover<!-- [et_pb_line_break_holder] --> </p><!-- [et_pb_line_break_holder] --> <a href="https://www.predictem.com/out/Mybookie" rel="nofollow" target="_blank"><button class="et_pb_button" style="color: #fff; cursor: pointer; width: 90%;"><!-- [et_pb_line_break_holder] --> Bet Here<!-- [et_pb_line_break_holder] --> </button></a><!-- [et_pb_line_break_holder] --></div>
<div style="width:340px; margin: 0 auto;"><!-- [et_pb_line_break_holder] --> <a class="twitter-timeline" data-width="340" data-height="500" data-link-color="#008156" href="https://twitter.com/PredictemPicks?ref_src=twsrc%5Etfw">Tweets by PredictemPicks</a> <script async src="https://platform.twitter.com/widgets.js" charset="utf-8"></script><!-- [et_pb_line_break_holder] --></div>