Friday NCAAF Pick: Fresno State Bulldogs vs. Boise State Broncos Betting Analysis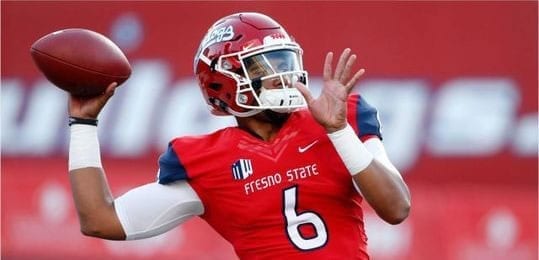 Fresno State Bulldogs (8-1 SU, 8-1 ATS) vs. Boise State Broncos (7-2 SU, 4-4-1 ATS)
College Football Week 11
Date and Time: Friday, November 9, 2018 at 10:15PM EST
Where: Albertsons Stadium, Boise, Idaho
TV: ESPN2
Point Spread: FRES -3/BSU +3
Over/Under Total: 54.5
The 8-1 Fresno State Bulldogs look to score a big MWC conference win on Friday when they come on to the blue field to take on the Boise State Broncos. I like the Bulldogs to cover the spread this week. The Broncos are always tough at home and are 7-2, riding the crest of four straight wins. But the Bulldogs are ranked and it hasn't been often one can say that in recent seasons, even if they were tough last season and made it to the conference title against Boise. They have won and covered the spread in seven straight games. That would almost make you think they're due for the opposite to happen. But while Boise is a step up from the opposition the Bulldogs have been playing, last season's 17-14 loss and their 28-17 win against the Broncos show they can hang, and they're even better this season.
How Good is Fresno?
This is a bottom-line business. And for a team who was struggling as much as they have been in recent seasons, how they got here might not be as important as the mere fact that they are here. They have a strong and well-balanced defense, while the other side of the ball offers some of the same balance and fire. It's fair, however, to discuss the texture of the Mountain West—where there is a vast difference from the haves and the have-nots.
You don't want to be too critical about a team like Fresno, rising up to become a factor in this conference once again. But a look at the teams they've beaten shows they've yet to be tested by the big boys in the conference. That comes toward the end of the season, starting here, and then on to San Diego St. the next week. That's when we see what the Bulldogs are made of. Smashing teams like Idaho, Toledo, Nevada, Wyoming, New Mexico, Hawaii, and Vegas is nice. And they did beat a Pac-12 team in UCLA, albeit a bad one. In their only loss, they came up short to a Minnesota team that is currently below .500.
Is the Fresno State "D" for Real?
In a word—yes, but it's also related to who they're playing. Holding some of the aforementioned teams to a few points has led to a startling 12.3 points per game allowed by this defense. They're winning. They're covering. They're over-performing. The 17-14 result from last season, even in a losing cause, which followed a 28-17 win showed their "D" matches up well with Boise, who still has a lot of the same pieces. The "D" a lot better now. The pass-rush is immense, led by Mykal Walker on the edge, with James Bailey and Jeffrey Allison in the middle. The playmaking duo of Mike Bell and Anthoula Kelly in the secondary also help out a ton.
Can Boise's "D" Step Up?
This is the key to the game in many ways. I don't see the Boise offense really having a great game, even at home. So their defense will need to step up, and last season it did to some extent in their two games. There is just more to contain this season from Fresno. QB Marcus Maryion has really seen his production spike in his senior season. He is over 70% completions with 20 touchdowns and just three picks. He has also become more-handy with his legs. The former Oregon State starter has been around a while and has a lot of experience to go with the fact that he has peaked physically. At his disposal, Jordan Mims and Ronnie Rivers add a nice 1-2 punch out of the backfield, while KeeSean Jackson and Jared Rice are reliable weapons for Maryion aerially.
Still, while Boise might not flash the glossy stats that Fresno's defense can, they've been tested against a higher level of opposition, thriving against better opponents like San Diego, for example. I think the numbers suggest a more substantial gulf exists between the two defenses. Boise has an impactful linebacker in Riley Whimpey (questionable), a playmaking safety in Kekoa Nawahine, and two big bosses up front in Curtis Weaver and Jabril Frazier.
Maybe urgency will resonate, as well. If Boise has hopes of winning their division and moving on to the conference title game, they need this. These teams could end up playing twice this season, as they did last season, with each team winning one. But Fresno has a little more margin for error with an unbeaten conference mark. And the Broncos are at home. Boise is never an easy place to play.
Lay the Points on the Road Favorite
Again Fresno held Boise to 17 points the two times they played last season, winning once and narrowly losing the other. Boise seems to be more or less the same, while Fresno has made strides on both sides of the ball. The defense has become fiercer. The offense took a big step forward this season. Fresno is also urgent to add a real quality nugget to their resume this season, as their record is made up of a lot of softies. I see their defense keeping things in check, with Fresno crossing the wire a nose ahead in what figures to once again be a competitive game.
Loot's Pick to Cover the Point Spread: I'm betting on the Fresno State Bulldogs minus 3 points.
<div class="widget105"><!-- [et_pb_line_break_holder] --><h4 class="parlays">Best Sportsbooks for Parlays</h4><!-- [et_pb_line_break_holder] --><!-- [et_pb_line_break_holder] --><table id="parlay"><!-- [et_pb_line_break_holder] --> <tr><!-- [et_pb_line_break_holder] --> <th><span class="team"></span></th><!-- [et_pb_line_break_holder] --> <th>2 Team Parlay</th><!-- [et_pb_line_break_holder] --> <th>3 Team Parlay</th><!-- [et_pb_line_break_holder] --> <th>4 Team Parlay</th><!-- [et_pb_line_break_holder] --> </tr><!-- [et_pb_line_break_holder] --> <tr><!-- [et_pb_line_break_holder] --> <td><a href="https://www.predictem.com/out/SportbetP"><img src="https://www.predictem.com/wp-content/uploads/2018/06/sportbet-sm.png"></a></td><!-- [et_pb_line_break_holder] --> <td>2.74 to 1</td><!-- [et_pb_line_break_holder] --> <td>6.24 to 1</td><!-- [et_pb_line_break_holder] --> <td>13 to 1</td><!-- [et_pb_line_break_holder] --> </tr><!-- [et_pb_line_break_holder] --> <tr><!-- [et_pb_line_break_holder] --> <td><a href="https://www.predictem.com/out/BovadaP"><img src="https://www.predictem.com/wp-content/uploads/2018/06/bovada_sm.png"></a></td><!-- [et_pb_line_break_holder] --> <td>2.64 to 1</td><!-- [et_pb_line_break_holder] --> <td>6 to 1</td><!-- [et_pb_line_break_holder] --> <td>12.3 to 1</td><!-- [et_pb_line_break_holder] --> </tr><!-- [et_pb_line_break_holder] --> <tr><!-- [et_pb_line_break_holder] --> <td><a href="https://www.predictem.com/out/MybookieP"><img src="https://www.predictem.com/wp-content/uploads/2018/06/mybookie-sm.png"></a></td><!-- [et_pb_line_break_holder] --> <td>2.64 to 1</td><!-- [et_pb_line_break_holder] --> <td>6 to 1</td><!-- [et_pb_line_break_holder] --> <td>12 to 1</td><!-- [et_pb_line_break_holder] --> </tr><!-- [et_pb_line_break_holder] --></table><!-- [et_pb_line_break_holder] --><div class="widget-footer"><a href="https://www.predictem.com/best-sportsbooks/parlays-odds/">See all Sportsbook Parlays</a></div><!-- [et_pb_line_break_holder] --></div><!-- [et_pb_line_break_holder] --><!-- [et_pb_line_break_holder] --><!-- [et_pb_line_break_holder] --><style><!-- [et_pb_line_break_holder] --> #parlay {border-collapse: collapse;<!-- [et_pb_line_break_holder] --> width: 100%; border: 0px;<!-- [et_pb_line_break_holder] --> font-size: 14px!important;}<!-- [et_pb_line_break_holder] --> #parlay td, #parlay th {<!-- [et_pb_line_break_holder] --> border: 0px;<!-- [et_pb_line_break_holder] --> padding: 8px;<!-- [et_pb_line_break_holder] --> text-align: left;}<!-- [et_pb_line_break_holder] --> #parlay th {<!-- [et_pb_line_break_holder] --> padding-top: 5px;<!-- [et_pb_line_break_holder] --> padding-bottom: 5px;<!-- [et_pb_line_break_holder] --> font-weight: bold;<!-- [et_pb_line_break_holder] --> line-height: 14px;<!-- [et_pb_line_break_holder] --> text-align: center;<!-- [et_pb_line_break_holder] --> color: #000;}<!-- [et_pb_line_break_holder] --> #parlay tr {border-bottom: 1px solid #edeef0;}<!-- [et_pb_line_break_holder] --> .team {font-size: 16px;}<!-- [et_pb_line_break_holder] --></style>
<!-- [et_pb_line_break_holder] --><aside><div class="new-cta"><!-- [et_pb_line_break_holder] --> <a href="https://www.predictem.com/out/5Dimes" rel="nofollow"><img src="https://www.predictem.com/wp-content/uploads/2018/06/5Dimes-logo.png" alt="5Dimes" /></a><!-- [et_pb_line_break_holder] --> <p style="margin-top: 5px; font-size: 22px; line-height: 30px;"><!-- [et_pb_line_break_holder] --> -105 Reduce Pricing<!-- [et_pb_line_break_holder] --> </p><!-- [et_pb_line_break_holder] --> <hr class="cta-divider"><!-- [et_pb_line_break_holder] --> <p style="padding-bottom: 20px; font-size: 15px; line-height: 20px"><!-- [et_pb_line_break_holder] --> Pay less per bet & <br>get largest betting menu<!-- [et_pb_line_break_holder] --> </p><!-- [et_pb_line_break_holder] --> <a href="https://www.predictem.com/betting-sites/5dimes/"><button class="btn-widget-cta"><!-- [et_pb_line_break_holder] --> See Review<!-- [et_pb_line_break_holder] --> </button></a><!-- [et_pb_line_break_holder] --> </div></aside>