Frisco Bowl Pick: San Diego State Aztecs vs. Ohio Bobcats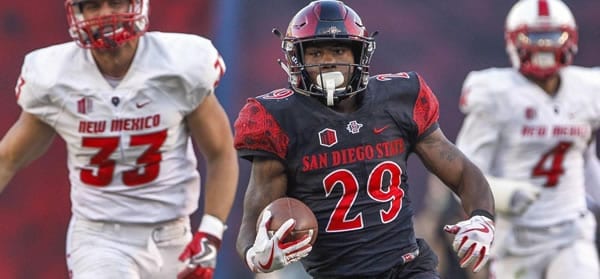 San Diego State Aztecs (7-5 SU, 3-9 ATS) vs. Ohio Bobcats (8-4 SU, 7-5 ATS)
Frisco Bowl
Date and Time: Wednesday, December 19, 2018 at 8PM EST
Where: Toyota Stadium, Frisco, Texas
TV: ESPN
Point Spread: SDSU +3/OHIO -3
Over/Under Total: 54
The San Diego State Aztecs take on the Ohio Bobcats on Wednesday in the Frisco Bowl from Toyota Stadium. The Mountain West Conference's San Diego State was 7-5 this season. After three straight seasons with at least ten wins, it was a bit of a comedown, but they look for a strong finish to make it a little better. Ohio, meanwhile, heated up at the end of the season, finishing 8-4. With the Aztecs last playing on November 24 and the Bobcats last playing a day earlier, it's almost a month since they last hit the field. I like the favored Ohio Bobcats to get the cover in this one.
The Opposite Trajectories of Each Team
A close look reveals a more-successful season for the Bobcats than the records indicate. After starting the season with some ups and downs, they got on a roll, winning five of their last six games to finish the season. They lost by 14 to Virginia early in the season, with their other three losses being by a combined 9 points. They weren't far from a really huge season. And while Buffalo finished the season leading their division, Ohio proved their supremacy with a 52-17 win over the Bulls in their second-to-last game. They covered 5 of their last 7 spreads and that good momentum when compared to how SDSU finished the season, is a big part of why they're favorites in this one.
For San Diego State, they land in this bowl game with a thud. This season followed a 31-9 record over their last three seasons. And early on, there would good signs, as the Aztecs beat teams like Arizona State and Boise State. But then we saw them barely beating bad teams like Eastern Michigan and San Jose, actually losing to conference rift-raft like UNLV, and dropping their last game against Hawaii. The season ended with three straight losses.
Not a Great Aztecs Team
Over the last several seasons, the Aztecs found a lot of success, bolstered by a strong run game led by great backs, along with a stout "D." They had neither this season, struggling to gain a foothold with a moribund offense and a defense that wasn't always impactful. The one thing they did well would seem to bode well in this matchup, as they were awfully-effective against the run, ranked third nationally. That represents a considerable part of the Ohio offense, as backs AJ Oullette and Maleek Irons, along with running QB Nathan Rourke have run wild on a lot of opponents. Will the big Aztecs' front be able to curtail that?
A possible problem for the SDSU defense is that Rourke is a pretty adept aerial force, having thrown 22 touchdowns while working with a good receiver in Papi White and several other reliable targets. San Diego suffered in this area and even against teams that weren't that great aerially. The Aztecs have a difference-maker at linebacker in Khavna Tezino, but other than him, there wasn't much playmaking on this side of the ball. Against an Ohio team that averaged over 41 points a game, these issues loom large in this game.
Can the Bobcats Jump Up in Class
Let's face it, the MWC is not the best conference in college football, but the competition is a little steeper than what's in the MAC. Ohio hasn't beaten the same quality of teams that the Aztecs have beaten, even if they finished the season in far-better form. There have been issues on defense for the Bobcats, where they really struggled against aerially-inclined offenses. San Diego State, however, wasn't able to get much going in that category, even after Carlsbad High alum Christian Chapman returned from an injury. He didn't get good results. They relied more on the run game, but they didn't have that big 2000 +-yard back to lean on when times got hard. The supposed heir-apparent Juwan Washington dealt with injuries all season, along with some inconsistent outings. But he's heating up and could be a factor in this game. Otherwise, they are relying on a pass-attack that features WR Fred Trevillion, Kahale Warring, and Tim Wilson, Jr. It's not a dynamic group. But Ohio gave up nearly 27 points a game.
Points to Ponder
Ohio finished the season in much better form. They're facing a team that can't air it out, as their run defense is the better part of their "D." San Diego was erratic as it got this season and usually for the worst. Their defense matches up well with Ohio's offense as they are strong against the run, but Ohio can get you in any number of ways. And with the Aztecs' defense not making a lot of plays, not rushing the passer well, and has not scored a TD yet this season, maybe this is a spot where the Bobcats offense can thrive. And even with the recent success, the Aztecs have had, they have lost to lesser teams in bowl games under Rocky Long, with recent bowl losses to Navy and LA-Lafayette. With better momentum, Ohio would seem to enter this spot in a higher-energy mode.
Lay the Points on the Bobcats
Just as you think this might be more out-of-range for the Bobcats, look at some recent San Diego State results. At the end of the day, the teams SDSU struggled against and even lost to aren't as good as a peaking Ohio football machine. The Bobcats are in better form, a steadier force, and a more-complete football team. Despite some shifting contexts and superior talent in certain aspects, I just don't think San Diego State is as good a football team as the Bobcats. I'm taking Ohio in the Frisco Bowl.
Loot's Pick to Cover the Point Spread: I'm betting on the Ohio Bobcats minus 3 points. Looking to parlay this bet? Don't leave money on the table wagering at a low payout book. Find sportsbooks that offer the best parlay payout odds.