Georgia BCS Title Odds & Season Win O/U Pick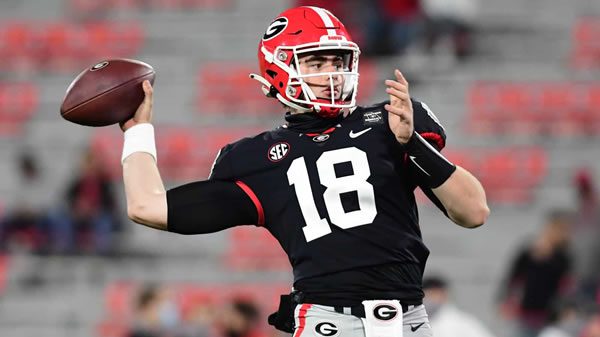 Georgia Bulldogs (+500)
If Georgia is going to make a run at the playoff, three things have to happen. First, the Bulldogs have to get better play from the quarterback spot. The signal-caller situation was a disaster for Georgia in 2020, as Jamie Newman never took the reins of the program because of COVID concerns, forcing Georgia to scramble between three options at the position. D'Wan Mathis and Stetson Bennett both had their chances and failed, leaving J.T. Daniels to finally take over and show why he became the starter as a freshman at USC. Daniels is now the unquestioned starter in Athens, and if he can continue the form he showed at the end of last season, the Bulldogs should be in fine shape.
Second, Georgia has to avoid the head-scratching loss that's become a staple of the Kirby Smart era. Over the past four seasons, Georgia has lost five regular-season games, and four of them have come as a favorite. The Dawgs appear to have finally figured out how to win in an SEC West stadium after losing at Mississippi, Auburn, and LSU in Smart's first three years in Athens, but they meekly went down to a Florida team that probably wasn't as good as its ranking suggested in Jacksonville, ending their hopes of an SEC title. The SEC slate is favorable, as the Dawgs draw Arkansas out of the West and play Kentucky, Missouri, and South Carolina in Athens.
More Picks: Texas A&M Aggies Season Win O/U Predictions >>>
Third, the defense has to be better than it was in 2020. In the two games Georgia lost, the defense did not get the job done, giving up 41 points to Alabama and 44 to Florida. Giving up that kind of offense to a Crimson Tide attack that averaged 48.5 points per game is understandable, but the Bulldogs had no excuse for that kind of letdown against a Florida team they'd held to 17 points in each of the previous two seasons. The defense was better down the stretch against South Carolina and Missouri, but Georgia still wasn't where it needed to be on that side of the ball. The Bulldogs have to replace six starters from last year's defense, and the newcomers have to be ready to take the Dawgs to the next level.
In short, there are a few too many things that have to happen to feel comfortable with these kinds of odds for the Bulldogs to win the crown, and we haven't even touched the fact that Georgia has to figure out how to beat Alabama when it matters most. Kirby Smart is 0-3 against former boss Nick Saban, and even though Georgia has pushed the Tide better than anyone in the SEC save for Auburn, the Bulldogs still haven't shown they can breakthrough. Given that Georgia has to beat at least one and possibly two teams that made the playoff last year just to get to the four-team event, you might be better served looking elsewhere.
Over or Under: 10.5 Wins
The good news here is that Georgia hasn't lost more than twice in any of the past four seasons, and in two out of three campaigns, the second loss came in the SEC title game. That means Georgia carried an 11-1 regular season mark into Atlanta in 2017, 2018, and 2019, which means there's a very good chance that the Bulldogs can hit this number.
That said, Georgia has a much tougher opener than any of those three seasons, as the Bulldogs will face Clemson in Charlotte to kick off the season. Non-conference tests don't come much tougher than the Tigers, who haven't lost a non-conference game since Georgia beat them in 2014 in Athens. If Georgia can get a win there, the rest of the schedule is a lot more favorable. They only play three SEC road games this season, and two are against Tennessee and Vanderbilt, likely the two weakest teams in the SEC East. Florida in Jacksonville is always a tough test, but otherwise, the only real threat on the schedule is Oct. 9 at Auburn. If Georgia can get a win in the Jungle, the Bulldogs have an excellent shot to be 10-1 when they roll into Atlanta to take on Georgia Tech, and the Dawgs haven't lost at Bobby Dodd Stadium since 1999.
Since Smart took over, ten wins has become the expectation in Athens, and there's no reason to believe that Georgia won't hit it again. As long as Georgia can get two out of three against Clemson, Florida, and Auburn, the over looks like the right play. Bet your Georgia Bulldogs pick for FREE by taking advantage of a 50% real cash bonus on your first deposit of $50 to $500 at Bovada Sportsbook! A book where credit cards work for deposits, where you receive a rebate on EVERY wager; win or lose and where you can engage in live betting on the absolute best platform on the web! Click here to check them out!