Texas A&M: BCS Title Chances & Season Win O/U Pick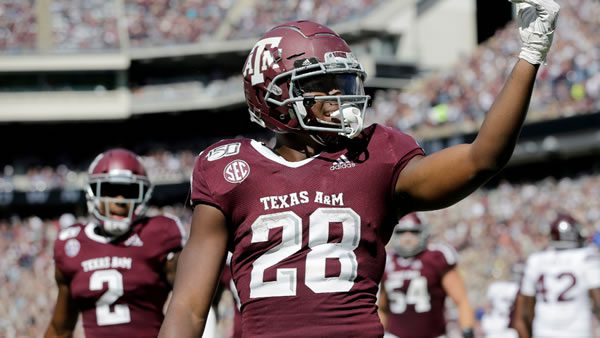 Texas A&M Aggies (+3000)
A year ago, A&M nearly competed in the playoff, coming just one spot short of earning a top-four spot. Instead, the playoff just had to give us Notre Dame, so the Aggies had to settle for a brilliant comeback cover against North Carolina in the Orange Bowl. This year's squad won't be driven as much by offense, but it should be an even more talented team overall, as A&M returns 15 starters and adds another top recruiting class to Jimbo Fisher's array of talent.
In order to contend for a title, A&M will have to get some top performances out of the defense, specifically when the Aggies face Alabama on Oct. 9. Last year, the Tide hung 52 on the Aggies, and that was with Texas A&M supposedly featuring an offense that could actually score with the Tide. The Aggies never came close, losing that matchup by 28. This year's defense has nine starters back and should be excellent against both the run and the pass, which could make a world of difference in a loaded SEC that features several explosive offenses. Over the final four regular-season games in 2020, the Aggies held opponents to just 43 points combined, a big reason why they weren't really challenged over the final month of the season.
On the offensive side of the ball, the Aggies have a lot to overcome with the loss of Kellen Mond under center. Mond showed excellent decision-making skills last year with just three interceptions. The Aggies will need either Zach Calzada or Haynes King to bring a similar level of maturity to the position. Mond was never an explosive quarterback, but he excelled by not trying to do too much and taking what was available. Whoever replaces him will have to do something similar, and they'll likely do it by riding the legs of Isaiah Spiller in the first month of the season. Spiller showed himself to be a capable running back by running all over Florida in the game that became A&M's coming out party, and he's likely going to get the majority of the carries during the first month of the season as Fisher brings along whoever his quarterback is.
Note: We also have NFL Season Wins Picks for pro football!
In order to make this bet, you've got to believe in a couple of things. First, you've got to believe in A&M's defense because without the defense getting off to a strong start, the Aggies aren't going to be doing much of anything in the SEC. Second, you have to believe in Jimbo Fisher's coaching abilities because the Aggies aren't likely to look the same at the start of the season as they will at the end of the year. As the passing attack starts to grow up, the Aggies are likely to become a far more balanced squad, which should help a fair amount as the schedule starts to get tougher. This is definitely a long shot because the Aggies have to go through Alabama to even have a chance at the title, but if they can pull off a win over the Tide, they'd become a favorite to win it all. For these kinds of odds, you could do a lot worse than the likely runner-up in the SEC.
Over or Under: 9.5 Wins
This bet is difficult, but not impossible. One reason it's got an excellent chance to hit is because the schedule is incredibly favorable to the Aggies, thanks to a pair of neutral-site games and some good luck out of the SEC East. Texas A&M doesn't play Florida or Georgia this year, instead of drawing two very winnable games in Missouri and South Carolina. Plus, the Aggies won't play a true road game until Oct. 16 at Missouri and will only leave the state of Texas once before then, as they'll play a manageable neutral-site game against Colorado in Denver.
Even better, the Aggies only have three true road games on the schedule, as they'll face Missouri, Mississippi, and LSU on the road. Everything else is either at Kyle Field or at a neutral site, which should give the Aggies a good chance at a 10-win campaign if everything goes right. But those last three words are crucial because Texas A&M either can't afford a slip-up or has to win one of the two tough tests on its schedule in Alabama or LSU. Playing Alabama is as tough as it gets no matter where the game is played, and A&M has never beaten LSU in Baton Rouge. If both of those go wrong for the Aggies, then they can't afford another mistake in an always-difficult SEC West.
That said, this should be Jimbo Fisher's best team that he's had in College Station, and if that's the case, the Aggies will likely be favored against everyone except Alabama. I wouldn't bet huge on this number, but I think the Aggies can hit double-digit victories. Bet your college season wins over/under picks FREE by taking advantage of a 100% real cash bonus on your first deposit of $100 to $500 at GTBets!