Alabama Betting Futures – Odds & Picks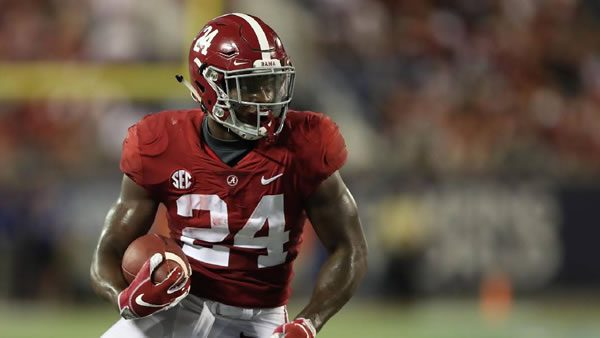 Alabama Crimson Tide (+250)
If the Tide are going to win yet another national title, they're either going to have to do it with defense, or they're going to need Bryce Young to be every bit as good as Tua Tagovailoa was as a freshman. Young takes over an offense that is down eight starters and will have to rely a fair amount on Brian Robinson in the early going, as the Tide's schedule is pretty loaded in the early going. Alabama opens with its usual marquee neutral-site game with Miami before going to Florida two weeks later, which will serve as the first real test for Young and his new assortment of weapons.
The opener should answer a lot of questions about the Tide because the offense will likely look a little different with Steve Sarkisian now at Texas and Bill O'Brien taking over as offensive coordinator. O'Brien and Saban are both former Bill Belichick assistants, so there might not be too much of an adjustment for the ex-Texans coach, but it's still a concern with a new offense coming together. In the early going, Alabama might have to play some defense to get some wins, and if the Tide's defense picks up where they left off last year, they'll be just fine with that.
Alabama's defense was really a tale of a rough beginning and a dynamite finish to the season. In the first four weeks, the Tide were nothing special on defense, surrendering 24 points on three occasions and giving up a mind-boggling 48 points to Mississippi. But Alabama turned things around with its annual pounding of Tennessee and didn't give up more than 17 points the rest of the way until running into Florida in the SEC title game. The defense was dominant again during the playoff, as Notre Dame never got started, and Ohio State got nowhere until Alabama had built enough of a lead to put the game to bed.
The big question here is whether Alabama can bring the offense along as fast as its defense. The Tide are always a contender for the title, but for this small amount of profit, I really don't want to gamble on an inexperienced unit coming through the SEC. There's not enough reward to get me excited in a futures bet.
Over or Under: 11.5 Wins
Think this bet's a freebie? Here's the problem with it: Alabama hasn't gone undefeated in an odd year (read: a year where the Tide goes to Auburn) since 2009. The Tide has struggled to complete perfect seasons in odd years because the trip to the Jungle is by far Alabama's toughest trip in the SEC West, and even Nick Saban isn't immune to its difficulty. Auburn has won three of the last four Iron Bowls at Jordan-Hare Stadium, and Alabama has only ever lost to Auburn and played in the SEC championship game once: 1993, long before Nick Saban arrived. Put simply. There's a reason why Alabama has only played in one of the past five SEC championship games played in an odd year.
And that's a problem because if Alabama slips in the Iron Bowl, the pollsters' love of Alabama won't be enough to save this bet for you. Unlike the College Football Playoff, Alabama's actually got to earn its way to the SEC championship game on the field, and if the Tide don't make it, there's no way for this bet to cash. Unfortunately for over bettors, Auburn is far from the only land mine on this schedule. October 9 is easily the most challenging game on the Tide's schedule this season, as they'll visit Texas A&M with the Aggies finally believing that they're good enough to win this kind of game. Alabama has won all five meetings between the teams in College Station, but the Aggies have never been this close to competing for a championship.
The rest of the road games are no cakewalk either, as the Tide face Florida in their third game and follow A&M with a trip to Mississippi State. Alabama hasn't lost to an SEC East opponent since getting upset by South Carolina in 2010 (yes, it's been 11 years since Alabama lost a league game outside the division), but the Tide also hasn't been to Gainesville since 2011 (another reason why SEC expansion is completely ridiculous).
Alabama has had similar success against Mississippi State in Starkville, having won six straight against the Bulldogs, but there is a big concern there. While the Tide are playing at Texas A&M, a game likely surrounded by national hype, the Bulldogs will be on their couches recovering, as they're on a bye that week. Granted, Mike Leach never does anything different, so it's not like the Bulldogs will surprise Alabama with anything they'll do, but this has all the makings of a trap game if the Tide are still unbeaten after traveling to A&M.
Luckily, the home schedule is very favorable, as Mississippi is probably the strongest team that will visit Tuscaloosa this year. But with a brutal road schedule, this bet essentially gambles that either Alabama will sweep the SEC again or that this won't be the year that Kirby Smart finally figures out how to beat the Tide when it matters mostt. It's a reasonable bet, but it's still far riskier than the payout justifies. Note: Kick your season off right by scoring a fat bankroll booster 100% real cash bonus on your first deposit up to $300 at MyBookie when you use promo code MyBookie Bonus Code PREDICT100. You can also take advantage of a FREE winner as they're offering a bet where you win if EITHER team scores in the Week 1 NFL season opener between the Cowboys/Buccaneers! Click here to sign up now!
100% REAL CASH up to $300

USE BONUS CODE:
PREDICT100