Georgia State vs. Arkansas State Pick 10/15/20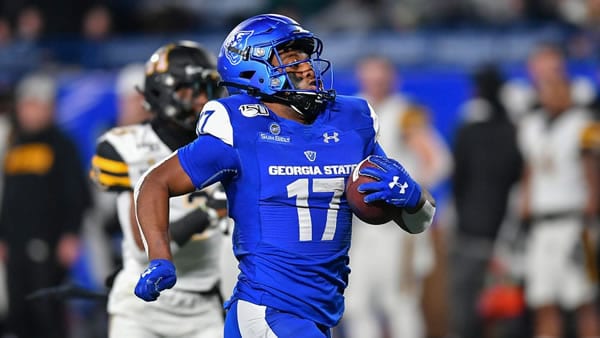 Georgia State Panthers (1-1 SU, 2-0 ATS) vs. Arkansas State Red Wolves (2-2 SU, 3-1 ATS)
When: Thursday, October 15, 7:30 p.m.
Where: Centennial Bank Stadium, Jonesboro, Ark.
TV: ESPN
Point Spread: GAST +3.5/ARST -3.5 (Bookmaker - Biggest book on the web! FAST payouts!)
Total: O/U 73
Outlook
Two teams with a history of putting up a lot of points against each other face off in an effort to stay in the race for the Sun Belt title. Georgia State has actually played very well to start this season, as the Panthers came within an overtime stand of upsetting Louisiana and easily handled East Carolina. However, Georgia State has yet to go on the road this season because of COVID, and it's anyone's guess as to how well the Panthers will handle playing away from home.
Arkansas State started the year very well themselves, playing Memphis tough and catching Kansas State napping, giving the appearance that the Red Wolves were on their way to something special this season. But the bloom has come off the rose for Arkansas State ever since a trip to Coastal Carolina, which saw the Red Wolves give up 52 points to the Chanticleers and raise a lot of questions about their own defense. Now they get a shot at a measure of revenge, as Georgia State put up 52 points of its own on the Red Wolves last year in a homecoming win that proved to be the springboard that carried the Panthers to a bowl appearance.
Given that both teams still have to face off with Appalachian State, it's clear that neither side can afford a loss if it wants to stay in the race for the conference title. Which team can rise to the occasion in this Thursday night encounter?
How the Public is Betting the Georgia State/Arkansas State Game
The line has dropped a point and a half in Georgia State's favor, falling from the opening of five points to the current spread. The total has not changed.
Injury Concerns
Georgia State:
Georgia State reports no injuries.
Arkansas State:
Arkansas State reports no injuries.
When Georgia State Has the Ball
Truth be told, Georgia State should have beaten East Carolina by even more than the 20-point rout that it put up against the Pirates. The Panthers gave away 14 points to East Carolina with turnovers, including a pick-six from quarterback Cornelious Brown six seconds into the contest. But Brown settled down quickly and ended up tossing three touchdowns in the win, more than making up for his early mistake.
However, those errors cannot continue if Georgia State is going to establish itself as a contender in the Sun Belt. What the Panthers need to do is avoid turning the ball over (five in two games) and let running back Destin Coates carry most of the load. Coates is a classic bell-cow running back, one whom the Panthers can count on for 25+ touches a game. He won't wow anyone with his breakaway speed (his longest run this year is just 23 yards), but he more than makes up for that with his durability. So far, he's had 57 carries in two games, showing that he can take a pounding. He shouldn't even have to do that against Arkansas State, which has surrendered 152 yards per game on the ground.
FREE BET! DEPOSIT $25 AND GET A FREE $50 BET AT INTERTOPS WITH CODE: ROOKIE200. YOU MUST USE THIS LINK TO SIGN UP!
If he gets going, opportunities will be there for Brown and wide receiver Sam Pinckney. In the loss to Coastal, Arkansas State was hampered by the fact that it could not get off the field on third down, mainly because Coastal quarterback Grayson McCall had plenty of time to throw and routinely found his open targets. When it was over, McCall had thrown for 322 yards and four touchdowns, a big reason why Coastal won so easily. Brown doesn't need as much time as McCall, as he's a more athletic quarterback and can create his own time. If the Panthers can give Brown enough time to make his reads, Georgia State will be in business.
When Arkansas State Has the Ball
Jonathan Adams Jr. is going to get his yards. That's not in doubt, as the receiver has been remarkably consistent during this young season. In three of four games, he's caught six passes, and he's finished with 98 yards or more in each of the last three contests (98 yards twice and 101 last week against Central Arkansas). What will decide the game is whether those yards land him in the end zone. In Arkansas State's two wins, Adams has five touchdowns, as neither Central Arkansas nor Kansas State was able to keep him in check.
But in the two defeats, Adams never found the end zone. Coastal Carolina didn't exactly stop Adams, as one of his catches was for 52 yards, but the Chanticleer defense did contain him just enough to force the Red Wolves to find another way to beat them. They couldn't do it, and one reason they couldn't do it is because the Red Wolves operate with a bizarre two-quarterback system where Logan Bonner and Layne Hatcher share the job under center. Both are similar players, which only makes things even more bizarre for the Red Wolves. On the one hand, it makes it easy for them to ride a hot hand if one is playing well, but on the other, it takes time for even one quarterback to get into a flow, let alone two.
So far, it hasn't cost the Red Wolves outside of the Coastal game, as they average 342 yards through the air, but that could also be because both were able to fire at will against a second-rate Central Arkansas defense. If Georgia State can slow the pass down, it could throw Arkansas State off its game.
Betting Trends
Georgia State has played well this season, but the Panthers also have yet to leave home, which traditionally goes badly for them. In their past 14 road games, Georgia State has covered just twice, with a pair of pushes. Conversely, Arkansas State has been excellent at home, covering in four of its past five games in Jonesboro.
As for the total, this game is at 73 points for a reason: these teams have put up some ridiculous numbers against each other. Last year in Atlanta, the squads combined to put up 90 points. That's a record for them, but just barely, as the number was 86 two years ago in Jonesboro. In fact, Georgia State has never managed to stop Arkansas State in the teams' brief history against each other, and especially not in Jonesboro. In three trips to northeastern Arkansas, the Panthers have never conceded fewer than 35 points, and their past two visits have seen the Red Wolves accumulate 99 points on the Georgia State defense.
These teams also don't tend to play especially close games, either. Since the first meeting, a 35-33 Arkansas State win, not one game between the teams has been decided by fewer than 14 points.
Weather Report
With partly cloudy skies and temperatures at 68 degrees at kickoff, this looks like a fantastic night to play football in Jonesboro.
Dan's Pick to Cover the Spread
Based on their recent performances, Georgia State looks like it should be the pick. But that line is dropping fast toward the Panthers, and if the public knew how to bet games, Vegas wouldn't be full of posh casinos. That tells me to think differently on this game, and so does Georgia State's horrible history away from home. The Panthers have not been a good team when they leave Atlanta, and they have really struggled to stop Arkansas State no matter where they've played. Even in their breakthrough last season, they still gave up 38 to the Red Wolves.
A little basic algebra tells us that 38 is the number Vegas expects from the Red Wolves here, and Georgia State's ugly history in Jonesboro says that number is within reach. I'd wait until kickoff to grab the Red Wolves and see if you can get them without the hook, and I'd take Arkansas State to go over its point total as well. Important! You work hard to earn your money! DO NOT fart it away foolishly! Why the hell would you pay -110 odds on sides and total when you could lay -105? You are essentially saving money/receiving a bonus EVERY TIME place a bet! Get rid of your over-priced bookie TODAY, and start betting at reduced odds at BetAnySports! You will be SO glad you did!