Hawaii Bowl Picks: MTSU/SDST Analysis & Prediction ATS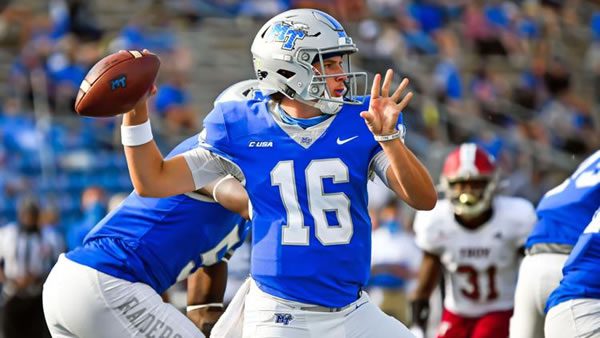 Middle Tennessee Blue Raiders (7-5 SU, 5-6-1 ATS) vs. San Diego State Aztecs (7-5 SU, 5-7 ATS)
Easy Post Hawaii Bowl
Date and Time: Saturday, December 24, 2022 at 8PM EST
Where: Clarence Ching Athletics Complex, Honolulu, Hawaii
TV: ESPN
Point Spread: MTU +7/SDSU -7 (Bovada – 50% bonus up to $250 + the most incredible live betting platform on the web! AWESOME betting site!)
Over/Under Total: 49
The Middle Tennessee Blue Raiders take on the San Diego State Aztecs in Honolulu on the 24th in the Hawaii Bowl. Both teams enter this contest at 7-5, having last played on the 26th with almost a month off leading into this bowl spot. The Blue Raiders won their last contest, ending an up-and-down Conference USA schedule with a 33-28 win over Florida International. The Aztecs ended the regular season on a losing note, dropping a 13-3 snoozer to Air Force. But leading into that, they had won three in a row and look to end on a solid note. Who can get us the cover on the 24th in Honolulu?
Looking For Clues
In terms of form, things break pretty even. The Blue Raiders overcame a rough patch in the midseason, and at 4-5 with three games left, they were able to win three straight conference games and put themselves in bowl position. It was a roller-coaster season with a nice start, a swoon, and then a strong finish to get here, their 10th bowl appearance in head coach Rick Stockstill's 17-year tenure. The Aztecs had a bad start to the season, forcing head coach Brady Hoke to shake things up dramatically in the staff and rotation. A 5-2 run is what followed, landing the Aztecs in this spot, their 12th bowl game in 13 seasons.
10* CFB Championship! 49-23, 68% Season!
Jack Banks is all-in in tonight's College Football Championship! The Banker swept his NFL yesterday (Won Div GOY) and he's had a 49-23, 68% CFB phenomenal season! Jack won his CFB Bowl GOY (Penn State) and he wraps up the season with win #50! Take it to the bank with Jack Banks!
Taking a Closer Look
Granted, the Aztecs didn't have one of their better seasons in recent memory, but in the last two months of their season, the setbacks were few and forgivable. There was a narrow loss to eventual conference champion Fresno State, and of course, their awful 3-point output over Air Force. But Air Force has the top-ranked defense in the country and is a far cry from what the Aztecs will be seeing in this one with a Middle Tennessee "D" that is among the more aerially-exploitable defenses in the nation. It's easy to overrate the power of conferences at this point in the season, especially when unexceptional mid-level teams like the Aztecs take on presumably-weaker teams like the Conference USA's Blue Raiders. Still, the Aztecs generally did what they did against a higher level of opponent.
The Blue Raiders deserve a lot of credit for getting here. One could also look at it like they were a team shown to not be up to snuff against the better teams in their conference for most of the season. The schedule shook out favorably, with them catching a low-end trio of C-USA teams at the end with Charlotte, FAU, and FIU, letting them end their season on a run. What would it have looked like if the Aztecs played those teams? Would San Diego State lose to a UAB team that ended up 6-6 by 27 points or by 17 and 16, respectively, to Western Kentucky and Louisiana Tech? Middle Tennessee did.
More Picks: Wisconsin vs. Oklahoma State Guranteed Rate Bowl Best Bet
Matchup Issues
The Blue Raiders face numerous ones, and while they won't be facing one of the higher-octane SDSU offenses in recent years, they will be facing a strong "D" that has become a staple of the Aztecs lately. The Blue Raiders wield a pretty vital aerial offense. With QB Chase Cunningham throwing for almost 3000 yards, he had some impressive showings on the season and working with receiving talent like Jaylin Lane. It's a group that can do damage. The run game, with Frank Peasant and his 9 TDs, is also a factor. But the problem is they'll be facing a San Diego St. defense that has allowed just 20 points a game while being strong in all areas against offenses with more upside than what Middle Tennessee brings to the table. We'll also see if a Blue Raiders O-line can repel guys like Jonah Tavai and others on the Aztecs' defense who figure to bring the heat.
Still, with a San Diego offense that can really bottom out, how hopeless is the Blue Raiders in all reality? In half of their games, the Aztecs scored 17 or fewer points. When laying a TD, that can be a real problem. It would only be fair to point out that in seven of the Aztecs' games, they allowed 14 or fewer points. It's true the Middle Tennessee defense is bad, but that's mostly steeped in their aerial deficiencies. San Diego State QB Jalen Mayden isn't totally inept aerially, and the connections he made with jumbo-sized receiver Tyrell Shavers over the second half of the season were promising, but they might not be able to take advantage of the Blue Raiders' biggest weakness on defense.
Take the Points
A month after scoring 3 points, one has to wonder how realistic an SDSU offensive explosion is going to be in this game. Combined with the strides the Blue Raiders made on offense late in the season, I sense a close game where points perhaps aren't that plentiful. Granted, this is a heck of a road trip for the Blue Raiders, but I suspect coach Stockstill will have them on point for what might be a slightly more important game for them. I think Middle Tennessee can hang in there, and I'll take the Blue Raiders and the points.
Loot's Pick to Cover the Point Spread: I'm betting on the Middle Tennessee Blue Raiders plus 7 points. Note: Check out this killer offer! You get a 125% bonus up to $400 AND a free half point everytime you bet your favorite teams! All you gotta do is use promo code PREDICTEM at GTBets Sportsbook! They have a cool loyalty program too!