Hawaii Rainbow Warriors vs. Boise State Broncos Pick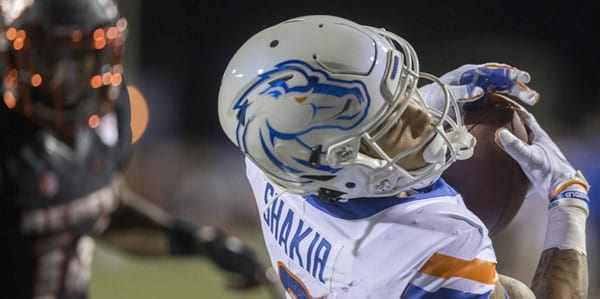 Hawaii Rainbow Warriors (4-1 SU, 3-2 ATS) vs. Boise State Broncos (5-0 SU, 3-1-1 ATS)
College Football Week 7
Date and Time: Saturday, October 12, 2019 at 10:15PM EDT
Where: Albertsons Stadium, Boise, Idaho
TV: ESPN 2
Point Spread: HAW +12.5/BSU -12.5 (BetNow)
Over/Under Total: 60.5
The Hawaii Rainbow Warriors come to Albertsons Stadium on Saturday for a Mountain West Conference faceoff with the Boise State Broncos. Both teams lead their respective divisions, with this perhaps being a preview of the conference title game. For the Broncos, that would be old-hat. This season, they are off to a fast start at 5-0, coming off a 38-13 road-win over UNLV. They look to go to 3-0 in the conference against a Rainbow Warriors bunch that is seeing success this season, coming off a 54-3 road-win over Nevada where they were just two-point favorites. With two wins over Pac-12 teams and their only loss on the road to Washington, Hawaii looks to make a real mark in the MWC this week, albeit in a very tough spot.
What Got Hawaii to 4-1?
When you think of dangerous Hawaii teams of the past, you might think of aerial explosiveness, with a lot of mistakes and not a ton of defense. That would be mostly true about this Hawaii team, though one should stop short of calling their "D" horrible. With gunslinging quarterback Cole McDonald, they are, in fact, very aerially-inclined. McDonald is averaging over 300 yards a game, operating with a cast of four talented ball-catchers in Cedric Byrd, II., Jojo Ward, Jared Smart, and Jason Matthew-Sharsh. Byrd already has nine touchdowns. And on returns, Melquise Stovall is a guy who can add points to the equation. Granted, the run-game lags behind the pass, but Miles Reed and Dred Holly, III. are respectable enough to keep defenses on their toes. McDonald himself has shown some nifty running here and there.
McDonald is a real talent and a solid presence in the pocket. However, with nine picks already this season, there are flaws that the Boise State defense can exploit. The Broncos have easily the best secondary in the Mountain West. They may not have faced the greatest aerial attacks this season. Hawaii will definitely be a new look from what this Boise State "D" has been seeing. Despite being in the same conference, these teams haven't played since 2016. Nevertheless, under Nick Rolovich and following an 8-win season, this Hawaii program is on the right track, and one better believe that they perceive this as a potentially big notch on their belt—a sign that they've arrived.
More Picks: Alabama at Texas A&M Spread Play >>>
A Potentially Great Boise Team?
It's premature to say. Sure, they came back in heart-pounding fashion to beat Florida State and true freshman quarterback Hank Bachmeier seems like a gem in the making. But let's face it, the Broncos are supposed to beat Marshall, Portland State, Air Force, and UNLV, with all but the latter coming at home. With another game at home this week, that's four in five games, with a week off in the mix, meaning they're being eased into action this season, one could say. Still, there are some good signs on both sides of the ball that will put Hawaii to the test.
Bachmeier makes mistakes here and there but has shown a great rapport with John Hightower, Khalil Shahir, CT Thomas, and Akilian Butler so far this season. Running backs George Holani and Robert Mahone have both had their moments, and defenses can't just focus on the pass-attack. It would seem that a Hawaii road-defense would be in a position where they could struggle. While they've played well in recent weeks against lesser opposition, they were out of their depth against all three Pac-12 teams they played to open the season. There are still question marks on both sides, as this represents a stiffer test for each squad than what they've seen the last few weeks.
100% Free Play up to $1,000

The Problems for Hawaii
It's not just about the road-component, though a Hawaii to Boise trip might be the most arduous in the conference. It's just that Boise State is so much more complete of a team. Whenever you're dealing with an underdog, it's nice that they do something really well, and the Rainbow Warriors fit that bill with a vital passing-game. But Boise can do that and run the ball. They play defense. And therein lies the issues for Hawaii, where their recipe for success could fall flat in this context. When you see them against a good, but imperfect Huskies team, coached by former Boise head coach Chris Petersen, you see the aerial flair pale in the face of all their other limitations. Beating Arizona and Oregon State is nice. But against a well-rounded Boise team, this has the potential to get ugly.
The Hawaii pass-defense isn't even so bad. There have been spots where they were rigid and made plays this season, but when you see Khalil Tate putting up 361 yards through the air and 108 on the ground, it's just part of how this Hawaii defense hasn't quite turned the corner as fast as the other side of the ball. And on the ground, they have given up big plays all year. The thought of Boise being at home and peeling off 8-yard runs at will suggests ominous results for the Rainbow Warriors. Hawaii will be reduced to getting a bunch of big plays through the air against what happens to be the best pass defense in the conference. Meanwhile, a defense that doesn't shine in any one area other than the occasional big play will be pitted against a diverse Boise offense that can get it done a number of ways.
Take the Home Favorite
This isn't a way to diminish what Hawaii is doing with their program. They are a good team and have made significant strides in turning things around. Even on the blue-field, they can't be disregarded. And after some time in the spotlight, Boise is sometimes overrated in this context, a constant letdown candidate as a big home favorite against a scrappy conference opponent. I just see Boise matching up well with a Hawaii team across a lot of levels on and off the field, especially with Boise having been at home almost all season, with the Warriors in their second straight road game. I'm taking the Broncos.
Loot's Pick to Cover the Point Spread: I'm betting on the Boise State Broncos minus 12.5 points. If you had a rough day betting college football, don't fish for a massive bet on a bailout game. The best way to get back to even or show a profit for the day is by taking advantage of a 100% bonus. This essentially means you deposit X amount and the sportsbook credits you with free money matching the amount of your deposit. They do this to gain your business and have you as a long term client. Sites offering 100% bonuses to Predictem readers include MyBookie and GTBets.