Las Vegas Bowl Pick ATS: Florida Gators vs. Oregon State Beavers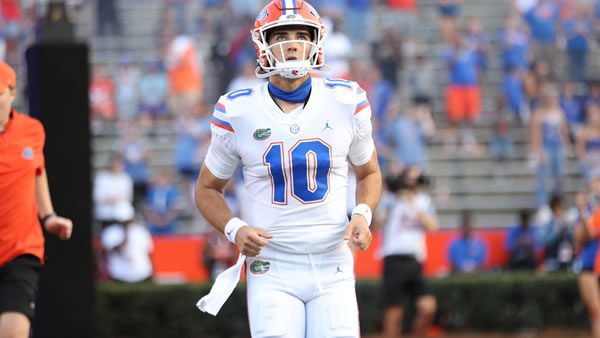 Florida Gators (6-6 SU, 7-5 ATS) vs. Oregon State Beavers (9-3 SU, 10-2 ATS)
SRS Distribution Las Vegas Bowl
Date and Time: Saturday, December 17, 2022 at 2:30PM EST
Where: Allegiant Stadium, Las Vegas, Nevada
TV: ESPN
Point Spread: FLA +10/ORST -10 (Bovada – You gotta check these guys out if you live bet games! Their platform is hands down the best on the web! Plus you get a 50% real cash bonus!)
Over/Under Total: 63
The Florida Gators take on the Oregon State Beavers in the Las Vegas Bowl on Saturday. This might not have been the final destination both teams had in mind, but it's an attractive site for their final game—in an entertaining city insulated from some of the conditions other bowl teams face. For the Beavers, it was a successful 2022 season, winners of nine games, including a big 38-34 win over high-ranked rival Oregon in their last game. They face a Florida team that limped a bit to the finish line, losing their last two, including a 45-38 loss to Florida State in their last outing. Who can bring us home a cover in this season finale for both teams?
A Closer Look at Florida
For the purposes of this game, there are those who will put a lot of stock in how these teams finished, with Oregon State roaring at the season's end, while the Gators offered more of a whimper. The momentum, whether positive or negative, is at least dulled a bit by the three week break leading up to this spot. And while the Beavers finished with far more of a flair, perhaps some context is helpful when looking at Florida's finish and overall so-so 6-6 record this season.
Not that Oregon St. had some kind of breeze in the Pac-12, but the Gators actually acquitted themselves decently for much of the season, slugging it out in the treacherous SEC. They beat some good teams, including an early-season win over a team that beat the Beavers in Utah. They still went the whole year taking on really tough teams without getting embarrassed. All their losses were at least halfway-respectable. But a loss to Vandy was ugly, coming right before losing a one-score affair to FSU in their rivalry game to conclude their regular season. And some daunting personnel issues they face entering this game really round out a less-than-appetizing equation.
Beavers: A Good Spot?
It's difficult to discount teams that overachieve, like the Beavers. With them mostly neglected this season, they really did a number on this conference when it looked like it would go sideways. After a bad loss to Utah in the only game where they were dominated this season, they won six of their last seven games to land in this spot and finished the regular season as a top Pac-12 team, something not a lot of people envisioned. Now would be a strange time to just see it all die in the wind. I'd expect a Beavers team to show up ready to go in Vegas.
10* CFB Championship! 49-23, 68% Season!
Jack Banks is all-in in tonight's College Football Championship! The Banker swept his NFL yesterday (Won Div GOY) and he's had a 49-23, 68% CFB phenomenal season! Jack won his CFB Bowl GOY (Penn State) and he wraps up the season with win #50! Take it to the bank with Jack Banks!
What to Expect
Both teams have favored the run this season, using that aspect for the bulk of their offensive success. The Beavers feature a three-headed RB attack led by Damien Martinez. QB Ben Gulbranson can scoot, too, when the time calls. The ground game was in fine working order as they wielded it with precision against Oregon in their last game, made all the more impressive as the Ducks had shown themselves to be good against the run defensively. With the line clicking and the run game peaking late, this stands out as a heavily-viable route to success for the Beavers this week. One could say that Florida's struggles against the run game are partially influenced by their SEC schedule where they saw the best in the nation week after week, but that's not a defensive drawback a team would want when poised to face what is really a peaking ground-game for the Beavers.
But alas, Florida has their own pieces to wield on a Beavers' defense that is getting its first taste of what an SEC ground game can look like. Like Oregon State, the Gators feature a three-headed running back attack led by Montrell Johnson, Jr. It was previously given a boost from a mobile QB. The issue is that QB Anthony Richardson has declared for the draft, and they suddenly find themselves without his services. They rely on the run-game heavily and have seen it continue to thrive, despite results that aren't so great lately. That's more about a defense that has struggled, but the run game is in good working order. That reliance on the run might help them recover from the loss of Richardson better than other teams in the same spot. But with some aerial setbacks personnel-wise and the loss of Richardson, they certainly don't enter this game in a peak state offensively.
Possible Edges for Both Teams
The Beavers' run-game will get a lot of usage on Saturday. They will bring it and do it against a Florida defense that hasn't been getting better. The fact that they're weak against the run doesn't bode well, even if having a nice run game in their own right should at least give them an angle to get into this game. While Gulbranson and the Beavers' aerial attack has been so-so, this is also a spot for them to pounce. And you wonder if an exploitable Florida defense that isn't heavy on making big plays won't be the thing that ends up messing this all up for the Gators.
Lay the Number
Oregon State having to cover a big number in neutral territory against an unfamiliar foe might not cast them in their best position. But between the way, the season ended for the Gators and the loss of their starting QB. Along with a lot of iffy aerial pieces, this doesn't seem like a position where they will thrive. I think the Beavers will make a strong enough push to finish the season strongly and take it to a Florida team that is limping a bit into this spot. I'll take the Oregon St. in this one.
Loot's Pick to Cover the Point Spread: I'm betting on the Oregon State Beavers minus 10 points. Bet your college bowl game predictions for FREE by scoring a 100% real cash bonus up to $500 when you use bonus code PREDICTEM at Betnow Sportsbook!