Louisiana Ragin Cajuns vs Alabama Crimson Tide Pick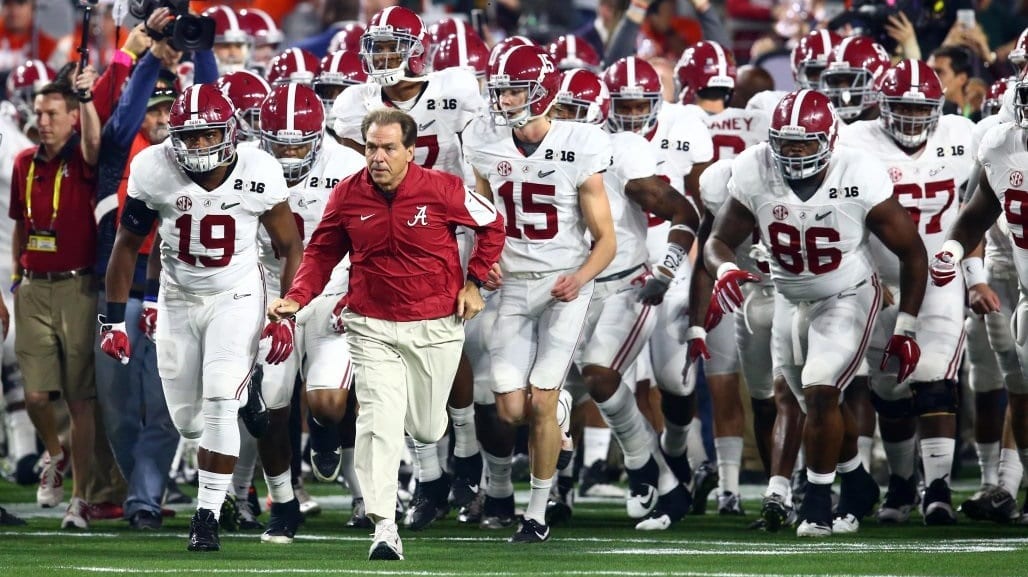 Louisiana-Lafayette Ragin Cajuns (1-2 SU, 1-2 ATS) vs. No. 1 Alabama Crimson Tide (4-0 SU, 3-1 ATS)
College Football Week 5
When: Saturday September 29th, 2018. 12:00PM (EST)
Where: Bryant-Denny Stadium Tuscaloosa, A.L.
TV: SECN
By: Jay Horne, College Football Handicapper, Predictem.com
Spread: ULL +49 / ALA -49

Hopefully everyone has been paying attention to these weekly Alabama picks because once again I was spot on last week when I picked the Aggies to cover the spread. Alabama cruised to a 45-23 victory and despite failing to cover for the first time this year; they still look like the best team to ever take the field in the Nick Saban era. That is a bold statement for an era that has produced 5 National Championships but I truly believe this Alabama team is unstoppable. This week the momentum continues and I am here to provide another quality pick surrounding the Crimson Tide as they host the Louisiana Ragin Cajuns inside Bryant-Denny Stadium as huge 49 point favorites!
Louisiana stands at 1-2 SU and 1-2 ATS this year. The Ragin Cajuns only victory came against an FCS foe in Grambling State in their opener. They failed their first test against an SEC foe when they were blown out against Mississippi State 56-10 in week 2. However, these huge point spreads are tricky to predict and you really need to understand the matchup. I had the privilege of watching the Ragin Cajuns twice this year and I can tell you this; they will be severely undersized in the trenches against Bama and they will likely rely on the arm of quarterback Andre Nunez… then hope for the best.
Ride the Crimson Tide wave
One thing I can tell everyone for certain is that Louisiana will not be able to run the football this week against Alabama. The offensive line is undersized and they do not run enough wrinkles to confuse the Bama defense. More importantly, the Crimson Tide size and speed will be overwhelming. This means the Ragin Cajuns offense will continuously put the ball into the hands of quarterback Andre Nunez. Nunez is a solid passer and the best offensive player for Louisiana. While I don't trust any quarterback against Alabama's defense, I think we need to pay closer attention to the game flow to understand why this matchup favors Alabama despite the huge spread.
If Louisiana keeps the ball in the air, there are going to be a lot of stopped clocks due to incomplete passes and a greater possibility for defensive turnovers. Alabama's defense is going to get pressure. It is just a matter of whether they can force turnovers. Either way, this game flow is clock friendly and should allow Alabama several possessions before the clock expires. As everyone has seen this season, Alabama's offense has been unstoppable. Quarterback Tua Tagovailoa has posted the 2nd highest quarterback ratings through his first 4 games than any quarterback in the last 15 years. The Crimson Tide have posted point totals of 51, 57, 62, and 45 most recently against a strong Texas A&M defense. They are winning about 80% of their possessions and I don't see them slowing down this week against an inferior offense.
Trust the Trends
I know the fear in this situation is that Alabama's calls off the dogs before surpassing the spread. Historically, that is an angle to fear but remember this Alabama offense is the best in the Saban era. They can literally score on every possession and they may do so in the 1st half. Even if Saban's pulls the starters, I think the bulk of the damage will be sustained early. From a trend standpoint, Alabama has been one of the best money makers against the spread going back to 2017. The Crimson Tide are 4-1 ATS in their last 5 home games compared to Louisiana who are just 1-4 ATS in their last 5 games overall and 1-4 ATS in their last 5 games on the road. In games where Alabama is at least a 20 point favorite, they are also 4-1 ATS in those last 5 situations as well.
Jay's Pick to Cover the Point Spread: Take Alabama -49
<aside><!-- [et_pb_line_break_holder] --><div class="widget105"><!-- [et_pb_line_break_holder] --><h4 class="cash">Best Sportsbook Bonuses</h4><!-- [et_pb_line_break_holder] --><div class="widgetlist"><!-- [et_pb_line_break_holder] --><div class="col1"><!-- [et_pb_line_break_holder] --> <a href="https://www.predictem.com/out/IntertopsB"><img src="https://www.predictem.com/wp-content/uploads/2018/04/intertops.png" width="" alt="Bovada" /></a><!-- [et_pb_line_break_holder] --></div><!-- [et_pb_line_break_holder] --><div class="col2"><!-- [et_pb_line_break_holder] --><span class="list"><b>50% Cash</b></span><br><!-- [et_pb_line_break_holder] --><span class="list">4x Rollover</span><!-- [et_pb_line_break_holder] --> </div><!-- [et_pb_line_break_holder] --> <div class="col3"><!-- [et_pb_line_break_holder] --><a href="https://www.predictem.com/betting-sites/intertops/"><button class="btn-widget">Review</button></a><!-- [et_pb_line_break_holder] --></div><!-- [et_pb_line_break_holder] --></div><!-- [et_pb_line_break_holder] --><div class="widgetlist"><!-- [et_pb_line_break_holder] --><div class="col1"><!-- [et_pb_line_break_holder] --> <a href="https://www.predictem.com/out/BovadaB"><img src="https://www.predictem.com/wp-content/uploads/2018/04/bovada.png" width="" alt="Intertops" /></a><!-- [et_pb_line_break_holder] --></div><!-- [et_pb_line_break_holder] --><div class="col2"><!-- [et_pb_line_break_holder] --><span class="list"><b>50% Cash</b></span><br><!-- [et_pb_line_break_holder] --><span class="list">10x Rollover</span><!-- [et_pb_line_break_holder] --> </div><!-- [et_pb_line_break_holder] --><div class="col3"><!-- [et_pb_line_break_holder] --><a href="https://www.predictem.com/betting-sites/bovada/"><button class="btn-widget">Review</button></a><!-- [et_pb_line_break_holder] --></div><!-- [et_pb_line_break_holder] --></div><!-- [et_pb_line_break_holder] --><div class="widgetlist"><!-- [et_pb_line_break_holder] --><div class="col1"><!-- [et_pb_line_break_holder] --> <a href="https://www.predictem.com/out/GtbetsB"><img src="https://www.predictem.com/wp-content/uploads/2018/05/gt-bets.png" width="" alt="GtBets" /></a><!-- [et_pb_line_break_holder] --></div><!-- [et_pb_line_break_holder] --><div class="col2"><!-- [et_pb_line_break_holder] --><span class="list"><b>100% Cash</b></span><br><!-- [et_pb_line_break_holder] --><span class="list">20x Rollover</span><!-- [et_pb_line_break_holder] --> </div><!-- [et_pb_line_break_holder] --> <div class="col3"><!-- [et_pb_line_break_holder] --> <a href="https://www.predictem.com/betting-sites/gtbets/"><button class="btn-widget">Review</button></a><!-- [et_pb_line_break_holder] --></div><!-- [et_pb_line_break_holder] --></div><!-- [et_pb_line_break_holder] --><div class="widget-footer"><a href="https://www.predictem.com/best-sportsbooks/bonuses/">See all sportsbook bonuses</a></div><!-- [et_pb_line_break_holder] --> </div></aside>