[et_pb_dcsbcm_divi_breadcrumbs_module hide_homebreadcrumb="off" homebreadcrumbtext="Home" separator="sep-raquo" hide_currentbreadcrumb="off" homebreadcrumborientation="left" _builder_version="3.8″ fontsbreadcrumbs_font="Lato||||||||" fontsbreadcrumbs_text_color="#000000″ fontsbreadcrumbs_font_size="15px" fontsbreadcrumbs_line_height="16px" fontsseperator_font="||||||||" fontsbreadcrumblinks_font="||||||||" fontsbreadcrumblinks_text_color="#2567cf" custom_margin="25px|||" custom_margin_phone="30px|||" custom_margin_last_edited="off|desktop" custom_css_main_element="font-family: Helvetica Regular;" global_module="3641″ saved_tabs="all"][/et_pb_dcsbcm_divi_breadcrumbs_module]
Friday ACC Pick : Louisville vs. Syracuse Betting Forecast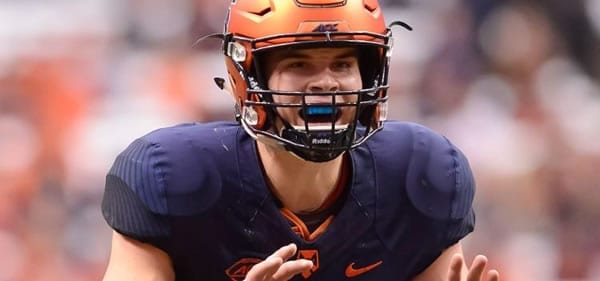 Louisville Cardinals (2-7 SU, 1-8 ATS) vs. No. 19 Syracuse Orange (7-2 SU, 6-2-1 ATS)
NCAA Football Week 10
Date/Time: Friday November 9th, 2018. 7:00PM (EST)
Where: Carrier Dome Syracuse, N.Y.
TV: ESPN2
Point Spread: LOU +21/SYR -21
Over/Under Total: 69
Oh my, the seat is getting extremely hot for Louisville Head Coach Bobby Petrino. The Cardinals have sported 8-9 win seasons in each of Petrino first four years at the helm. This year the wheels are falling off the wagon right in front of our eyes. The Cardinals have lost 6 straight games against fellow ACC opponents including last week's embarrassing 77-16 loss at no. 2 Clemson. The Tigers literally had 3rd string backups that were in the game and still scoring touchdowns in a complete thumping against a Louisville team that was among the tops in the ACC just two years ago. Now Louisville looks for some sort of shot at redemption when they go into the Carrier Dome for a Friday night showdown with no. 19 Syracuse as 21 point dogs.
Must win situation for Louisville?
It would be extremely hard to believe that Louisville is in a must-win situation as near 21 point underdogs this Friday. Whether you want to believe it or not, that expectation is more reality than exaggeration. If they do not win, they will have to give a valiant effort, or the coaching staff may not make it the remainder of the year. The situation in Louisville is getting much worse than just wins and losses. The Cardinals have lost 3 commitments on the recruiting trail since Saturday's blowout loss and now have just 10 commitments for their 2019 recruiting class. Therefore not only is the immediate future looking grim with 3 straight games to close out the year against ranked opponents but Cardinals fans are starting to lose hope for the future as well.
Louisville vs. Syracuse Match-up
Despite all of the off-field commotion surrounding Louisville's demise, the on-field matchup is what really counts. Unfortunately for any lingering hopefuls, the Cardinals are at a big disadvantage this week regarding the match-up and overall talent differential. For whatever reason, people are still not sold on this Syracuse team, but I believe they are still one of the most underrated teams in the ACC. This team took Clemson, who is perhaps the only team in the country that can stand toe to toe with Alabama, down to the wire. Then in a letdown situation, the Orange were upset by Pittsburgh a week later. Since those two losses, Syracuse has been really solid on the heels of an offense that puts up big numbers.
Yet for whatever reason, Syracuse continues to get shafted in terms of respect. Take this week's match-up with Louisville for example. The Cardinals have a defense that has not stopped anyone since Petrino became the coach and they no longer have the offense to outscore opponents. In fact, the offense is a mess. Quarterback Jawon Pass has been thrown in the midst of a fast-paced spread offense, and he was never ready. I am not sure if he ever will be either. On the year, Pass has tossed 10 interceptions with just 7 touchdowns, and that is not numbers that you can rely on if you are a "passing offense." On the other side of the field, Syracuse has posted 40 points or more in 3 straight games. They have a great quarterback in Eric Dungey who has tossed 13 touchdowns with just 4 picks. Dungey also leads the team in rushing with 628 yards and 10 touchdowns on the ground. Based on everything I have seen from Louisville's defense this year, they do not stand a chance in slowing down this Syracuse offense, and I would not be surprised if the Orange hang 50 points this Friday.
Trust the betting trends
Just look at the trends both teams have booked against the spread this year for any final thoughts. Syracuse continues to be underrated at 6-2-1 ATS on the season. Meanwhile, Louisville has been the worst team in college football with a 1-8 record against the number. The Cardinals are also 0-5 ATS in their last 5 road trips. If you go back further than this year, you will find more trends that are favorable for the Cardinals. However, that was a time back in the days of Lamar Jackson and an offense that could potentially outscore any team in the country on any given weekend. This is not the same team, and you should trust the 2018 trends.
Jay's Pick to Cover the Point Spread: Syracuse -21 or add them to a teaser at Sportbet where you can get up to 20 points!
<div class="clickable CTA" style="margin: 0 auto; background: #fff; border-radius: 10px; text-align: center; padding: 10px 20px 20px 20px;"><!-- [et_pb_line_break_holder] --> <img src="https://www.predictem.com/wp-content/uploads/2018/05/mybookie-logo.png" alt="MyBookieer" class="cta-image" /><!-- [et_pb_line_break_holder] --> <p style="margin-top: 5px; font-size: 22px; line-height: 30px;"><!-- [et_pb_line_break_holder] --> $1,000 Free Play Offer<!-- [et_pb_line_break_holder] --> </p><!-- [et_pb_line_break_holder] --> <hr class="cta-divider"><!-- [et_pb_line_break_holder] --> <p style="padding-bottom: 20px; font-size: 15px; line-height: 20px"><!-- [et_pb_line_break_holder] --> $1,000 Football Sign Up Bonus<br>Free Play - 15X Rollover<!-- [et_pb_line_break_holder] --> </p><!-- [et_pb_line_break_holder] --> <a href="https://www.predictem.com/out/Mybookie" rel="nofollow" target="_blank"><button class="et_pb_button" style="color: #fff; cursor: pointer; width: 90%;"><!-- [et_pb_line_break_holder] --> Bet Here<!-- [et_pb_line_break_holder] --> </button></a><!-- [et_pb_line_break_holder] --></div>
<div class="widget105"><!-- [et_pb_line_break_holder] --><h4 class="parlays">Best Sportsbooks for Parlays</h4><!-- [et_pb_line_break_holder] --><!-- [et_pb_line_break_holder] --><table id="parlay"><!-- [et_pb_line_break_holder] --> <tr><!-- [et_pb_line_break_holder] --> <th><span class="team"></span></th><!-- [et_pb_line_break_holder] --> <th>2 Team Parlay</th><!-- [et_pb_line_break_holder] --> <th>3 Team Parlay</th><!-- [et_pb_line_break_holder] --> <th>4 Team Parlay</th><!-- [et_pb_line_break_holder] --> </tr><!-- [et_pb_line_break_holder] --> <tr><!-- [et_pb_line_break_holder] --> <td><a href="https://www.predictem.com/out/SportbetP"><img src="https://www.predictem.com/wp-content/uploads/2018/06/sportbet-sm.png"></a></td><!-- [et_pb_line_break_holder] --> <td>2.74 to 1</td><!-- [et_pb_line_break_holder] --> <td>6.24 to 1</td><!-- [et_pb_line_break_holder] --> <td>13 to 1</td><!-- [et_pb_line_break_holder] --> </tr><!-- [et_pb_line_break_holder] --> <tr><!-- [et_pb_line_break_holder] --> <td><a href="https://www.predictem.com/out/BovadaP"><img src="https://www.predictem.com/wp-content/uploads/2018/06/bovada_sm.png"></a></td><!-- [et_pb_line_break_holder] --> <td>2.64 to 1</td><!-- [et_pb_line_break_holder] --> <td>6 to 1</td><!-- [et_pb_line_break_holder] --> <td>12.3 to 1</td><!-- [et_pb_line_break_holder] --> </tr><!-- [et_pb_line_break_holder] --> <tr><!-- [et_pb_line_break_holder] --> <td><a href="https://www.predictem.com/out/MybookieP"><img src="https://www.predictem.com/wp-content/uploads/2018/06/mybookie-sm.png"></a></td><!-- [et_pb_line_break_holder] --> <td>2.64 to 1</td><!-- [et_pb_line_break_holder] --> <td>6 to 1</td><!-- [et_pb_line_break_holder] --> <td>12 to 1</td><!-- [et_pb_line_break_holder] --> </tr><!-- [et_pb_line_break_holder] --></table><!-- [et_pb_line_break_holder] --><div class="widget-footer"><a href="https://www.predictem.com/best-sportsbooks/parlays-odds/">See all Sportsbook Parlays</a></div><!-- [et_pb_line_break_holder] --></div><!-- [et_pb_line_break_holder] --><!-- [et_pb_line_break_holder] --><!-- [et_pb_line_break_holder] --><style><!-- [et_pb_line_break_holder] --> #parlay {border-collapse: collapse;<!-- [et_pb_line_break_holder] --> width: 100%; border: 0px;<!-- [et_pb_line_break_holder] --> font-size: 14px!important;}<!-- [et_pb_line_break_holder] --> #parlay td, #parlay th {<!-- [et_pb_line_break_holder] --> border: 0px;<!-- [et_pb_line_break_holder] --> padding: 8px;<!-- [et_pb_line_break_holder] --> text-align: left;}<!-- [et_pb_line_break_holder] --> #parlay th {<!-- [et_pb_line_break_holder] --> padding-top: 5px;<!-- [et_pb_line_break_holder] --> padding-bottom: 5px;<!-- [et_pb_line_break_holder] --> font-weight: bold;<!-- [et_pb_line_break_holder] --> line-height: 14px;<!-- [et_pb_line_break_holder] --> text-align: center;<!-- [et_pb_line_break_holder] --> color: #000;}<!-- [et_pb_line_break_holder] --> #parlay tr {border-bottom: 1px solid #edeef0;}<!-- [et_pb_line_break_holder] --> .team {font-size: 16px;}<!-- [et_pb_line_break_holder] --></style>