[et_pb_dcsbcm_divi_breadcrumbs_module hide_homebreadcrumb="off" homebreadcrumbtext="Home" separator="sep-raquo" hide_currentbreadcrumb="off" homebreadcrumborientation="left" _builder_version="3.8″ fontsbreadcrumbs_font="Lato||||||||" fontsbreadcrumbs_text_color="#000000″ fontsbreadcrumbs_font_size="15px" fontsbreadcrumbs_line_height="16px" fontsseperator_font="||||||||" fontsbreadcrumblinks_font="||||||||" fontsbreadcrumblinks_text_color="#2567cf" custom_margin="25px|||" custom_margin_phone="30px|||" custom_margin_last_edited="off|desktop" custom_css_main_element="font-family: Helvetica Regular;" global_module="3641″ saved_tabs="all"][/et_pb_dcsbcm_divi_breadcrumbs_module]
Tuesday CFB: Miami-Ohio RedHawks vs. Buffalo Bulls Pick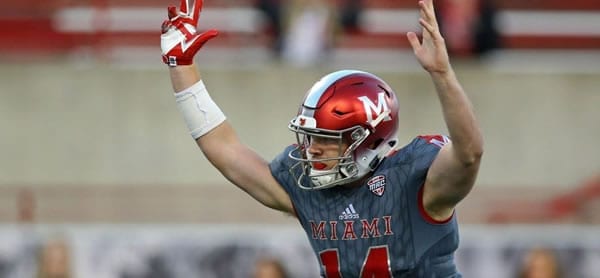 Miami-Ohio RedHawks (3-5 SU, 5-3 ATS) vs. Buffalo Bulls (7-1 SU, 6-2 ATS)
NCAA Football Week 10
Date/Time: Tuesday October 30th, 2018. 8:00PM (EST)
Where: UB Stadium Buffalo, N.Y.
TV: ESPN2
Point Spread:M-OH +7/BUFF -7
Over/Under Total: TBA
College Football comes early this week when the Miami-Ohio RedHawks collide with the Buffalo Bulls at UB Stadium for a MAC Conference showdown. Buffalo is having one of the most underrated breakout seasons in the country at 7-1 SU and 6-2 ATS. The Bulls are undefeated in conference play and already just one win shy of tying their school record for the best mark in program history. Meanwhile, the visiting RedHawks are currently experiencing the highs and lows of a roller coaster season, but they are still alive in the fight for the MAC East at 3-1 in conference play. Therefore this Tuesday's showdown between the RedHawks and Bulls will decide who takes over the driver seat in the East Division.
Don't let the RedHawks record fool you
Despite the 3-5 SU mark, the RedHawks have consistently been able to hold their ground to compete with their opponents but have just fallen short too often. The Redhawks last two losses have been mere 1 point losses including a double-overtime defeat most recently against Army. However, they have won 3 of their last 5 games and could easily have been 5-0 in those last 5 games with a different bounce of the ball. After a slow start, the Miami-Ohio offense has come to life behind senior quarterback Gus Ragland. Ragland has tossed 11 touchdowns with just 1 pick in the last 5 games and has found an emerging standout in sophomore WR Jack Sorenson who leads the team with 32 catches for 499 yards. The RedHawks offense is designed to run the football, but the recent emergence from the passing game has made this group a lot more dangerous.
Matchup Breakdown Miami-Ohio vs. Buffalo
The RedHawks improving offense will be faced against a tough Buffalo defense. In terms of the talent level in the MAC, Buffalo's defense is probably the best in the conference. The Bulls rank 26th in the FBS giving up just 330 yards and 21 points per game. Specifically, this defense does a great job against the pass where they have held opponents to just 168 yards per game. The Bulls have serious talent in their back 7 and mix in a lot of different coverages to confuse quarterbacks. If they can keep Gus Ragland from being comfortable and shade some help towards WR Jack Sorenson, this is a very advantageous matchup for the Bulls defense.
Meanwhile on the other side of the ball, Buffalo will also present several challenges for this RedHawks defense. Quarterback Tyree Jackson is not the most accurate thrower, but it is amazing the confidence that Head Coach Lance Leipold has in his quarterback. Despite a mere 56% completion rate and 8 picks, Jackson continues to attempt nearly 31 passes per game. The end result has contributed to 20 passing touchdowns and a passing offense that still puts up numbers. Wide receivers K.J Osborn and Anthony Johnson have compiled more than 1,100 yards with 11 touchdowns through the first half of the year. Throw in a solid rushing attack from tailbacks Kevin Marks and Jaret Patterson which make up a very balanced attack. Still, the main noticeable difference that I expect viewers to see on Tuesday is "speed." This Buffalo offense has some solid speedsters that will give this Miami-Ohio defense a very difficult challenge to prevent "big play" opportunities.
Betting Trends Miami-Ohio vs. Buffalo
Both teams have performed well this season for bettors. The RedHawks are 5-0 ATS in their last 5 games and 4-1 ATS in their last 5 games on the road. Meanwhile, Buffalo is 6-1 ATS in their last 7 games and riding a wave of momentum that includes 10 wins in their last 11 contests. The Bulls are also on the heels of an impressive 8-2 mark ATS in their last 10 home games. Both teams have trended towards the "over" side of the total, and it is worth noting that the last 4 out of 5 meetings between these two teams has found the "over" as well.
Jay's Pick to Cover the Point Spread: I believe Buffalo is simply the better team and is more balanced across the board. I will continue riding their wave of momentum in this spot. Take Buffalo -7. Guys, whether you're abonus hunter or a guy jsut looking for some extra bucks to pad your account- Find out the real value of bonuses with our list of the true value bonus offered at some of the better online betting sites.
<div class="clickable CTA" style="margin: 0 auto; background: #fff; border-radius: 10px; text-align: center; padding: 10px 20px 20px 20px;"><!-- [et_pb_line_break_holder] --> <img src="https://www.predictem.com/wp-content/uploads/2018/05/mybookie-logo.png" alt="MyBookieer" class="cta-image" /><!-- [et_pb_line_break_holder] --> <p style="margin-top: 5px; font-size: 22px; line-height: 30px;"><!-- [et_pb_line_break_holder] --> $1,000 Free Play Offer<!-- [et_pb_line_break_holder] --> </p><!-- [et_pb_line_break_holder] --> <hr class="cta-divider"><!-- [et_pb_line_break_holder] --> <p style="padding-bottom: 20px; font-size: 15px; line-height: 20px"><!-- [et_pb_line_break_holder] --> $1,000 Football Sign Up Bonus<br>Free Play - 15X Rollover<!-- [et_pb_line_break_holder] --> </p><!-- [et_pb_line_break_holder] --> <a href="https://www.predictem.com/out/Mybookie" rel="nofollow" target="_blank"><button class="et_pb_button" style="color: #fff; cursor: pointer; width: 90%;"><!-- [et_pb_line_break_holder] --> Bet Here<!-- [et_pb_line_break_holder] --> </button></a><!-- [et_pb_line_break_holder] --></div>
<div class="widget105"><!-- [et_pb_line_break_holder] --><h4 class="parlays">Best Sportsbooks for Parlays</h4><!-- [et_pb_line_break_holder] --><!-- [et_pb_line_break_holder] --><table id="parlay"><!-- [et_pb_line_break_holder] --> <tr><!-- [et_pb_line_break_holder] --> <th><span class="team"></span></th><!-- [et_pb_line_break_holder] --> <th>2 Team Parlay</th><!-- [et_pb_line_break_holder] --> <th>3 Team Parlay</th><!-- [et_pb_line_break_holder] --> <th>4 Team Parlay</th><!-- [et_pb_line_break_holder] --> </tr><!-- [et_pb_line_break_holder] --> <tr><!-- [et_pb_line_break_holder] --> <td><a href="https://www.predictem.com/out/SportbetP"><img src="https://www.predictem.com/wp-content/uploads/2018/06/sportbet-sm.png"></a></td><!-- [et_pb_line_break_holder] --> <td>2.74 to 1</td><!-- [et_pb_line_break_holder] --> <td>6.24 to 1</td><!-- [et_pb_line_break_holder] --> <td>13 to 1</td><!-- [et_pb_line_break_holder] --> </tr><!-- [et_pb_line_break_holder] --> <tr><!-- [et_pb_line_break_holder] --> <td><a href="https://www.predictem.com/out/BovadaP"><img src="https://www.predictem.com/wp-content/uploads/2018/06/bovada_sm.png"></a></td><!-- [et_pb_line_break_holder] --> <td>2.64 to 1</td><!-- [et_pb_line_break_holder] --> <td>6 to 1</td><!-- [et_pb_line_break_holder] --> <td>12.3 to 1</td><!-- [et_pb_line_break_holder] --> </tr><!-- [et_pb_line_break_holder] --> <tr><!-- [et_pb_line_break_holder] --> <td><a href="https://www.predictem.com/out/MybookieP"><img src="https://www.predictem.com/wp-content/uploads/2018/06/mybookie-sm.png"></a></td><!-- [et_pb_line_break_holder] --> <td>2.64 to 1</td><!-- [et_pb_line_break_holder] --> <td>6 to 1</td><!-- [et_pb_line_break_holder] --> <td>12 to 1</td><!-- [et_pb_line_break_holder] --> </tr><!-- [et_pb_line_break_holder] --></table><!-- [et_pb_line_break_holder] --><div class="widget-footer"><a href="https://www.predictem.com/best-sportsbooks/parlays-odds/">See all Sportsbook Parlays</a></div><!-- [et_pb_line_break_holder] --></div><!-- [et_pb_line_break_holder] --><!-- [et_pb_line_break_holder] --><!-- [et_pb_line_break_holder] --><style><!-- [et_pb_line_break_holder] --> #parlay {border-collapse: collapse;<!-- [et_pb_line_break_holder] --> width: 100%; border: 0px;<!-- [et_pb_line_break_holder] --> font-size: 14px!important;}<!-- [et_pb_line_break_holder] --> #parlay td, #parlay th {<!-- [et_pb_line_break_holder] --> border: 0px;<!-- [et_pb_line_break_holder] --> padding: 8px;<!-- [et_pb_line_break_holder] --> text-align: left;}<!-- [et_pb_line_break_holder] --> #parlay th {<!-- [et_pb_line_break_holder] --> padding-top: 5px;<!-- [et_pb_line_break_holder] --> padding-bottom: 5px;<!-- [et_pb_line_break_holder] --> font-weight: bold;<!-- [et_pb_line_break_holder] --> line-height: 14px;<!-- [et_pb_line_break_holder] --> text-align: center;<!-- [et_pb_line_break_holder] --> color: #000;}<!-- [et_pb_line_break_holder] --> #parlay tr {border-bottom: 1px solid #edeef0;}<!-- [et_pb_line_break_holder] --> .team {font-size: 16px;}<!-- [et_pb_line_break_holder] --></style>