Big Ten Pick: Michigan Wolverines vs. Rutgers Scarlet Knights Betting Preview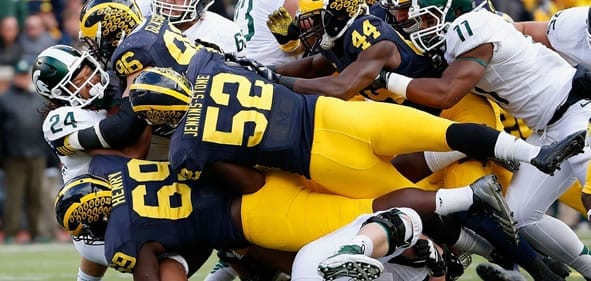 Michigan Wolverines (8-1 SU, 6-3 ATS) vs. Rutgers Scarlet Knights (1-8 SU, 4-5 ATS)
College Football Week 11
Date and Time: Saturday, November 10, 2018 at 3:30PM EST
Where: HighPoint.com Stadium, Piscataway, New Jersey
TV: Big Ten Network
Point Spread: MICH -39/RUT +39
Over/Under Total: 52.5
In Big Ten action on Saturday, the highly-ranked Michigan Wolverines take on the Rutgers Scarlet Knights. For Michigan, it's another step on what they hope is a berth into the College Football Playoff. After losing to Notre Dame in the season's opener, they have reeled off eight straight wins, improving along the way. Now dominant on both sides of the ball, they look to make mincemeat of an outmatched Rutgers bunch. Their season has the opposite dynamic, as they won their first game and lost every game since. And I like them to cover the spread at home this week against Michigan. Bear with me.
Rutgers Showing More Resolve Lately
While it's true that Rutgers fails to match up sufficiently across most areas when comparing them to Michigan, the Scarlet Knights have shown some recent signs of scrappiness. As 20-point dogs to Northwestern a few weeks ago, they lost by a field goal. Last week in Madison against the Badgers as 29-point dogs, they were respectable in a 31-17 loss. We've seen higher levels of resistance from their defense, with an offense that is slightly less-hopeless than what we've seen most of the season. And let's not sugar-coat it—it's been pretty dog-gone bad. Their offense has been putrid.
At the very least, they are showing that they are still into it. And that's what you want to see with a jumbo-size underdog. We know better than to look at the numbers because of course when a team is an underdog of close to 40 points; it's not going to be pretty. But Michigan is coming off a tough matchup against Penn State last week, and they have Ohio State coming up in a few weeks. If ever there were a time to coast, this would be it.
78-0 or 35-14?
In 2016, Michigan flogged Rutgers 78-0. Last season, Rutgers easily covered in a more-reasonable 35-14 loss. Which of those results will we see this season? Or as is usually the case, is the truth somewhere in the middle? Rutgers always has a player on offense or two who are difference-makers and this season it's John Hilliman and Raheem Blackshear, both of whom have big-play ability.
After that, it gets difficult to identify the good points, frankly. The Rutgers aerial game isn't very aerial at all. It's more reminiscent of a high school team, as opposed to anything that would approach Big Ten standards. The line has no business being in this conference. Combine that with an inept defense that has no playmaking, no pass-rush, and no rigidness, and some of these games start looking like scrimmages. But with a scrimmage also comes a lack of urgency on the other side and that's part of what we're banking on here.
Which Michigan Shows Up?
U of M, especially a good version of them like this one, doesn't rely on how they do in Piscataway, New Jersey. That's never been, nor will it ever be the measuring stick upon which their success is based. That doesn't mean they don't sometimes thrive in these scenarios. Talent speaks at the end of the day. Still, they don't typically lambaste teams in these spots.
There are still matchup concerns. Big Blue's run-game has grown in power over the course of the season and Rutgers will be way in over their heads. It's not even about the top guys like Karan Higdon and Chris Evans—it's about the other guys who are looking to shine and get more touches. You'd have to go pretty deep on the Wolverines depth chart to find a back that wouldn't put up numbers against this Rutgers defense. Shea Patterson has really developed nicely as the quarterback and is now commandeering the offense smoothly.
Urgency aside, it doesn't look good for Rutgers when the Michigan defense is the best in the country, allowing 13.6 points a game. Rutgers offense is ranked 128th in the nation. Seems like a slam-dunk, right? And sure, it could work out that way. It's also interesting how often the obvious story-line doesn't play out according to the script. And in college football, it's never as easy as it looks. Looking at the stats and the rankings still fails to account for the spread, what the game means for each team, or for any subtle changes from the form that created those numbers.
Take the Points on the Home Underdog
Sure, you see one team that is complete and on a mission, facing a team on its back that is just not in their class. This could get out of hand and render all analysis moot, as Michigan is simply the superior football machine. But that's a significant number for Michigan to cover—on the road to boot. It's one game from being a true "sandwich game," but it has elements of that, with Michigan coming off important conference games, with more looming. At the end of the day, Michigan isn't typically a team, nor is Jim Harbaugh the kind of coach, where you want to lay a jumbo number like this. If this were a month ago, maybe it's a different story. But after vaguely hanging in there the last few weeks against solid conference opponents, maybe Rutgers comes home with a little wind in their sails and a chip on their shoulders. I see them getting the cover on Saturday.
Loot's Pick to Cover the Point Spread: I'm betting on the Rutgers Scarlet Knights plus 39 points.
<div class="clickable CTA" style="margin: 0 auto; background: #fff; border-radius: 10px; text-align: center; padding: 10px 20px 20px 20px;"><!-- [et_pb_line_break_holder] --> <img src="https://www.predictem.com/wp-content/uploads/2018/05/mybookie-logo.png" alt="MyBookieer" class="cta-image" /><!-- [et_pb_line_break_holder] --> <p style="margin-top: 5px; font-size: 22px; line-height: 30px;"><!-- [et_pb_line_break_holder] --> $1,000 Free Play Offer<!-- [et_pb_line_break_holder] --> </p><!-- [et_pb_line_break_holder] --> <hr class="cta-divider"><!-- [et_pb_line_break_holder] --> <p style="padding-bottom: 20px; font-size: 15px; line-height: 20px"><!-- [et_pb_line_break_holder] --> $1,000 Football Sign Up Bonus<br>Free Play - 15X Rollover<!-- [et_pb_line_break_holder] --> </p><!-- [et_pb_line_break_holder] --> <a href="https://www.predictem.com/out/Mybookie" rel="nofollow" target="_blank"><button class="et_pb_button" style="color: #fff; cursor: pointer; width: 90%;"><!-- [et_pb_line_break_holder] --> Bet Here<!-- [et_pb_line_break_holder] --> </button></a><!-- [et_pb_line_break_holder] --></div>
<div class="widget105"><!-- [et_pb_line_break_holder] --><h4 class="parlays">Best Sportsbooks for Parlays</h4><!-- [et_pb_line_break_holder] --><!-- [et_pb_line_break_holder] --><table id="parlay"><!-- [et_pb_line_break_holder] --> <tr><!-- [et_pb_line_break_holder] --> <th><span class="team"></span></th><!-- [et_pb_line_break_holder] --> <th>2 Team Parlay</th><!-- [et_pb_line_break_holder] --> <th>3 Team Parlay</th><!-- [et_pb_line_break_holder] --> <th>4 Team Parlay</th><!-- [et_pb_line_break_holder] --> </tr><!-- [et_pb_line_break_holder] --> <tr><!-- [et_pb_line_break_holder] --> <td><a href="https://www.predictem.com/out/SportbetP"><img src="https://www.predictem.com/wp-content/uploads/2018/06/sportbet-sm.png"></a></td><!-- [et_pb_line_break_holder] --> <td>2.74 to 1</td><!-- [et_pb_line_break_holder] --> <td>6.24 to 1</td><!-- [et_pb_line_break_holder] --> <td>13 to 1</td><!-- [et_pb_line_break_holder] --> </tr><!-- [et_pb_line_break_holder] --> <tr><!-- [et_pb_line_break_holder] --> <td><a href="https://www.predictem.com/out/BovadaP"><img src="https://www.predictem.com/wp-content/uploads/2018/06/bovada_sm.png"></a></td><!-- [et_pb_line_break_holder] --> <td>2.64 to 1</td><!-- [et_pb_line_break_holder] --> <td>6 to 1</td><!-- [et_pb_line_break_holder] --> <td>12.3 to 1</td><!-- [et_pb_line_break_holder] --> </tr><!-- [et_pb_line_break_holder] --> <tr><!-- [et_pb_line_break_holder] --> <td><a href="https://www.predictem.com/out/MybookieP"><img src="https://www.predictem.com/wp-content/uploads/2018/06/mybookie-sm.png"></a></td><!-- [et_pb_line_break_holder] --> <td>2.64 to 1</td><!-- [et_pb_line_break_holder] --> <td>6 to 1</td><!-- [et_pb_line_break_holder] --> <td>12 to 1</td><!-- [et_pb_line_break_holder] --> </tr><!-- [et_pb_line_break_holder] --></table><!-- [et_pb_line_break_holder] --><div class="widget-footer"><a href="https://www.predictem.com/best-sportsbooks/parlays-odds/">See all Sportsbook Parlays</a></div><!-- [et_pb_line_break_holder] --></div><!-- [et_pb_line_break_holder] --><!-- [et_pb_line_break_holder] --><!-- [et_pb_line_break_holder] --><style><!-- [et_pb_line_break_holder] --> #parlay {border-collapse: collapse;<!-- [et_pb_line_break_holder] --> width: 100%; border: 0px;<!-- [et_pb_line_break_holder] --> font-size: 14px!important;}<!-- [et_pb_line_break_holder] --> #parlay td, #parlay th {<!-- [et_pb_line_break_holder] --> border: 0px;<!-- [et_pb_line_break_holder] --> padding: 8px;<!-- [et_pb_line_break_holder] --> text-align: left;}<!-- [et_pb_line_break_holder] --> #parlay th {<!-- [et_pb_line_break_holder] --> padding-top: 5px;<!-- [et_pb_line_break_holder] --> padding-bottom: 5px;<!-- [et_pb_line_break_holder] --> font-weight: bold;<!-- [et_pb_line_break_holder] --> line-height: 14px;<!-- [et_pb_line_break_holder] --> text-align: center;<!-- [et_pb_line_break_holder] --> color: #000;}<!-- [et_pb_line_break_holder] --> #parlay tr {border-bottom: 1px solid #edeef0;}<!-- [et_pb_line_break_holder] --> .team {font-size: 16px;}<!-- [et_pb_line_break_holder] --></style>