Montana Grizzlies vs. Oregon Ducks Pick 9/14/19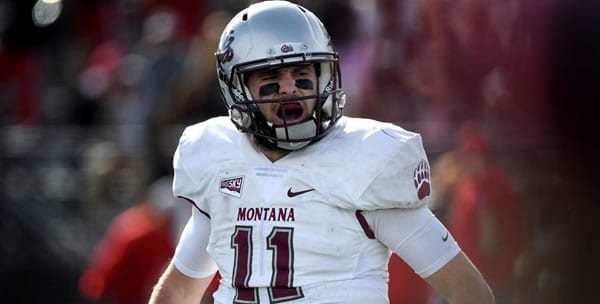 Montana Grizzlies (0-0 SU, 0-0 ATS) vs. Oregon Ducks (1-1 SU, 1-1 ATS)
College Football Week 3
Date and Time: Saturday, September 14, 2019 at 10:30PM EDT
Where: Autzen Stadium, Eugene, Oregon
TV: Pac-12 Network
Point Spread: MONT +36/ORE -36 (YouWager)
Over/Under Total: 64
The Montana Grizzlies come into Autzen Stadium to face the Oregon Ducks on Saturday in week three action. Montana is 2-0, as they enter what appears to be an out-of-reach proposition against a ranked Ducks team on the road. Oregon was able to rebound from a rough week one loss to Auburn to handle Nevada a lopsided beating in week two. Can Montana come into Eugene and compete or at least keep this from getting carried away? Or are they out of their depth entirely and about to become victims of a massive and lopsided beating?
A Weird Matchup
Let's face it—the matchup doesn't even hit the eye right when you see it on paper. Here you have Oregon, a pretty strong Pac-12 team with a quarterback some suspect will be leading an NFL team in the near future against an FCS team in Montana that elicits almost zero recognition from a football fan, other than perhaps a slight awareness that they, in fact, have a team. But let's look behind the obvious for a moment. Just as the matchup seems off-kilter to the casual onlooker, it probably resonates negatively with the Ducks somewhat, as well, being that if there were ever a week to phone it in, this would appear to be it. Conversely, for Montana, this is their chance to get a sniff at the big-time. Players who hope to eventually move to a bigger program can show their wares, and it's just worth something that one team is at a fever pitch, while one thinks they just need to show up to win.
What is Montana All About?
To their credit, the Grizzlies have done some good things this season in winning their first two games. How that translates here is another matter entirely, but in week one, they broke South Dakota's run of winning home-openers at 16 straight, 31-17, before piling it on the next week with a 61-17 win over North Alabama. So we're looking at a big spectrum of levels here, with Oregon having already had a war on the road with Auburn. We are talking about teams in different dimensions. Still, Montana quarterback Dalton Sneed has 699 yards through the air in two games and came to Montana after seeing some time behind center for UNLV, suggesting this level might not be such a quantum-leap for him. Sort of. He works with a talented cast of guys in running back Marcus Knight, who ran for three TDs last week, and ball-catchers Jerry Louie-McGee, Samori Toure, and Samuel Akem. But this isn't the Big Sky.
More Picks: Clemson at Syracuse Week 3 Prediction >>>
This Oregon Squad as Jumbo Favorites
Not that Oregon hasn't dropped the hammer on FCS teams before, as they bombed Southern Utah a few seasons ago. They didn't cover the spread last season against Portland State or two other times as jumbo-sized favorites. But as just 24-point favorites last week, they blasted the Nevada Wolf Pack, 77-6. So it's not that easy to push a storyline about Oregon taking it easy on overmatched teams the week after they beat a Mountain West team by 71 points. These teams actually played before, as Oregon beat Montana, 47-14, in 2005, riding the arm of Kellen Clemens to victory. Traditionally, Oregon is a team that has taken it easy on opponents like this in the past, while also pouring it on enough times to make it hard to draw a conclusion or see a pattern.
100% Free Play up to $1,000

Making it Right in Week Two
I found it surprising that Oregon was at a fever-pitch in week two after expending so much physical and mental energy in a drawn-out road-war with Auburn where Oregon gave the game away after taking a nice lead. With Nevada coming into town, Oregon seemed to be facing a hangover-loss, where one could conceive that a decent Nevada team would be able to hang in there a little bit. But Oregon went from being a letdown the previous week to surpassing their next point spread by a staggering 47 points. And while the 77-6 win doesn't bode well for Montana, perhaps the Ducks will be reluctant to execute that same level of annihilation two weeks in a row.
Containing all the Oregon Weapons
At this level, having an NFL prospect in QB Justin Herbert could really resonate. We've seen the Montana defense this season allow just 17 points in each of their first two games, but in giving up over 300 yards to North Alabama QB Christian Lopez, they gave up their share of big pass plays. And look for more of that from Herbert, who has 6 TDs and no picks on the young season, with ample aerial juice with Johnny Johnson, III., Jacob Breeland, Jaylon Redd, and Bryan Addison. Running back CJ Verdell represents talent at the running back position that Montana is ill-equipped to handle. And then you have that offensive line, which will muscle around the Montana front and allow Herbert to operate in as clean a pocket as he will see this season. And even if Oregon builds up a big lead and pulls some of their prized starters like Herbert, how much will it even matter with guys on the field clamoring for more playing time? Against Nevada, after Herbert was pulled in the middle of the third quarter, an Oregon offense led by Tyler Slough still put up a lot of points.
Lay the Number
Sure, it's square. And Montana could actually show up for this, hang in there for a 48-14 loss and leave Eugene with at least a cover to hang their hats on. But I see that in the high-end of the spectrum of possible scenarios for Montana. And while it's sometimes asking too much for a team to produce a lethal destruction on offense two weeks in a row, I still don't see this spread as being all that congratulatory to Oregon, all things considered. I'm taking the Ducks at home.
Loot's Pick to Cover the Point Spread: I'm betting on the Oregon Ducks minus 36 points.