Navy Midshipmen vs. Army Black Knights Odds, Analysis, Free Pick ATS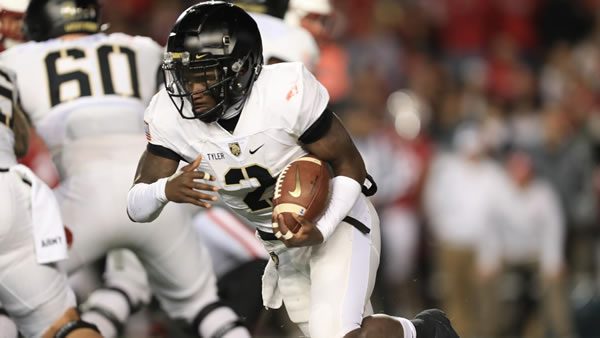 Navy Midshipmen (4-7 SU, 7-4 ATS) vs. Army Black Knights (5-6 SU, 6-5 ATS)
College Football Week 15
Date and Time: Saturday, December 10, 2022 at 3PM EST
Where: Lincoln Financial Field, Philadelphia, Pennsylvania
TV: CBS
Point Spread: NAVY pk/ARMY pk (Make today the day you stop overpaying for odds! You lay only -105 at BAS Sportsbook! Saves SO much money!)
Over/Under Total: 33
The Navy Midshipmen meet the Army Black Knights in the famed Army-Navy game, the 123rd meeting of these two teams in the one of the signature rivalries in college football. Usually, the teams are the story, but in this matchup, it's the game that stands out—a lone contest on the schedule where what happened leading up to now doesn't seem to matter as much as it normally would. Both teams enter this on a winning note, with Navy coming off an upset 17-14 win over Central Florida. Army, meanwhile, was able to shake off a bad stretch to finish strong with two lopsided wins, including a 44-7 romp over Mass in their last appearance.
Getting a Lay of the Land
One of the more standout elements of this matchup is the fine form Army showed on occasion in the second half of the season. Two lopsided wins to end the season, and a nice two-game stretch just before that when they walloped a few teams, had head coach Jeff Monken's squad looking good. The formula is a familiar one, with the aerial game being an afterthought as the run-game is used at a rate that exceeds basically every other team. It took a while to get cranking, but the run-game became more of a real weapon over the course of the season.
Playing in the AAC, the Midshipmen took on Temple this season, scoring an overtime win on this field a month and a half ago. It's very familiar territory for Navy. One could say they took on tougher opposition this season and generally thrived at a higher level than their counterparts. A three-point loss to Notre Dame a few weeks ago, the win over UCF, and some strong performances throughout the season have Navy looking like a major threat in this spot.
Under coach Ken Niumatalolo, the Midshipmen have thrived when given time to prep for this game, getting three weeks this time. The coach is the winningest coach in this rivalry's history with ten wins. Navy has managed to hang on well this season. The last time they were on this field, they lost starting QB Tai Lavatai for the season, with Xavier Arline being thrown to the lions in their hardest stretch of the season. Might Arline find things easier this week after playing Cincinnati, Notre Dame, and Central Florida with three weeks to recoup and prepare?
Matchup Issues for Army
Army's all-encompassing run-game can really catch some teams off-guard. With Navy boasting the nation's fourth-best defense against the run, you wonder if it will register this season the same way it has in others. A lot of teams up there in the rushing defense rankings have benefitted from playing teams that don't run the ball well, but with the Midshipmen defense tested against top rushing teams like UCF and a top-ranked rushing team in Air Force, Army will find this to be one of the tougher defenses they have faced this season from a matchup perspective. The Midshipmen give up just over 3 yards a run
Unfortunately for Army, they don't share the same powers in resistance with Navy in the area of stopping the run. They are generally run over by the better ground games they face. Navy has seven players in triple-digit rushing yardage totals. They can lay it on so thick with the run that they've won two games this season without even completing a pass. Like Army, their aerial game is negligible, but with a far better run-defense, they're hoping that is enough.
Hope for Army?
The Black Knights had a lot of early issues that led to the inflation of some of these unsavory stats. We're talking about Army in a more-recent context, and we're seeing some good things after two conclusive wins and some more recent offensive detonations. They have a whopping 11 players with triple-digits rushing totals. Navy has seen some strong rushing teams this season, but maybe this is a different look. And as we've seen before in this matchup, what happened leading up to this spot sometimes matters less than it does in other games. Army coach Jeff Monken has often times had a team that was worse in the regular season, yet has still helped manufacture four wins in this spot in the last six installments of this series.
Take the Midshipmen
One is torn in this spot. The past has conditioned us to regard damning details about either team with less importance in a matchup that tends to take on a life of its own. Momentum can count for a lot and Army having latched on to some good energy lately just makes it seem all the more likely that each team's respective seasons might not matter all that much. At the same time, Army being lousy against the run on defense and Navy having been one of the better teams in the nation in that area is a factoid that is hard to dismiss. In a game with two similarly-operating offensive units where finding other edges isn't easy, maybe that will manage to stand out a little in the end. I'll take Navy.
Loot's Pick to Cover the Point Spread: I'm betting on the Navy Midshipmen in a pick'em. Bankroll running low? End that problem by scoring a 100% real cash bonus (or more) at one of the money top tier bookies on our sportsbook promo codes page!