NCAA Football Picks: Charlotte at Clemson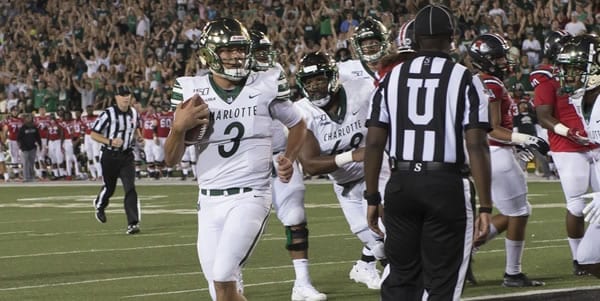 Charlotte 49ers (2-1) at Clemson Tigers (3-0)
When: Saturday, September 21, 7:30 p.m. EDT
Where: Memorial Stadium, Clemson, S.C.
TV: ACC Network
Point Spread: CLEM -41 (BetNow)
Total: O/U 62
Outlook For Week 4
Clemson continued to dominate the early part of its schedule, routing Syracuse on the road for a 41-6 victory. Charlotte returned home to hammer Massachusetts, scoring a 52-17 win over the Minutemen. This game marks the final test for Charlotte before it hits its Conference-USA schedule, and the 49ers have shown no trouble putting up points so far, scoring 157 in three games. But none of their opponents have been anywhere near the quality of Clemson, which has given up 30 points all season and has held its past six opponents to 17 points or less dating back to last season, a list that includes Alabama.
How the Public is Betting the Charlotte/Clemson Game
The line opened at Clemson -41, and so far, it's mostly held to that number. At times, it's flipped to Clemson -41.5, but 41 points seem to be where it will stay. The over-under has held consistent as well, sitting at 62.
Injury Concerns
Charlotte:
Defensive end Tyriq Harris has missed the 49ers' first three games with a back injury. He is questionable against Clemson.
Clemson:
Running back Travis Etienne has a neck injury and is questionable for this game. Cornerback Derion Kendrick is probable after exiting the Syracuse game with back spasms, while defensive end Xavier Thomas is questionable with a leg injury.
When Charlotte Has the Ball
Remember the name Chris Reynolds, because there's a good chance you're going to be hearing it a fair amount in 2020 and 2021. Reynolds, a sophomore, has shown strong decision-making skills as the 49ers' signal-caller and has already exceeded his touchdown total from his freshman campaign, tossing seven in Charlotte's first three games. Against Massachusetts, he didn't have to do much, going 10-for-12 for 155 yards and two scores before Charlotte put the hapless Minutemen away. So far, he's completed 69.8 percent of his passes and spread the ball around well to his targets, namely freshman Micaleous Elder (201 yards, one touchdown) and sophomore Cameron Dollar (157 yards, two touchdowns). The one wise old head in the 49ers' huddle is running back Benny LeMay, who averages 7.6 yards per carry and has four scores on the year. He's joined by freshman Ishod Finger, who gives Charlotte another weapon that suggests this team might be a mid-major that nobody wants to play next year.
More Picks: Tennessee at Florida Prediction ATS >>>
When Clemson Has the Ball
Stopping Travis Etienne is possible, but nobody in the ACC appears to have the personnel to do it. Texas A&M did do it in the Tigers' second game, but Trevor Lawrence did enough to keep the Tigers comfortably ahead, which underscores just how difficult it is to stop Clemson's offense. Try to take away Etienne, and Lawrence will pick you apart but show Lawrence too much respect and Etienne will eat your front seven alive. Etienne is questionable for this game, but if he can't go, this is a game where Clemson will likely be just fine if it relies on Lyn-J Dixon out of the backfield. Dixon has shown some of the breakaway speed that makes Etienne so dangerous and averages 7.2 yards per carry this season, suggesting that there likely won't be much dropoff if Etienne can't play. The Tigers haven't had many problems moving the ball this year, and they're not likely to encounter much resistance against a 49er defense that gave up 56 points to Appalachian State.
Betting Trends
The 49ers might be a newer program, but they're a credible one when they play away from home. Charlotte has been a solid bet with the spread when it's left the Queen City, winning four of its past five against the spread on the road. However, they're facing an opponent that's proven pretty adept at covering itself. Clemson has covered in five of its past six games, and only a Texas A&M touchdown with nine seconds left in an already-decided ballgame prevented the Tigers from going six-for-six. Meanwhile, something has to give on the over-under. Five of Charlotte's past six in September have hit the over, while Clemson has seen four of its previous five games go under the total.
Weather Report
An 86 degree day in mid-September shouldn't bother either of these teams much, given that both sides are quite familiar with the climate of the Carolinas. Charlotte is a mere 140 miles northeast of Clemson, and the 49ers are as used to steamy September days as the Tigers are.
Dan's Pick to Cover the Spread
ESPN Upstate broadcaster Will Palaszczuk has referred to the season as the Clemson Revenge Tour, and it's easy to see why. The Tigers do look like a team on a mission to leave no doubt whatsoever this season, despite the handicap of playing in a weak ACC. So far, they've pasted Syracuse, the only ACC team to give them anything resembling problems the past two years, handled Texas A&M in a game that wasn't as close as the final score indicated and pounded Georgia Tech beyond recognition. But that said, I think the Clemson Revenge Tour might be taking a week off on Saturday. Can Clemson beat Charlotte by 41 points? Absolutely. But there's a real danger with such a massive spread that Clemson might get bored in the third quarter and be content with a 30-point margin, especially against a hopelessly overmatched opponent like Charlotte. Unlike with ACC rivals Georgia Tech and Syracuse, the Tigers don't have any reason to try to run it up against the 49ers. The teams have never played, and Clemson has more important things to worry about than trying to make a statement against Charlotte. Truthfully, the safest play on the board where you can make any real money (the safest play is of course Clemson on the money line, but the odds are so poor that it's not even worth exploring) is to take the under. Betting on a Brent Venables defense is almost always an excellent way to make money, and it's been an especially good way to do it when Clemson is playing at home. Over the Tigers' last 18 home games, the under has hit 13 times with a push, and given how solid the Clemson offense is, that says something about how dominant the Tiger defense is. Charlotte might have scored plenty on the likes of Massachusetts and Gardner-Webb, but the 49ers are in for an entirely new experience against Clemson. If you have to bet on one team in this contest, I'd take Charlotte and the points, as I'd expect Clemson to start pulling starters in the third quarter once this is wrapped up. However, my recommendation is to take the under here.