[et_pb_dcsbcm_divi_breadcrumbs_module hide_homebreadcrumb="off" homebreadcrumbtext="Home" separator="sep-raquo" hide_currentbreadcrumb="off" homebreadcrumborientation="left" _builder_version="3.8″ fontsbreadcrumbs_font="Lato||||||||" fontsbreadcrumbs_text_color="#000000″ fontsbreadcrumbs_font_size="15px" fontsbreadcrumbs_line_height="16px" fontsseperator_font="||||||||" fontsbreadcrumblinks_font="||||||||" fontsbreadcrumblinks_text_color="#2567cf" custom_margin="25px|||" custom_margin_phone="30px|||" custom_margin_last_edited="off|desktop" custom_css_main_element="font-family: Helvetica Regular;" global_module="3641″ saved_tabs="all"][/et_pb_dcsbcm_divi_breadcrumbs_module]
Big Ten Play: Nebraska Cornhuskers vs. Ohio State Buckeyes Pick ATS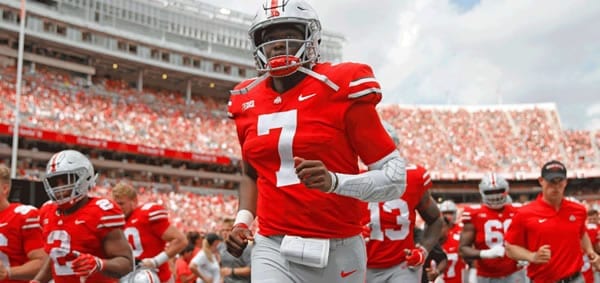 Nebraska Cornhuskers (2-6 SU, 2-5-1 ATS) vs. Ohio State Buckeyes (7-1 SU, 3-5 ATS)
College Football Week 10
Date and Time: Saturday, Nov. 3 at 12pm ET
Where: Ohio Stadium
TV: FOX
Point Spread: NEB +17.5/OSU -17.5
Over/Under Total: 72.5
Blue blood football programs and their fans can be a little all-or-nothing. One loss can be all it takes to derail the highest of expectations and coaches wind up on the hot seat quick. Urban Meyer and the Buckeyes got a bit of shock two weeks ago in West Lafayette and now have had a week to stew on the consequences of that loss to the Boilermakers. All the standard items hit the news cycle at least twice in Columbus with plenty of speculation surrounding Meyer's future and if this Buckeye team can still reach the College Football Playoff. Both of those questions may be answered directly on the field over the next month and that all starts with a tilt against the Nebraska Cornhuskers. Once feared, the 2-6 Huskers have fallen on some hard times, but they have some really nice offensive pieces in place to work against an Ohio State defense that just gave up 49 to Purdue. Nebraska pulling an upset in The Shoe seems really unlikely, but this game is a whole lot more interesting that it appeared to be just a couple of weeks ago.
Make the Bad Man Stop
Nebraska hasn't had an easy go of it since joining the Big Ten in 2011 and Ohio State has been one of the reasons. As a ten point favorite, the Huskers won the very first conference meeting between the schools, but the Buckeyes have won the next three, scoring at least 55 points in each game. The total score of the last three games is 180 to 55 in favor of OSU, and they bring the 3rd ranked total offense to this weekend and average 43 points per game. The line for the game opened with OSU -22.5 but has been quickly trimmed to -17.5 points. Ohio State has been favored by at least 17 in each of the last two meetings and cruised to easy ATS wins. The over/under total for the game is a near comical 72.5 points, punctuating the overall feeling that both offenses are going to have good days against what will be over-matched defenses.
It's a Start
Scott Frost came home to Nebraska, and the Big Red fans were rightfully delighted that they finally had a Husker at the helm. The road was immediately rocky however with bad losses to Colorado and Troy, and that rough start eventually snowballed to a 0-6 record. Through the losses, Adrian Martinez emerged as a legit offensive threat. The freshman quarterback has averaged 236 passing yards per game with eleven touchdowns through the air and has added 408 rushing yards with four scores. He has Nebraska as a top-20 offense in total yards, and they have increased their output to 29.8 points per game. Wins against Minnesota and FCS opponent Bethune-Cookman have taken a little pressure off the locker room, and they should head into Columbus with a relatively free-wheeling attitude, but they are taking a major step up in class of opponent. Nebraska faced Michigan earlier in the year, and the Wolverines downed the Huskers 56-10. I doubt Michigan is significantly better than Ohio State, especially if OSU is ticked off after the Purdue debacle, and Nebraska could be facing a very motivated Buckeye squad.
Backs against the Wall
Every player comes to Ohio State looking to win a National Championship, and the air had to be let out of the balloon in a big way after the loss at Purdue. That loss has them knowing they have to win out from here, probably adding style points along the way. That is not good news for a Nebraska defense that is 103rd in total yards allowed, 111th against the pass and giving up 33.4 points per game. Dwayne Haskins is putting together a Heisman campaign in Columbus with 2,801 passing yards and 30 touchdowns while completing over 71% of his passes. He has thrown for at least 400 yards in each of the last three games, and he spreads the ball around well. Five different OSU pass catchers have at least 20 receptions, and five have also scored at least three times. OSU can run and averages 172 yards on the ground, but this is a passing team that can score while also remaining efficient. They convert on third down nearly 50% of the time which is another troubling stat for Nebraska as the Huskers allow opponents to convert on third down at a 47% clip.
Few can hang with Ohio State on the scoreboard, but there has been enough talk this week that Nebraska has turned the corner with Martinez and should be considered an elite offense. That is a fair point, especially with RB Devine Ozigbo (7.4 YPC) powering a run game that averages 220 yards per game but Huskers are lacking depth in the playmaking department. Martinez has done nearly all of his damage through the air to JD Spielman (53/686/7) and Stanley Morgan, Jr. (44/638/5). There is just not a lot else to worry about in this offense, and that plays into the hands of Ohio State. They have the talent to take away individuals on the outside, and their run defense is solid if not spectacular. Ohio State did not do well against Trace McSorley in the Penn State game, but they did limit the Lion run game outside of McSorley and held him to 50% completions. Martinez is not quite that same running threat so he will have to do a larger portion of his damage with his arm. Given OSU has had a week to scheme for Nebraska, I give the Buckeyes a more than fair shot to control the Husker offense.
Nebraska at Ohio State Prediction
The mini-streak by Nebraska coupled with the Ohio State loss has to be factoring into this line being a manageable 17.5 points. If OSU was undefeated, would this be a 23.5 point spread like it was last season? I think so. Nebraska still has just one FBS win this year, and that came against a Minnesota team that is still searching for oars to row the boat. The Huskers are good on one side of the ball, but the Buckeyes can match them at every position, have the home field, have the desperation and are coming off a bye. I'm taking Ohio State to win by 21 or so, say 44-21. A Husker alum who I trust to be objective about the program is thinking Ohio State is a lock for 50 points. We will see about that, but this should be a comfy cover for OSU with a lot left to play for.
Ted's Pick to Cover the Point Spread: Ohio State
<div class="widget105"><!-- [et_pb_line_break_holder] --><h4 class="parlays">Best Sportsbooks for Parlays</h4><!-- [et_pb_line_break_holder] --><!-- [et_pb_line_break_holder] --><table id="parlay"><!-- [et_pb_line_break_holder] --> <tr><!-- [et_pb_line_break_holder] --> <th><span class="team"></span></th><!-- [et_pb_line_break_holder] --> <th>2 Team Parlay</th><!-- [et_pb_line_break_holder] --> <th>3 Team Parlay</th><!-- [et_pb_line_break_holder] --> <th>4 Team Parlay</th><!-- [et_pb_line_break_holder] --> </tr><!-- [et_pb_line_break_holder] --> <tr><!-- [et_pb_line_break_holder] --> <td><a href="https://www.predictem.com/out/SportbetP"><img src="https://www.predictem.com/wp-content/uploads/2018/06/sportbet-sm.png"></a></td><!-- [et_pb_line_break_holder] --> <td>2.74 to 1</td><!-- [et_pb_line_break_holder] --> <td>6.24 to 1</td><!-- [et_pb_line_break_holder] --> <td>13 to 1</td><!-- [et_pb_line_break_holder] --> </tr><!-- [et_pb_line_break_holder] --> <tr><!-- [et_pb_line_break_holder] --> <td><a href="https://www.predictem.com/out/BovadaP"><img src="https://www.predictem.com/wp-content/uploads/2018/06/bovada_sm.png"></a></td><!-- [et_pb_line_break_holder] --> <td>2.64 to 1</td><!-- [et_pb_line_break_holder] --> <td>6 to 1</td><!-- [et_pb_line_break_holder] --> <td>12.3 to 1</td><!-- [et_pb_line_break_holder] --> </tr><!-- [et_pb_line_break_holder] --> <tr><!-- [et_pb_line_break_holder] --> <td><a href="https://www.predictem.com/out/MybookieP"><img src="https://www.predictem.com/wp-content/uploads/2018/06/mybookie-sm.png"></a></td><!-- [et_pb_line_break_holder] --> <td>2.64 to 1</td><!-- [et_pb_line_break_holder] --> <td>6 to 1</td><!-- [et_pb_line_break_holder] --> <td>12 to 1</td><!-- [et_pb_line_break_holder] --> </tr><!-- [et_pb_line_break_holder] --></table><!-- [et_pb_line_break_holder] --><div class="widget-footer"><a href="https://www.predictem.com/best-sportsbooks/parlays-odds/">See all Sportsbook Parlays</a></div><!-- [et_pb_line_break_holder] --></div><!-- [et_pb_line_break_holder] --><!-- [et_pb_line_break_holder] --><!-- [et_pb_line_break_holder] --><style><!-- [et_pb_line_break_holder] --> #parlay {border-collapse: collapse;<!-- [et_pb_line_break_holder] --> width: 100%; border: 0px;<!-- [et_pb_line_break_holder] --> font-size: 14px!important;}<!-- [et_pb_line_break_holder] --> #parlay td, #parlay th {<!-- [et_pb_line_break_holder] --> border: 0px;<!-- [et_pb_line_break_holder] --> padding: 8px;<!-- [et_pb_line_break_holder] --> text-align: left;}<!-- [et_pb_line_break_holder] --> #parlay th {<!-- [et_pb_line_break_holder] --> padding-top: 5px;<!-- [et_pb_line_break_holder] --> padding-bottom: 5px;<!-- [et_pb_line_break_holder] --> font-weight: bold;<!-- [et_pb_line_break_holder] --> line-height: 14px;<!-- [et_pb_line_break_holder] --> text-align: center;<!-- [et_pb_line_break_holder] --> color: #000;}<!-- [et_pb_line_break_holder] --> #parlay tr {border-bottom: 1px solid #edeef0;}<!-- [et_pb_line_break_holder] --> .team {font-size: 16px;}<!-- [et_pb_line_break_holder] --></style>
<div style="width:340px; margin: 0 auto;"><!-- [et_pb_line_break_holder] --> <a class="twitter-timeline" data-width="340" data-height="500" data-link-color="#008156" href="https://twitter.com/PredictemPicks?ref_src=twsrc%5Etfw">Tweets by PredictemPicks</a> <script async src="https://platform.twitter.com/widgets.js" charset="utf-8"></script><!-- [et_pb_line_break_holder] --></div>