Nebraska vs. Northwestern Pick ATS 8/8/22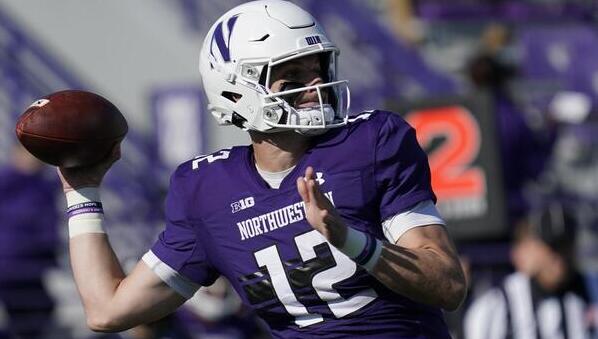 Nebraska Cornhuskers (0-0 SU, 0-0 ATS) vs. Northwestern Wildcats (0-0 SU, 0-0 ATS)
When: Saturday, August 27, 12:30 p.m.
Where: Aviva Stadium, Dublin, Ireland
TV: Fox
Point Spread: NEB -12.5/NW +12.5 (Bet your football games at -105 instead of -110 @ BAS!)
Total: O/U 50
Outlook
If Nebraska coach Scott Frost doesn't come home from Ireland with a win, it's a genuine question as to whether he's going to come back to Lincoln at all. OK, maybe that's a little dramatic, but the situation has gotten pretty dire for Frost at Nebraska. In three full seasons and a COVID-affected campaign, Frost has never won more than three Big Ten games and has yet to even qualify for a bowl game. If the Huskers don't at least play a 13th game this season, there's a very real chance that Nebraska's going to pull the plug on this effort.
Nobody is going to pull the plug on Pat Fitzgerald anytime soon, as Northwestern continues to punch above its weight in the Big Ten more often than not. Last season, however, was definitely a "not," as the Wildcats' defense sank under the weight of trying to carry their anemic offense. By the end of the season, Northwestern only managed to hold Iowa's equally punchless attack under 32 points in its final six games, and the Wildcats only scored more than 14 points in one of their final seven league games. Nobody's expecting much from Northwestern this season, but that also tends to be when the Wildcats are at their best. With zero pressure on the Wildcats in this game, Nebraska pretty much has to perform if it's going to avoid a devastating defeat.
How the Public is Betting the Nebraska/Northwestern Game
The public hasn't yet had time to make an impact on this game in either direction.
Injury Concerns
Nebraska:
The Cornhuskers report no injuries.
Northwestern:
The Wildcats report no injuries.
When Nebraska Has the Ball
The days of the running quarterback are done for the time being for Nebraska. Adrian Martinez took Route 77 south out of Lincoln to Kansas State, which means the Huskers will have a new quarterback for the first time since Mike Riley's final season at Nebraska. Casey Thompson is the new man running the offense, and he's not a running quarterback the way Martinez was.
That might not be a bad thing because, too often, Martinez either opted to run first or forced a pass and made a bad decision that led to a turnover. The Huskers have finished either even or negative in turnovers in every year Frost has led them, and last year, Martinez tossed ten interceptions. Thompson had 24 passing scores against nine picks, and if he can get settled into the pocket, the Huskers will be in better shape.
But without Martinez's running threat, Nebraska is going to have to get someone to carry the ball or watch teams drop eight defenders into coverage and take away the pass. If they don't get a good push on the ground in this game, they might not ever do it this season. Northwestern's run defense was a sieve last season, giving up 5.7 yards per carry in Big Ten games. Last season, the Huskers put up 427 rushing yards on the Wildcats in Lincoln, and while they won't have Martinez to do that damage this year, they should be able to move the ball on the ground as well as in the air against a weak front seven.
When Northwestern Has the Ball
There's a simple reason Northwestern lost 56-7 in Lincoln last year: the Wildcats got decimated in the trenches. While Nebraska was averaging eight yards per carry against Northwestern's run defense, the Wildcats could only scratch out 37 rushing yards for the entire game. Things should be better this time around, if only because the Wildcats' offensive line is more experienced and returns a pair of quality backs in Evan Hull and Cam Porter.
The ground game will be key here because, with Northwestern featuring an inexperienced defense, the Wildcats will likely want to keep Nebraska's offense off the field as much as possible. Ryan Hilinski doesn't have a ton of experience throwing the ball after splitting time with two other quarterbacks, so the Wildcats will probably run the ball unless Nebraska forces them to give up on it. That kind of play-calling dominated things for Northwestern last season, but the Huskers forced them to give up on the ground game early last time. Nebraska's defensive strength comes from its linebacking corps, so Hilinski is likely going to have to do more throwing than the Wildcats would like.
Betting Trends
Last year was the outlier, as these teams tend to play tight, lower-scoring games with each other. Taking out the 56-7 beating the Huskers put on the Wildcats last year, only one of the past six matchups was decided by more than eight points. Northwestern's offense completely sank last season, as the Wildcats averaged just 13 points per game in conference play last year and only topped 14 points against Rutgers and Michigan State.
Last season, despite a 3-9 record, Nebraska was a pretty good bet for spread bettors. The Huskers' tendency to hang around before blowing the game meant they often covered against superior opponents, landing covers against Ohio State, Michigan State, Oklahoma, and Wisconsin and a push with Michigan. It's been the trap games that have really bothered them, with Northwestern one such opponent.
Weather Report
This is NOT going to be your typical August college football game in terms of weather. Dublin is about as far north as Edmonton, so the weather is going to feel a lot closer to mid-October than the 90 degrees people back in Lincoln and Chicago will experience.
With the game kicking off at 5 p.m. local time, temperatures will likely start in the low 60s and dip into the 50s by the end.
Dan's Pick to Cover the Spread
Betting Nebraska to do the expected thing has been a fool's errand under Frost, as the Huskers are just 5-6 ATS under Frost when favored by 9.5 or more and have lost the game outright on three of those occasions. But one of the covers was Northwestern, and I don't think Fitzgerald has rebuilt the Wildcats well enough to handle this game in the season opener.
Northwestern should get better as the season progresses, but the Wildcats are coming in with a weak defense and an offensive strength that plays right into Nebraska's hands. I think the Huskers get the start they need; give me Nebraska to cover. Fatten up your college football bankroll with a massive 100% REAL CASH bonus on your first deposit of $100 to $500 when you use bonus promo code PREDICTEM at Betnow Sportsbook!