New Era Pinstripe Bowl Pick: Miami Hurricanes vs. Wisconsin Badgers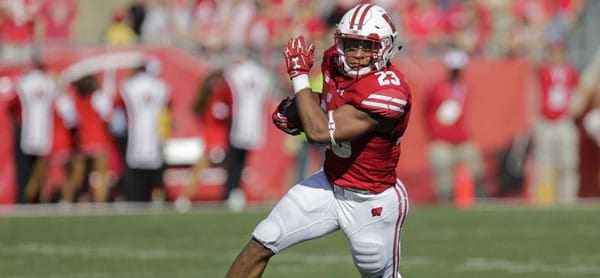 Miami Hurricanes (7-5 SU, 5-7 ATS) vs. Wisconsin Badgers (7-5 SU, 3-9 ATS)
New Era Pinstripe Bowl
Date and Time: Thursday, December 27 at 5:15pm ET
Where: Yankee Stadium
TV: ESPN
Point Spread: MIA -4/WISC +4 (Update: Line has moved to 2.5 a few hours prior to kickoff)
Over/Under Total: 47
When we are talking about the Bowl Season, you want to be watching your favorite team playing on New Year's Day. Unless you are in the College Football Playoff, finishing up the 2018 season on the first day of 2019 is a sure sign of success. The further you get from New Years, the less likely it is that a team had a good season. That doesn't mean the second-tier bowls aren't worth going to however. Just making a bowl gets a team another month of practice, which helps the young guys develop further and a win can be a nice springboard to next season. In the pantheon of bowl games, The Pinstripe Bowl is a little short on history but two tradition-rich schools will tangle in Yankee Stadium this year with the Miami Hurricanes taking on the Wisconsin Badgers. Both teams had plans to be elsewhere but neither were able to live up to preseason expectations. One team will leave feeling a bit better about their 2018 season and the other will be doing all they can to move on as quickly as possible.
Been There, Done That
The Bowl committees go out of their way to keep matchups fresh so it is rather strange that The Pinstripe Bowl features the same two teams that met in The Orange Bowl last season. The game was entertaining with Wisconsin pulling out a 34-24 win but it was far from a classic that fans were clamoring to see more of and the prospects of seeing lesser versions of the same teams play again haven't helped give this game juice. We don't even have the dumb fun of the "turnover chain" this time around or the opportunity to have the Wisconsin coaching staff let us know what they think of it. If you don't know what I am referring to, please Google Paul Chryst turnover chain to find out. There are several key players back for both teams, most notably Badger quarterback Alex Hornibrook and Doak Walker award winning running back Jonathan Taylor. Hornibrook threw for 258 yards and four touchdowns against the Hurricanes last year but was not able to parlay that into a successful 2018. He was inconsistent early and missed four games due to a concussion later in the season. Hornibrook enters the game with 1,532 passing yards with 13 touchdowns and 11 interceptions. The turnovers have been especially damaging to Wisconsin's win-loss record and Hornibrook finished with at least two interceptions in each of the last four games he played. Taylor was able to build on a stellar freshman campaign by rushing for 1,989 yards and 15 touchdowns to this point. That total is already the 31st best single season in NCAA history and another 100-plus yard effort with see Taylor move ahead of Wisconsin legend Ron Dayne on that list. Miami returns both of its running backs from The Orange Bowl with Travis Homer and Deejay Dallas combining for nearly 1,600 yards this season. Both backs found the endzone against the Badgers last year, as did WR Lawrence Cager who led Miami with six receiving touchdowns in 2018. These teams have plenty of similarities, especially in where they have been weak so this game will likely hinge on who can use the bowl prep in order to put a better product on the field.
Offensively Challenged
Both teams can point to their respective offenses as the major reason why their seasons did not go as planned. Miami is just 94th in total yards and 109th in passing at 177 yards per game. Malik Rosier started as the Hurricane QB and was a consistent running threat but struggled in the passing game and was eventually benched for freshman N'Kosi Perry who remained the starter. Perry has flashed some serious talent in throwing for 13 touchdowns but is completing just 51% of his passes. The inconsistency is not surprising for a redshirt-freshman but the hit-and-miss nature of the Hurricane offense saw them average just 15 points per game in their five losses. Miami averaged less time of possession than their opponents in 2018 and that had a negative impact on their otherwise stellar defense. The fatigue on that side of the ball, coupled with the lackluster offense, doomed the Canes during their four game conference losing streak. Wisconsin is similarly challenged in the pass game, ranking 114th at 168 yards per game but they enter the bowl at 40th in total yards on the strength of the nation's 7th best rushing attack. Like Miami, Wisconsin averaged a paltry 15 points per game in their losses and the success of Jonathan Taylor was not able to cover up for the anemic passing game. When measuring these offenses, I think you have to give a slight edge to the Badgers as they have the proven best player on their side. Miami is 24th in run-stopping but not many ACC teams have the commitment to the run that Wisconsin does. The Badger offensive line is rarely unable to tire out the opposing front and any the play-action game remains the most functional part of the Wisconsin passing attack.
The Intangibles
Bowl games are unlike regular season contests in terms of motivation and preparation. These teams are no longer playing for a division or conference title and neither thought they would be in New York in December so the team that can self-motivate and maintain focus on the winning details should have an edge. Paul Chryst has done well with his players and Wisconsin is 3-0 in bowl games under his watch, with the last two coming as consolation prizes after the Badgers came close to earning a CFP berth. They didn't let the lesser stakes affect their preparation in those circumstances and Wisconsin has always been one of the teams that use the extended prep session to their full advantage. Miami has won national championships with players and fans of using tradition-built swagger as a weapon to steamroll opponents. It is hard to call on that swagger when things aren't going as well. Miami is always the more flashy team on the field, almost embodying the spirit of the city itself, but glitz and glamour have a tendency to fade when someone can punch the Canes square in the teeth. Miami is just 1-5 against the spread in their last six against the business-like Big Ten and 1-6 ATS in their last seven bowl games.
No one is saying the Hurricanes aren't trying but it certainly reads like Miami has trouble getting up for postseason contests with just two bowl wins in their last nine tries. The Pinstripe Bowl is just one of three contested in cold weather climates and that factor should not be overlooked in my opinion. Wisconsin played three times this season where it snowed during the game and December high temps hover around 32 degrees in Madison. The Badgers can simply walk outside and find conditions that will be worse than what they will see in New York which should provide game-time temps in 40s at kickoff. Miami is averaging 76 degrees this time of year and the Canes will just have the week leading up to game to acclimate. Wisconsin gets a slight but possibly meaningful edge where weather is concerned and that edge could prove very significant if the forecast turns especially windy or cold for the game. Add it all up and the Badgers have some tally marks in their column when talking about the intangibles.
Its All About the D for "The U"

You can point to the defects and deficiencies of the Miami offense all you want but the defense has been pulling its weight and then some. The Canes think they have the best defense in the country and it is hard to argue that given the numbers. They are 2nd in total yards allowed, first in passing yards allowed and first on third downs, allowing a conversion just 23.7% of the time. The Canes also lead the nation at 10.5 tackles per loss per game and putting the Badgers behind the sticks is job #1 in stopping that running game. The stat sheet rounds out with top-15 marks in sacks, interceptions, total turnovers, red-zone touchdowns allowed and points per game allowed. Standout games include holding a Pitt offense to 200 yards and three points in the season finale and scoring three times on defense in a rout of North Carolina. Where Miami ran into trouble was against opponents who simply would not give up on running the ball. In Miami's five losses, their opponent averaged 43 rushing attempts per game and the Badgers notched 41 rushing attempts during The Orange Bowl last year. The Wisconsin coaching staff will be well aware of how teams did succeed against this phenomenal defense and it's not like they weren't going to try running all day anyway. It is also important that the Badgers are deep in their backfield with Taiwan Deal, Garrett Groshek and fullback Alec Ingold all having support roles alongside Taylor. Wisconsin is going to keep pushing fresh-legged backs right at the Miami defense as long as this game is close.
The Wisconsin defense is the forgotten unit on the field come December 27 but they could be the swing factor in the game. The Badgers are not the elite defense they have been in recent years but they aren't poor either with top-50 ranks in total yards and points allowed. DT Olive Sagapolu will miss the game and that is a blow to the center of the Badger front but this young defense has not been the reason for the 7-5 record. DC Jim Leonhard had to get creative with six defensive backs missing time this season but those guys are healthy now and the reps the backups got in have the secondary very prepared with eleven players seeing meaningful time. There were breakdowns for sure but Wisconsin held the likes of Iowa, Rutgers, Illinois and New Mexico to 14.8 points per game. Those offenses rank in the same neighborhood as Miami does. Wisconsin recorded just 18 sacks during the regular season so don't expect a ton of negative plays out them but Miami is going to have to earn it.
This is actually the third bowl game between these teams with the 2009 Champs Sports Bowl joining the 2017 Orange Bowl clash. Wisconsin ground out a 20-14 win in that one and I expect a similarly close result again in New York. Taylor and Hornibrook are the keys as they will need to be at the top of their games to best the tough Miami defense. Hornibrook doesn't have to do what he did last year but he cannot be a negative influence on the game like he has been in several losses this season. Just staying turnover-free would be a big boost from the Wisconsin QB and completing a few well-timed third down throws will be huge. Taylor rushed for 130 yards against Miami and that is probably a good over/under total to determine his effectiveness for this game. Anything over that and Wisconsin is probably controlling the clock and playing ahead of the sticks. Anything less and they are running the risk of putting too much pressure on the passing game. Miami is giving up just 3.2 yards per rush but Wisconsin is not shy about staying committed to the ground and pound so long as they are not trailing by too much.
Ultimately, I think this is all adding up to small upset for Wisconsin so I am definitely advocating for the Badgers and the points at least. I think Taylor's legs will soften the Miami defense and the Wisconsin running game is the only known offensive commodity on the field for either team. It is going to be a field position kind of game with a very few key plays determining the outcome. Wisconsin is better built for those conditions and the weather and they get another W against the Canes in a bowl game. Wisconsin 20 Miami 17
Ted's Pick to Cover the Point Spread: Wisconsin and you can bet this at sportsbook that offers new clients a free $200 to bet! Check them out!