New Mexico Lobos vs. San Jose Spartans Pick 10/4/19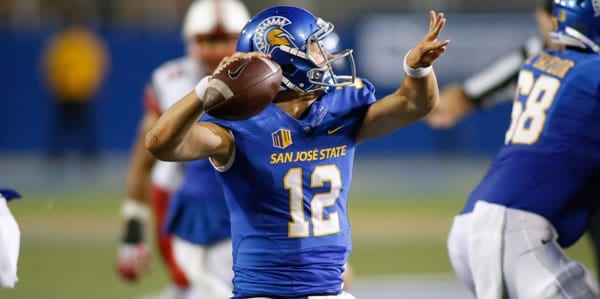 New Mexico Lobos (2-2 SU, 2-2 ATS) vs. San Jose Spartans (2-2 SU, 2-2 ATS)
College Football Week 6
Date and Time: Friday, October 4, 2019 at 10PM EDT
Where: CEFCU Stadium, San Jose, California
TV: CBSSN
Point Spread: UNM +7/SJSU -7 (Bookmaker)
Over/Under Total: 69
The New Mexico Lobos come into CEFCU Stadium on Friday for a Mountain West Conference matchup with the San Jose Spartans. San Jose is sitting at 2-2, coming off a lopsided 41-24 loss to the Air Force Falcons, where they still managed to cover the spread for the second time in a row. They look to even their conference mark at 1-1 this week and appear to have a more-manageable opponent in the New Mexico Lobos. The Lobos' last result probably makes them look worse than they are. After beating New Mexico State in an in-state rivalry game, 55-52, they couldn't get much going last week against FCS team Liberty, dropping a demoralizing 17-10 game. After a tough road game last week, can the Lobos deliver on the road this week?
San Jose's Erratic Start
In terms of the point spread at least, last week was more of a normal week for the Spartans, covering the spread by two points in their 41-24 loss at Air Force. After a warm-up 35-18 win over Northern Colorado, they lost by 18 to Tulsa, before beating Arkansas on the road, 31-24, as 20-point dogs, one of the biggest wins in program history. They got off to a fast start with an opening TD against the Falcons on Friday, before they were soon overwhelmed by the Air Force running-attack—to the tune of 382 yards. Good thing Air Force doesn't air it out very much because they haven't been very good against the pass, either. At the end of the day, the San Jose defense, even at this level, is a major drawback. New Mexico might not be the most explosive offense in the Mountain West, but they're a well-balanced unit that can put up points in the right spots. This could be one of them.
More Picks: Temple at East Carolina Pick Against the Spread >>>
Possible Daylight for the Spartans
There are possible avenues for success on the offensive side of the ball for the San Jose State Spartans. Granted, after an opening drive TD on Friday, the Spartans couldn't establish much continuity, but quarterback Josh Love works well with his receivers, spreading the ball around well and keeping opposing defenses on their toes. They stalled out, stopped on downs multiple times against Air Force. A little uptick could have made all the difference, as they were in fact able to move the ball. And after coming in during garbage-time, backup Nick Nash connected on two TDs and ran the ball well, making one wonder how he could be used to better effect moving forward. They haven't run the ball well and maybe he can be used more to lend more variety to this offense. They have some nice targets in Tre Walker, Isaiah Hamilton, and Bailey Gaither and look for more of what they were doing in a big road win over the Razorbacks. It was upsetting that after that big win, they couldn't win consecutive games, something they've failed to do since 2014.
Against a New Mexico defense that hasn't been getting much right, this home San Jose offense could see some better results. The Lobos "D" has given up 31 points to Sam Houston State, before giving up 66 to Notre Dame and 52 to New Mexico State. Now granted, the San Jose offense has looked flat on occasion and haven't answered the call, but maybe against this defense in this setting, they can see some of their talent rise in the run and pass game.
Which Version of the New Mexico Offense Will Surface This Week?
So far, they've been erratic, with some rhyme and reason behind it. Against Sam Houston and New Mexico State, they scored 39 and 55 points, respectively. In those games, quarterback Tevaki Tuioti aired it out and even ran the ball to good effect. He relied on a robust run-game, with Ahmari Davis having big days. Tuioti connected well with receivers Jordan Kress, Aaron Molina, and Marcus Williams. The offense had nice variety and looked fairly crisp. But that was against Sam Houston and NMSU.
Against Notre Dame, they fell flat, which is understandable. Less understandable is a ten-point output against Liberty last week, with 7 of those points coming in the waning seconds. A mere field goal for nearly four quarters of play is a damning indictment, even against a decent FCS Liberty team. The week before, Liberty gave up 27 to Hampton and this Lobos offense couldn't even tough that kind of production. Davis had a decent day, but Tuioti was errant with 2 picks and only 139 yards on 12-for-26 passing. Liberty QB Stephen Calvert went for over 300 yards and they ran the ball well. There were multiple big plays through the air against this beleaguered Lobos secondary, not the performance they needed after allowing 52 points the previous week.
Take the Home Team
Watching San Jose play at times this season will hardly inspire confidence. Last week, they looked uninspired in stretches against the Falcons. But it's all about context. Going to play a good Air Force team and hosting New Mexico is a different realm. And what didn't work against Air Force will come off better in this spot. San Jose State has shown they can hit notes that the Lobos have not shown they can hit. I think being at home is key, as is catching a potentially-weary New Mexico team coming off a road trip in Virginia, followed by a trip up to the Bay this week. I think things line up decently for a Spartans cover this week. I'll take San Jose State.
Loot's Pick to Cover the Point Spread: I'm betting on the San Jose State Spartans minus 7 points.