[et_pb_dcsbcm_divi_breadcrumbs_module hide_homebreadcrumb="off" homebreadcrumbtext="Home" separator="sep-raquo" hide_currentbreadcrumb="off" homebreadcrumborientation="left" _builder_version="3.8″ fontsbreadcrumbs_font="Lato||||||||" fontsbreadcrumbs_text_color="#000000″ fontsbreadcrumbs_font_size="15px" fontsbreadcrumbs_line_height="16px" fontsseperator_font="||||||||" fontsbreadcrumblinks_font="||||||||" fontsbreadcrumblinks_text_color="#2567cf" custom_margin="25px|||" custom_margin_phone="30px|||" custom_margin_last_edited="off|desktop" custom_css_main_element="font-family: Helvetica Regular;" disabled="on" global_module="3641″ saved_tabs="all"][/et_pb_dcsbcm_divi_breadcrumbs_module]
Tuesday CFB: Northern Illinois Huskies vs. Western Michigan Broncos Pick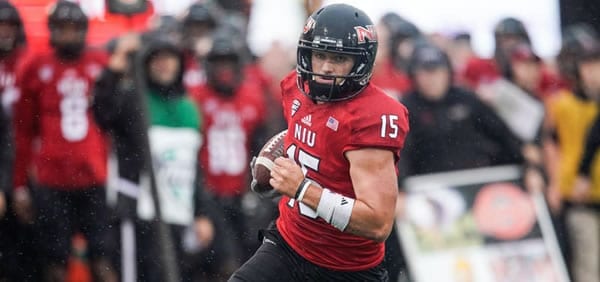 Northern Illinois Huskies (7-4 SU, 6-5 ATS) vs. Western Michigan Broncos (6-5 SU, 3-8 ATS)
College Football Week 13
Date and Time: Tuesday, November 20, 2018 at 7PM ET
Where: Waldo Stadium, Kalamazoo, Michigan
TV: ESPNU
Point Spread: NIU -5.5/WMU +5.5
Over/Under Total:51
This Tuesday's MAC special features a nice matchup with the Northern Illinois Huskies coming into Kalamazoo to take on the Western Michigan Broncos. Both of these teams have situations that are pretty well spelled-out. Northern Illinois has the MAC West Division locked up and will play Buffalo in the conference title game. For Western Michigan, they are trying to stop the bleeding and finish the season above .500 and get a better bowl position. And despite some recent issues, I like the Broncos to cover the spread at home this week.
Can WMU Reverse Momentum?
On the heels of a three-game losing streak, including an ugly 42-41 OT loss to Ball State last week, it's clear this isn't the same WMU team we saw earlier in the season. Several weeks ago, they were on a 6-game win streak, laying conference opponents to waste and making a push for divisional supremacy. The offense was flying high, with the defense showing its fangs consistently. Then the wheels came off, and in the last three games, they have allowed an alarming 152 points. They lost their starting QB, and things started going a bit sideways for a team that was showing so much promise. Both sides of the ball are suffering.
We see a WMU team that has covered the spread just once in their last seven games. The pass defense isn't making much of an impression, while the run-resistance is minimal. Against teams that aren't even as offensively-gifted as NIU, they've been struggling. Mistakes have been abundant. But against Ball State, we at least saw their offense start to click. And when it does, they can really run the heck out the ball—putting up over 350 yards on the ground last week. A similar performance this week, albeit against a robust NIU defense, would make this a hard number to cover for the Huskies.
NIU Letting Their Foot off the Gas?
The Huskies took a 6-game win streak into last week's game, a bad 13-7 loss to a 4-6 Miami-Ohio bunch. Again, they relied on a dominant defense, a group that has allowed them to ascend to the top of their division. But we're seeing more sporadic showings from the other side of the ball lately. And with a stranglehold on the division, maybe they are letting up a bit mentally, which was certainly evident in last week's showing. Now would be a good time for them to get back on point, with the MAC title game looming shortly. But in this conference, we've seen time and again that things often change on a dime and that this NIU team might be receding a bit heading into the stretch run of the season. But losing last week could make this tougher for WMU, as the Huskies will presumably be looking to stop the bleeding.
This season has drifted in a few different directions for the Huskies. A 1-3 start was disheartening, even if they were playing teams out of their realm. They even held their own against a good Utah team earlier this season. But when they got into their conference schedule, we saw a different squad. They were running the ball well while forming a defense that was exceptionally-stout against the run. And with WMU being a team that relies on their ground-game, that looms as a potential problem area for the Broncos at home this week.
Northern Illinois Defense: Cream of the Crop
The Huskies' defense will determine how far they go this season. It's a playmaking unit, with a deep pass-rush and a run-stopping ability that surpasses all MAC teams. Having players on this side of the ball like Sutton Smith really helps, as he is a fierce pass-rusher and a very disruptive overall force. And he's not the only one on this "D" who can wreak havoc. Their 39 overall sacks put them one off the national lead. It's a well-rounded unit, though the pass-defense lags behind how effective they are against the run.
We see a Western Michigan offense that isn't exactly thriving week in and week out, so what can they do against this "D?" Well, they did show more fire last week. And the variety of their run-game could offer some issues as they did last season against this Huskies defense. LaVante Bellamy is starting to run wild and was huge last week, albeit in a losing cause. Three times in the previous five games, he has been on fire. Jamauri Bogan also ran for over 100 with two touchdowns last week. When these teams played last season, WMU had some success in this area, and with the diversity, they have in the ground game, with NIU maybe sagging a bit here lately, combined with last week's spurt, perhaps this is an area of some promise for the Broncos.
NIU: A Reduced Force on the Road
At this level, being better at home than on the road is hardly a revelation. Still, with this spread, it's worth noting how Northern Illinois hasn't really been able to create much separation in similar spots. First, they lost and didn't cover in two earlier-season showdowns against Iowa and Florida State. That's understandable on some levels, but even in conference play, they look a bit flatter away from home—perhaps more than you would otherwise suspect. Road wins over Eastern Michigan, and Ball St. were narrow victories, and they also labored to beat Akron on the road. While Western Michigan is not a team that you would say is peaking at this point in time, they compare well with a lot of the teams that even a peak NIU struggled to beat on the road.
It would also be fair, therefore, to call out WMU for some of their shortcomings at home where they have lost their last two games. They lost to Toledo and Ohio by pretty significant margins. Let's also mention, though, that there was a bit of a re-adjustment period after losing QB Jon Wassink for the season. Freshman Caleb Eleby needs to be afforded a coming-around period, and he struggled at times over the last few weeks. And while he didn't shine against Ball State last week necessarily, we see a player starting to get his bearings and running this offense a bit more smoothly.
Does Last Year's Game Hold Any Answers?
Last season, at Northern Illinois late in the season like this game, the Huskies beat the Broncos narrowly 35-31. It was a back-and-forth affair, with Northern Illinois holding an edge for much of the game until WMU took a fourth-quarter lead. A Northern Illinois TD later in the final quarter sewed up the win. There were some similar threads, as WMU was also without their starting QB for that game. Their run-game might even be in better shape for this spot. Granted, they don't have their big back from last season in Jarvion Franklin, but they wield more pieces this season, and that spark and variety could go a long way toward getting close to this number. The WMU defense held NIU quarterback Marcus Childers to just 64 yards through the air, and while Jordan Huff went off on the ground, he's no longer on the team. NIU will now call on a less-explosive duo of backs, with Tre Harbison and Marcus Jones carrying the weight.
Take the Points on the Home Underdog
On some levels, common sense contradicts taking the Broncos in this matchup. After all, they haven't been thriving, with inconsistent play and injuries rendering them a reduced version of themselves. And banking on the WMU run-game against this NIU defense is also counterintuitive from a surface-appraisal. I just see NIU as being a bit lethargic right now, and this road-spot could see that come more into light. WMU matches up better with NIU than some of the numbers and stats suggest, as last season's close result also had a lot of these same matchup concerns, to no avail for NIU bettors. I see WMU getting enough done on offense, with their "D" making a few big plays to keep this one respectable. I'm going with the Broncos.
Loot's Pick to Cover the Point Spread: I'm betting on the Western Michigan Broncos plus 5.5 points.
<div class="widget105"><!-- [et_pb_line_break_holder] --><h4 class="parlays">Best Sportsbooks for Parlays</h4><!-- [et_pb_line_break_holder] --><!-- [et_pb_line_break_holder] --><table id="parlay"><!-- [et_pb_line_break_holder] --> <tr><!-- [et_pb_line_break_holder] --> <th><span class="team"></span></th><!-- [et_pb_line_break_holder] --> <th>2 Team Parlay</th><!-- [et_pb_line_break_holder] --> <th>3 Team Parlay</th><!-- [et_pb_line_break_holder] --> <th>4 Team Parlay</th><!-- [et_pb_line_break_holder] --> </tr><!-- [et_pb_line_break_holder] --> <tr><!-- [et_pb_line_break_holder] --> <td><a href="https://www.predictem.com/out/SportbetP"><img src="https://www.predictem.com/wp-content/uploads/2018/06/sportbet-sm.png"></a></td><!-- [et_pb_line_break_holder] --> <td>2.74 to 1</td><!-- [et_pb_line_break_holder] --> <td>6.24 to 1</td><!-- [et_pb_line_break_holder] --> <td>13 to 1</td><!-- [et_pb_line_break_holder] --> </tr><!-- [et_pb_line_break_holder] --> <tr><!-- [et_pb_line_break_holder] --> <td><a href="https://www.predictem.com/out/BovadaP"><img src="https://www.predictem.com/wp-content/uploads/2018/06/bovada_sm.png"></a></td><!-- [et_pb_line_break_holder] --> <td>2.64 to 1</td><!-- [et_pb_line_break_holder] --> <td>6 to 1</td><!-- [et_pb_line_break_holder] --> <td>12.3 to 1</td><!-- [et_pb_line_break_holder] --> </tr><!-- [et_pb_line_break_holder] --> <tr><!-- [et_pb_line_break_holder] --> <td><a href="https://www.predictem.com/out/MybookieP"><img src="https://www.predictem.com/wp-content/uploads/2018/06/mybookie-sm.png"></a></td><!-- [et_pb_line_break_holder] --> <td>2.64 to 1</td><!-- [et_pb_line_break_holder] --> <td>6 to 1</td><!-- [et_pb_line_break_holder] --> <td>12 to 1</td><!-- [et_pb_line_break_holder] --> </tr><!-- [et_pb_line_break_holder] --></table><!-- [et_pb_line_break_holder] --><div class="widget-footer"><a href="https://www.predictem.com/best-sportsbooks/parlays-odds/">See all Sportsbook Parlays</a></div><!-- [et_pb_line_break_holder] --></div><!-- [et_pb_line_break_holder] --><!-- [et_pb_line_break_holder] --><!-- [et_pb_line_break_holder] --><style><!-- [et_pb_line_break_holder] --> #parlay {border-collapse: collapse;<!-- [et_pb_line_break_holder] --> width: 100%; border: 0px;<!-- [et_pb_line_break_holder] --> font-size: 14px!important;}<!-- [et_pb_line_break_holder] --> #parlay td, #parlay th {<!-- [et_pb_line_break_holder] --> border: 0px;<!-- [et_pb_line_break_holder] --> padding: 8px;<!-- [et_pb_line_break_holder] --> text-align: left;}<!-- [et_pb_line_break_holder] --> #parlay th {<!-- [et_pb_line_break_holder] --> padding-top: 5px;<!-- [et_pb_line_break_holder] --> padding-bottom: 5px;<!-- [et_pb_line_break_holder] --> font-weight: bold;<!-- [et_pb_line_break_holder] --> line-height: 14px;<!-- [et_pb_line_break_holder] --> text-align: center;<!-- [et_pb_line_break_holder] --> color: #000;}<!-- [et_pb_line_break_holder] --> #parlay tr {border-bottom: 1px solid #edeef0;}<!-- [et_pb_line_break_holder] --> .team {font-size: 16px;}<!-- [et_pb_line_break_holder] --></style>
<div class="clickable CTA" style="margin: 0 auto; background: #fff; border-radius: 10px; text-align: center; padding: 10px 20px 20px 20px;"><!-- [et_pb_line_break_holder] --> <img src="https://www.predictem.com/wp-content/uploads/2018/05/mybookie-logo.png" alt="MyBookieer" class="cta-image" /><!-- [et_pb_line_break_holder] --> <p style="margin-top: 5px; font-size: 22px; line-height: 30px;"><!-- [et_pb_line_break_holder] --> $1,000 Free Play Offer<!-- [et_pb_line_break_holder] --> </p><!-- [et_pb_line_break_holder] --> <hr class="cta-divider"><!-- [et_pb_line_break_holder] --> <p style="padding-bottom: 20px; font-size: 15px; line-height: 20px"><!-- [et_pb_line_break_holder] --> $1,000 Football Sign Up Bonus<br>Free Play - 15X Rollover<!-- [et_pb_line_break_holder] --> </p><!-- [et_pb_line_break_holder] --> <a href="https://www.predictem.com/out/Mybookie" rel="nofollow" target="_blank"><button class="et_pb_button" style="color: #fff; cursor: pointer; width: 90%;"><!-- [et_pb_line_break_holder] --> Bet Here<!-- [et_pb_line_break_holder] --> </button></a><!-- [et_pb_line_break_holder] --></div>