Notre Dame Fighting Irish vs. Florida State Seminoles Pick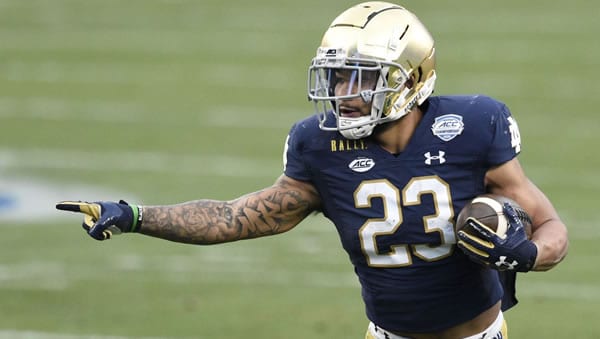 Notre Dame Fighting Irish (2020 10-2 SU, 6-6 ATS) vs. Florida State Seminoles (2020 3-6 SU, 3-6 ATS)
Date/Time: Sunday, September 5th, 7:30 PM
Where: Doak Campbell Stadium, Tallahassee, FL
TV: ABC
Point Spread: ND -7 / FSU +7
Over/Under Total: 56
The Notre Dame Fighting Irish head south to take on the Florida State Seminoles at Doak Campbell Stadium in Tallahassee in the first Sunday football game of the season. FSU leads the all-time series between the teams 6-4, but it's Notre Dame that has had the upper hand of late with two wins against the 'Noles over the past three seasons by an average score of over 20 points per game.
CHOPPED DOWN
Florida State posted winning seasons every year from 1977-2017 but has since fallen on hard times with a losing mark for the past three years. The lack of consistent success starts within the ACC, as they had posted just one losing season in the conference since joining 1992 before now having gone four straight without a winning record. Unfortunately, they have been just as bad out of the conference as well, having gone just 1-9 against the spread in their last ten non-ACC games and posting just a 5-5 record straight up. This mark looks even worse considering the wins were against FCS level Samford, Alabama State, and Jacksonville State, along with less than stellar victories against Louisiana-Monroe (needed overtime despite being a 22-point favorite) and Northern Illinois. This year, they are looking at a similar track with oddsmakers expecting non-conference wins against Jacksonville State and UMass, but losses against Notre Dame and Florida, combined with an ACC schedule containing both UNC and Miami from the ACC Coastal lines up for another challenging season in Tallahassee.
COMEBACK
Expected to lead the way at quarterback for the Seminoles is former Central Florida starter McKenzie Milton, who has not played since dislocating his knee back on November 23, 2018. Milton was in the midst of leading his Knights team to a 23-game winning streak, including an undefeated run in 2017 that earned him an Archie Griffin Award as college football's most valuable player. Milton and last year's starter Jordan Travis were both listed as co-QB1's on the team's depth chart released on Monday, so it is entirely likely that both will get a chance to play on Saturday against Notre Dame. The biggest hurdles either will face on Saturday against the Irish, though, could be a lack of wide receiver weapons to rely on.
AIR DRAUGHT
Last season the Seminoles ranked 98th nationally and dead last in the ACC in passing offense, and when looking at their stats, it's very easy to see why. No receiver had over 400 yards or 30 receptions or two touchdowns, which was easy to see why their streak of inferiority has continued at the next level with just one Florida State receiver (Kelvin Benjamin) having been drafted in the fourth round or higher in the past 14 years. With Tamorrion Terry gone, the team will look to three returning juniors and a Kansas transfer to get the air game going. Receivers Keyshawn Helton and Ontaria Wilson, and tight-end Camren McDonald all have experience in the Seminole system. At the same time, Andrew Parchment will look to rekindle his success with the Jayhawks that earned him third-team All-Big 12 honors in 2019.
BACKFIELD DUO
The strength of the Florida State offense will continue to be their running game. Last season the Seminoles ranked 31st in the country in rushing yards per game (compared to their passing offense, which ranked 98th), and their youthful duo of Jashaun Corbin and Lawrance Toafill are both back and looking to make a name for themselves. The former Texas A&M Aggie Corbin is the expected starter, while the explosive Toafill is a more than capable backup who averaged 9.6 yards per carry a season ago. Both figure to get the lions' share of opportunities out of the backfield, but a questionable offensive line combined with a possible 60/40 split in responsibilities will likely make it too much of a hurdle for either Corbin or Toafill to join Devonta Freeman, Cam Akers, and Dalvin Cook as the only FSU players to surpass the 1000-yard rushing mark in season since the 1990s.
HOLES TO FILL
The Seminoles defense lost four players to the NFL Draft in April, and who will step up in their absence remains one of the most significant issues facing the team heading into the 2021 campaign. They are coming off a lackluster season that saw them rank 97th or worse in all four of the major defense categories (scoring, rushing, passing, total yards), which is, unfortunately, a developing trend of late for the team as they have allowed an average of over 28 points per game of the past three years. They return not a single player who finished last season ranked in the top 25 in sacks or in the top 20 in tackles for loss or pass breakups, while also dealing with the added issue of having just one returning starter on their defensive line, a problem in Week one considering they are going up against one of the better running backs in the country in Kyren Williams. All hope is not lost as the Seminoles at least get back their top four in tackles from 2020, and the team looks to Jermaine Johnson up front along with linebackers Stephen Dix, Amari Gainer, and Emmett Rice, and defensive back Jammie Robinson to help lead the way and attempt to turn things around for the struggling squad.
More Picks: Monday's Louisville vs. Mississippi Spread Winner >>>
DOUBLE DOWN
Notre Dame ended their 2020 season with a 10-2 record. The fourth straight season, they have reached double-digit victories and made the BCS Playoffs for the second time in three years before losing to Alabama in the Rose Bowl. Notre Dame gets a fair amount of grief for not showing up in the postseason, but it should be noted that in both 2018 and 2020, they lost to the eventual National Champion in the first round of the BCS Playoffs by fewer points than whoever lost in the final game (lost to Clemson by 27 in 2018, who then beat Alabama by 28 and then in 2020 lost to Alabama by 17 before the Tide beat Ohio State by 28). That is not to say the Brian Kelly and the Irish don't deserve some ribbing for their performance against top tier teams, as they are 2-19 in their last 21 games against top 6 opponents, 6-26 in their previous 32 against top 12 teams and 3-16 in their last 19 games away from South Bend versus the top 20.
BOOK REPLACEMENT
With Ian Book off to disappoint in the NFL, the Irish will be replacing their winningest quarterback in school history. Wisconsin grad transfer Jack Coan will lead the way against the Seminoles in week one, but there are two very capable options right behind him in sophomore Drew Pyne and much-heralded freshman recruit Tyler Buchner. The Irish will have three games to find their answer at quarterback before hitting the heart of their schedule with consecutive games against Wisconsin, Cincinnati, Virginia Tech, USC, and North Carolina awaiting them in the middle of the season (and all five have a bye the week before playing the Irish). Thankfully whoever gets the nod at QB will have some pressure taken off with the defense likely laser-focused on star Notre Dame running back Kyren Williams.
SOPHOMORE STAR
QB Book may have gotten some Heisman votes last season, but the true offense star was Kyren Williams. The multi-dimensional running back ran for 1,125 yards while averaging 5.3 YPC, scoring 14 total touchdowns and also posting 35 receptions for 313 yards through the air. He will undoubtedly be the focal point of the offense in 2021, with speedster Chris Tyree a very capable backup and counterpart to Williams. Unfortunately for both Williams and Tyree, the biggest loss to the offense was upfront on the line, where four starters are gone and the only returning one (Jarrett Patterson) not only has to change positions from center to left tackle but also has an injured foot and was unable to take part in spring practice. Regardless of the turmoil on the line, Williams carries a lot of value as a Heisman long shot at 90-1 odds as the top offensive weapon on a top ten team that carries with it a national spotlight on a weekly basis.
TARGETS AVAILABLE
Notre Dame lost most of the production at the position, with Javon McKinley and Ben Skowronek moving on after leading all team wideouts in receptions, yards, and touchdowns in 2020. It will be interesting to see who will step up at wide receiver, and it will likely be one of the most important storylines for Notre Dame this season. Avery Davis, Kevin Austin, and now healthy Brandon Lenzy appear are the expected starters against Florida State, but don't at all be surprised to see Lawrence Keys III, Jordan Johnson, and Joe Wilkins get their chance to make a name of themselves as well as the Irish settle into what will be an all-new passing game in 2021. Thankfully future star in the making, tight end Michael Mayer, is back after posting 45 receptions for 450 yards in his initial season, and with plenty of targets now available, will certainly have the opportunity to make the jump to the next level this season.
BIG SHOES TO FILL
Notre Dame's defense lost some important pieces in the offseason, both from on the field and the sidelines. Gone are both Jeremiah Owusu-Koramoah and Adetokunbo Ogundeji to the NFL Draft, but the biggest departure was likely defensive coordinator Clark Lea, who left South Bend to take over the head coaching duties at Vanderbilt. Taking over Lea's position will be former Cincinnati coordinator Marcus Freeman, who, based on his success with the Bearcats, is plenty qualified to fill Lea's shoes, and thankfully for Freeman, he will not be starting his Irish tenure shorthanded. Safety Kyle Hamilton is back for his junior season after leading the team in tackles in 2020 and is undoubtedly the on-field leader of the defense. Amongst those expected to make an impact along with Hamilton include Myron Tagovailoa-Amosa and Isaiah Foskey up front and linebackers Drew White, Jack Kiser, and Bo Bauer in the middle, and safety Houston Griffith. Last season the Irish ranked in the top 25 nationally in scoring, rushing, and total yards allowed per game, and while they have suffered some losses since, they look to line up well in week one against an FSU team that hasn't had a consistent offense in nearly three years.
THE FINAL DECISION
Much attention for the Irish-Seminoles game will focus on the transfer quarterbacks, with McKenzie Milton coming back from a devastating knee injury while at UCF and Jack Coan making his return after missing last season at Wisconsin. I believe the biggest impact and expected reason for the Irish success will be upfront in the trenches on both sides of the ball. On offense, Notre Dame and Kyren Williams can take advantage of a porous front line for FSU, and on defense will be able to focus their efforts on stopping the strength of the Seminoles rushing game with Tagovailo-Amosa and Foskey on the defensive line.
Florida State is just 1-12 in their last 13 games against top 20 opponents, while Notre Dame has won 32 games in a row against unranked teams and 41 straight when scoring over 20 points in a game. The Seminoles may be able to keep things close early on with the momentum of opening the season in front of their hometown crowd, but after that subsides, I expect the Irish offense to control the pace of the game and end up with a win and cover in Tallahassee to start their season.
Mike's Pick to Cover the Point Spread: Notre Dame -7 (-120). Question: Where are you betting your football games this season? Does your bookie offer you the ability to bet at discounted odds? No, of course he doesn't! Why are you laying -110 odds when you could be laying only -105? It makes no sense! Please help you (and us) out by making the switch to reduced juice wagering at BetAnySports. You'll be so glad you did because-it-saves-you-money!