[et_pb_dcsbcm_divi_breadcrumbs_module hide_homebreadcrumb="off" homebreadcrumbtext="Home" separator="sep-raquo" hide_currentbreadcrumb="off" homebreadcrumborientation="left" _builder_version="3.8″ fontsbreadcrumbs_font="Lato||||||||" fontsbreadcrumbs_text_color="#000000″ fontsbreadcrumbs_font_size="15px" fontsbreadcrumbs_line_height="16px" fontsseperator_font="||||||||" fontsbreadcrumblinks_font="||||||||" fontsbreadcrumblinks_text_color="#2567cf" custom_margin="25px|||" custom_margin_phone="30px|||" custom_margin_last_edited="off|desktop" custom_css_main_element="font-family: Helvetica Regular;" global_module="3641″ saved_tabs="all"][/et_pb_dcsbcm_divi_breadcrumbs_module]
Notre Dame Fighting Irish vs. Northwestern Wildcats Betting Prediction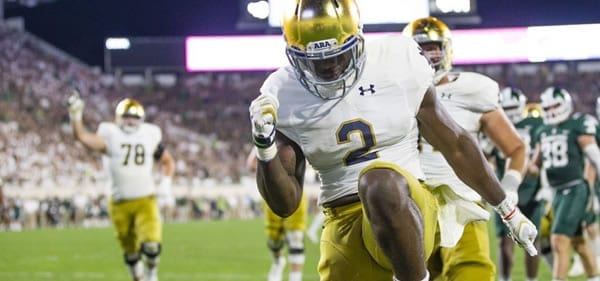 Notre Dame Fighting Irish (8-0 SU, 4-4 ATS) vs. Northwestern Wildcats (5-3 SU, 4-3-1 ATS)
Date/Time: Saturday, November 3rd, 7:15 PM
Where: Ryan Field, Evanston, IL
TV: ESPN
Point Spread: ND -8 / NW +8
Over/Under Total: 53.5
Notre Dame heads to Illinois to take on Northwestern in a primetime Saturday Night showdown at Ryan Field. The Irish lead the all-time series 37-9, but it is the Wildcats that have won the last two meetings between the teams including a 43-40 victory in South Bend back in 2014.
Northwestern comes in with plenty of momentum after upsetting Wisconsin 31-17 a week ago. They have managed to turn their season around after a disappointing 1-3 start entirely and have now won four games in a row to get their record back to 5-3. All five victories have come in conference play, and they are now in complete control of their own destiny and can take home the Big Ten West title if they win their remaining games against Iowa, Minnesota, and Illinois.
NORTHWESTERN OFFENSE
The Wildcats are led at quarterback by senior Clayton Thorson, who accounted for three touchdowns in their big win against the Badgers last Saturday. Unfortunately, he also threw three interceptions, which has been an ongoing issue this season as he has the same amount of touchdowns as he does INTs with ten of each. Against an opportune Irish defense this weekend, he will need to play at his efficient best as it will make it that much more difficult for them to pull the upset if he is unable to control his turnover proneness.
At running back, Northwestern is still expected to be without starting running back Jeremy Larkin, though his backup Isaiah Bowser has been a more than capable replacement in his absence. Bowser has cleared the 100-yard mark in both of their last two games and overall has put up 225 yards and three touchdowns in that time frame. As a team though they have struggled as a whole and rank just 127th in the country in rushing yards per game. They have thankfully been better through the air and will continue to count on a trio of targets to get support a passing attack that comes in at 29th nationally. Flynn Nagel, Bennett Skowronek, and Cameron Green all have at least 30 receptions on the season and should continue to be the primary targets for Thorson and the Wildcat passing attack.
NOTRE DAME OFFENSE
For Notre Dame, they are coming in off of an easy 44-22 win against Navy. It was business as usual for the Irish offense who saw their usual offensive format take the shape of quarterback Ian Book completing a high percentage of passes, Myles Boykin stepping up as his favorite target and Dexter Williams leading the way on the ground. The team is now 8-0 for the first time since the 2012 season that saw them go undefeated before getting rolled by Alabama in the BCS Championship Game.
BOOK SMARTS
Ian Book was able to make it five straight starts with a win and a completion percentage of at least 70%, becoming the first quarterback to do so since in college football since Russell Wilson for Wisconsin back in 2012. He has now completed 76.5% of his passes on the season while throwing for 13 touchdowns compared to four interceptions. Book also remains a threat on the ground as well with three rushing touchdowns and has at least six rushing attempts in all five of his starts so far.
The Irish ground game got a further boost last week with the return of Jafar Armstrong from injury. Armstrong was a key component early on for the team with Dexter Williams out on suspension, and he celebrated his return to the field with a rushing touchdown while also putting up 116 total yards from scrimmage. He is a great offset to star back Dexter Williams, who continues to dominate since his return and now has seven touchdowns in his last four games with an impressive 6.9 yards per carry average.
UP NEXT
This weeks' game at Northwestern is one of just four games remaining on the Irish schedule. Home contests against Florida State and Syracuse followed by a season-ending battle at USC are all that remains between them and a spot in the BCS playoffs. Unfortunately for the Irish this the point in the season where they have run into issues in recent years, as they have gone just 9-12 in their last 21 games in November. They can nary afford a hiccup if they want to keep those playoff hopes alive.
NOTRE DAME AT NORTHWESTERN PREDICTION
Both teams enter this weekend playing at a high level and riding a big wave of momentum. This weeks' game was a tough one to call, but despite it being at Northwestern I am backing the Irish to continue their success, as I just don't believe the Wildcats have the offense to trade points with Book and Notre Dame. In a game that could remain close until late, you can count on the Irish to get the win and cover on to the road at Northwestern.
Mike's Pick to Cover the Point Spread: Notre Dame -8
<div class="clickable CTA" style="margin: 0 auto; background: #fff; border-radius: 10px; text-align: center; padding: 10px 20px 20px 20px;"><!-- [et_pb_line_break_holder] --> <img src="https://www.predictem.com/wp-content/uploads/2018/05/mybookie-logo.png" alt="MyBookieer" class="cta-image" /><!-- [et_pb_line_break_holder] --> <p style="margin-top: 5px; font-size: 22px; line-height: 30px;"><!-- [et_pb_line_break_holder] --> $1,000 Free Play Offer<!-- [et_pb_line_break_holder] --> </p><!-- [et_pb_line_break_holder] --> <hr class="cta-divider"><!-- [et_pb_line_break_holder] --> <p style="padding-bottom: 20px; font-size: 15px; line-height: 20px"><!-- [et_pb_line_break_holder] --> $1,000 Football Sign Up Bonus<br>Free Play - 15X Rollover<!-- [et_pb_line_break_holder] --> </p><!-- [et_pb_line_break_holder] --> <a href="https://www.predictem.com/out/Mybookie" rel="nofollow" target="_blank"><button class="et_pb_button" style="color: #fff; cursor: pointer; width: 90%;"><!-- [et_pb_line_break_holder] --> Bet Here<!-- [et_pb_line_break_holder] --> </button></a><!-- [et_pb_line_break_holder] --></div>
<div class="widget105"><!-- [et_pb_line_break_holder] --><h4 class="parlays">Best Sportsbooks for Parlays</h4><!-- [et_pb_line_break_holder] --><!-- [et_pb_line_break_holder] --><table id="parlay"><!-- [et_pb_line_break_holder] --> <tr><!-- [et_pb_line_break_holder] --> <th><span class="team"></span></th><!-- [et_pb_line_break_holder] --> <th>2 Team Parlay</th><!-- [et_pb_line_break_holder] --> <th>3 Team Parlay</th><!-- [et_pb_line_break_holder] --> <th>4 Team Parlay</th><!-- [et_pb_line_break_holder] --> </tr><!-- [et_pb_line_break_holder] --> <tr><!-- [et_pb_line_break_holder] --> <td><a href="https://www.predictem.com/out/SportbetP"><img src="https://www.predictem.com/wp-content/uploads/2018/06/sportbet-sm.png"></a></td><!-- [et_pb_line_break_holder] --> <td>2.74 to 1</td><!-- [et_pb_line_break_holder] --> <td>6.24 to 1</td><!-- [et_pb_line_break_holder] --> <td>13 to 1</td><!-- [et_pb_line_break_holder] --> </tr><!-- [et_pb_line_break_holder] --> <tr><!-- [et_pb_line_break_holder] --> <td><a href="https://www.predictem.com/out/BovadaP"><img src="https://www.predictem.com/wp-content/uploads/2018/06/bovada_sm.png"></a></td><!-- [et_pb_line_break_holder] --> <td>2.64 to 1</td><!-- [et_pb_line_break_holder] --> <td>6 to 1</td><!-- [et_pb_line_break_holder] --> <td>12.3 to 1</td><!-- [et_pb_line_break_holder] --> </tr><!-- [et_pb_line_break_holder] --> <tr><!-- [et_pb_line_break_holder] --> <td><a href="https://www.predictem.com/out/MybookieP"><img src="https://www.predictem.com/wp-content/uploads/2018/06/mybookie-sm.png"></a></td><!-- [et_pb_line_break_holder] --> <td>2.64 to 1</td><!-- [et_pb_line_break_holder] --> <td>6 to 1</td><!-- [et_pb_line_break_holder] --> <td>12 to 1</td><!-- [et_pb_line_break_holder] --> </tr><!-- [et_pb_line_break_holder] --></table><!-- [et_pb_line_break_holder] --><div class="widget-footer"><a href="https://www.predictem.com/best-sportsbooks/parlays-odds/">See all Sportsbook Parlays</a></div><!-- [et_pb_line_break_holder] --></div><!-- [et_pb_line_break_holder] --><!-- [et_pb_line_break_holder] --><!-- [et_pb_line_break_holder] --><style><!-- [et_pb_line_break_holder] --> #parlay {border-collapse: collapse;<!-- [et_pb_line_break_holder] --> width: 100%; border: 0px;<!-- [et_pb_line_break_holder] --> font-size: 14px!important;}<!-- [et_pb_line_break_holder] --> #parlay td, #parlay th {<!-- [et_pb_line_break_holder] --> border: 0px;<!-- [et_pb_line_break_holder] --> padding: 8px;<!-- [et_pb_line_break_holder] --> text-align: left;}<!-- [et_pb_line_break_holder] --> #parlay th {<!-- [et_pb_line_break_holder] --> padding-top: 5px;<!-- [et_pb_line_break_holder] --> padding-bottom: 5px;<!-- [et_pb_line_break_holder] --> font-weight: bold;<!-- [et_pb_line_break_holder] --> line-height: 14px;<!-- [et_pb_line_break_holder] --> text-align: center;<!-- [et_pb_line_break_holder] --> color: #000;}<!-- [et_pb_line_break_holder] --> #parlay tr {border-bottom: 1px solid #edeef0;}<!-- [et_pb_line_break_holder] --> .team {font-size: 16px;}<!-- [et_pb_line_break_holder] --></style>