Ohio Bobcats vs. Miami-Ohio RedHawks Pick 11/17/20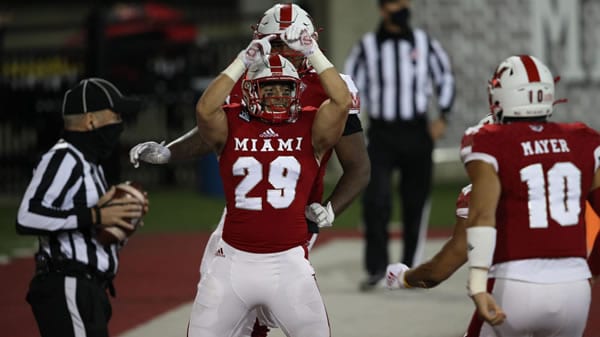 Ohio Bobcats (1-1 SU, 0-2 ATS) vs. Miami-Ohio RedHawks (1-1 SU, 1-1 ATS)
When: Tuesday, November 17, at 8 p.m.
Where: Yager Stadium, Oxford, Ohio
TV: ESPN
Point Spread: OHIO -3.5/M-OH +3.5 (Find the best bonus)
Total: O/U Off
Outlook
When Buffalo beats you to death with the pass, something has gone seriously wrong. That's the reality the RedHawks faced last Tuesday, and now their hopes of winning the MAC's East Division are seriously on life support. Miami-Ohio slowed down Buffalo running back Jaret Patterson, the guy you're terrified of when you play Buffalo, but the RedHawks gave up 353 passing yards and four touchdowns to a team that averaged less than 150 yards through the air in 2019. Throw in a total lack of offense, and Miami's in real danger of seeing this short season slip away from it.
Ohio has problems of its own, but unlike Miami, the Bobcats' problems are on offense. It's possible that Akron's better than it was in 2018 and 2019, but given that the Zips gave up 58 points to Western Michigan and Ohio only managed to get 24 against them, it's more likely that the Bobcats don't have a solution on that side of the ball. So far, Ohio is keeping itself competitive via its defense and De'Montre Tuggle's sheer will, as Tuggle has scored two touchdowns in each of Ohio's games this season. But an offense that's only averaging 326 yards per game just isn't going to get the job done long-term, and if Ohio doesn't get things figured out soon, they're going to have a tough time against better squads than Akron.
The pressure's on for both teams, as the loser is likely out of the race for the MAC title. Which team can figure things out first?
How the Public is Betting the Ohio/Miami-Ohio Game
The early wagering action on this game shows the RedHawks with 57% of the spread bets. The total bettors are favoring the OVER, with 69% landing on that side of the line.
Injury Concerns
Ohio: Running back Julian Ross, safety Alvin Floyd, defensive tackle Kai Caesar, wide receiver Ty Walton, and wide receiver Jerome Buckner are all questionable with undisclosed issues.
Miami-Ohio: Quarterback Brett Gabbert is questionable with a head injury. Running back, Davion Johnson is questionable with an undisclosed issue. Tight end Andrew Homer and running back Tyre Shelton are both out for the season with undisclosed issues, while running back Jaylon Bester is out indefinitely with a heel injury. Defensive back T.J. Rush and tight end James Bomba are both suspended.
When Ohio Has the Ball
De'Montre Tuggle is a genuine star. Beyond him, Ohio doesn't look like it has that much. The Bobcats don't expect much from their quarterback in Frank Solich's ground-based offense, but Kurtis Rourke has to do more than 92 yards passing if Ohio's offense is going to go anywhere. Tuggle will get his yardage because he's a determined back who's got the wheels to break the big one, but Ohio's offensive line play was a real concern, as Akron stopped multiple drives through its ability to get into the Bobcats' backfield when the ball wasn't going to Tuggle.
Special teams is also another real issue, as the Bobcats shot themselves in the foot with multiple missed kicks against the Zips. Ohio could have put the game to bed much earlier if it hadn't hooked two very makeable field goals, which really weighs on an offense. Miami is a much more experienced team than Akron and knows what it has to do in order to get a win, which could make this a very tricky proposition for the Bobcats.
But as it always is with Ohio, the question is the ground game. On the one hand, Miami gives up 186 yards per game on the ground, but they did stop Buffalo's Jaret Patterson from getting to 100 yards himself. Tuggle is the third top back the Redhawks have gone up against this season after facing Patterson and Ball State's Caleb Hundley, so that number might be a little deceiving if you think that the numbers favor Ohio's ground game.
When Miami-Ohio Has the Ball
Miami appears to have the ability to run the ball but not the commitment to the ground game. In Kenny Tracy, the RedHawks seem to have a talented freshman back who could become a star given enough carries, but Miami has yet to commit to anyone of its stable of running backs. Zach Kahn has received the most carries to this season, but none of Miami's backs have received more than 11 carries in a contest.
A large part of that was because Miami kept trying to establish the pass with A.J. Mayer, and the results proved disastrous. Mayer completed just seven passes out of 25 against Buffalo, including an interception that allowed the Bulls to double their lead in rather short order. Buffalo has a fine pass defense, but completing only seven passes is either a sign of a bad game plan or a quarterback who really shouldn't be on the field. Given that the RedHawks put up 38 points against Ball State, Mayer can clearly perform, so that loss to the Bulls is likely on the coaches. If Miami can either stick to the running game or get Brett Gabbert back on the field, it's likely to have the edge in this battle.
Betting Trends
Do not expect points in this matchup. These teams know each other well and know how to stop each other. Six of the past nine meetings between the teams have seen 45 points or less scored, and the 2017 meeting is the only matchup in this decade that has seen more than 58 points between the teams. Usually, this game finishes somewhere in the mid 40's, with last year's 24-21 win for Miami in Athens being the perfect example of how this game is played.
Do expect one of two outcomes: a close game or an Ohio blowout. Miami has won the past two meetings in this series, but this series has mostly been dominated by the Bobcats in the Frank Solich era. Solich is 11-4 against Miami since taking over in Athens, and the RedHawks' past three victories in the series have all been by three points or less. A lot of that has been Ohio winning with defense; Miami hasn't scored more than 30 points against the Bobcats since Solich's first season, back in 2005.
This also isn't a great spot for Miami, as the RedHawks are not a great bet for Tuesday night MACtion. Miami has gone just 2-7-1 ATS in their past ten contests on Tuesdays, which doesn't bode well for their second straight Tuesday contest of 2020.
Weather Report
If you can handle the cold, this is an ideal night in November for football. There's no rain in the forecast for Tuesday, and the wind will be mild, coming at just six miles an hour and going northwest. Temperatures will fall into the mid to low the 20s by kickoff.
Dan's Pick to Cover the Spread
Miami has won this game two years running, and Ohio just doesn't look like it's as good as it was a season ago. The Bobcats' offense appears to be stuck in the mud, and I don't think either of their options at quarterback are a solution. Miami, on the other hand, appears to have more than it's shown so far. If Brett Gabbert is able to play, the RedHawks' offense will be a lot better for it, and they'll have a real advantage over the Bobcats.
There's also a greater need for urgency on Miami's side. Even with a loss here, Ohio could still win its way back into the race by beating Buffalo and Kent State. The RedHawks, however, already carry a loss to an East Division foe, so one more loss to a contender means they're out of the running. Take the free field goal and hook if you think you need it, but I don't think you will. I think Miami wins this one outright.