Ohio State Buckeyes at Indiana Hoosiers Pick 9/14/19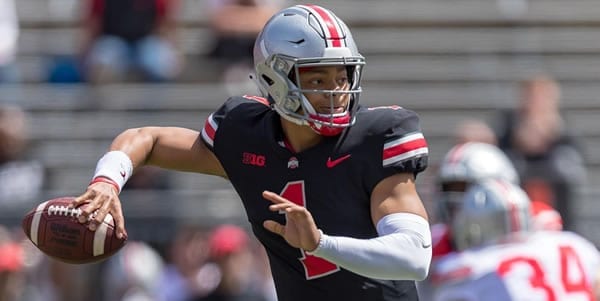 /IOhio State Buckeyes (2-0) at Indiana Hoosiers (2-0)
When: Saturday, September 14, Noon EST
Where: Memorial Stadium, Bloomington, Ind.
TV: Fox
Point Spread: OHST -15.5
Total: O/U 61
Outlook For Week 3
Ohio State crushed a decent Cincinnati team 42-0. Indiana had no problems with FCS opponent Eastern Illinois, winning 52-0. As for the matchup between the teams, rivalries do not get more one-sided than this. Ohio State has won 23 consecutive games against Indiana, and the last time the Hoosiers picked up a win in this series was 1988. That game and a 1987 victory are Indiana's only wins over Ohio State since 1952.
The recent history isn't much better for the Hoosiers. In three games against Ohio State, Indiana coach Tom Allen has yet to come within 20 points of the Buckeyes, and only two of the teams' past ten meetings have been decided by less than 14 points.
How the Public is Betting the Ohio State/Indiana Game
The line opened at Ohio State -14 with an over/under of 58.5. Since the opener, the spread has increased to Ohio State -15.5, while the over/under has risen to 61 points.
Note: Get the best lines by playing at a reduced juice sportsbook.
Injury Concerns
Ohio State:
Defensive end Jonathon Cooper is out indefinitely with a high ankle sprain, while tight end Rashod Berry is questionable with an unspecified ailment. Wide receiver C.J. Saunders is questionable with a knee injury, and defensive tackle Noah Donald missed the Cincinnati game and is questionable.
Indiana:
Tight end Gary Cooper is out indefinitely with a lower leg injury, while wide receiver Jacolby Hewitt tore his ACL in training camp and is out for the season.
100% Free Play up to $1,000

When Ohio State Has the Ball
Call that a test passed in a big way for the Ohio State offense. Not only was Justin Fields incredibly efficient with the football, tossing just five incompletions for the game, but J.K. Dobbins showed up as well to spearhead the ground attack. Dobbins gashed Cincinnati for 141 yards and two touchdowns, proving that Ohio State does have the ground game to get the job done against a solid defense.
That bodes well for success against Indiana, which did a solid job against Ball State's running game but nearly gave up 300 yards passing to Drew Plitt. With all due respect to Plitt, he's not on Fields' level as a quarterback. The sophomore quarterback hasn't had any problems yet in Ohio State's offense, and I don't foresee any popping up here in his first true road game. This should be a big day for the Buckeyes' offense.
When Indiana Has the Ball
The worry for the Hoosiers is that against a credible opponent in Ball State, they weren't able to move the ball on the ground. The Cardinals are not exactly known for their rushing defense, giving up over five yards per carry in 2018. Against Indiana, they were almost a full yard better, and the Cardinals did even better against the run when the ball wasn't in the hands of quarterback Michael Penix.
That's the story here for the Hoosiers: virtually everything they do will run through Penix. Against Ball State, Indiana compiled 474 yards of offense — and all but 81 of them came from Penix's arm or legs. Stevie Scott barely did anything against the Cardinals, and Sampson James couldn't even get started against Eastern Illinois, making it very unlikely that Indiana carries much of a threat on the ground.
Indiana does have several reliable pass-catching options, and the Hoosiers will likely try to get both wide receiver Whop Philyor and tight end Peyton Hendershot involved in the offense early. But really, it's all about how effective Penix can be. If he has time to make good decisions, Indiana can stay in this game. If not, it's going to be one-way traffic.
Betting Trends
Ohio State hasn't been a great bet to cover on the road as of late, but that's in part because the Buckeyes usually get a substantial line in their favor. In their five most recent games, the Buckeyes have covered four of them, with the lone exception being against Florida Atlantic in Week 1 because Ohio State took its foot off the gas after the first quarter. Indiana, meanwhile, hasn't been great at following its success. The Hoosiers have gone 1-6 ATS in their past seven after they've won a game ATS, and when they've won a game by 20 points or more, it's even worse for Indiana. The Hoosiers have dropped nine of their past 11 games ATS following a win by at least 20 points.
Weather Report
It's going to be a warm, sunny day in Bloomington, with the temperature set to push around 84 degrees.
Dan's Pick to Cover the Spread
I think Tom Allen is slowly building a respectable program in Bloomington. The Hoosiers have the look of a squad that's going to win six or seven games and compete for a bowl bid, which isn't bad at all by Indiana's standards. But it's a far cry from being able to compete at Ohio State's level. The Buckeyes have blitzed a pair of lower-level FBS squads that should be pretty good in their respective leagues. Even though they haven't seen a Power 5 opponent yet, they look like the real deal with Fields calling the shots.
Conversely, Indiana has a pair of decent wins over a below-average Ball State squad and an Eastern Illinois team that looked utterly overwhelmed from the word go against the Hoosiers. Indiana's about to find out the hard way that there's a massive step up in difficulty from the Panthers to the Buckeyes. I don't expect Ohio State to have much trouble here, and a cover looks an easy call.