Oregon Ducks vs. Oregon State Beavers Pick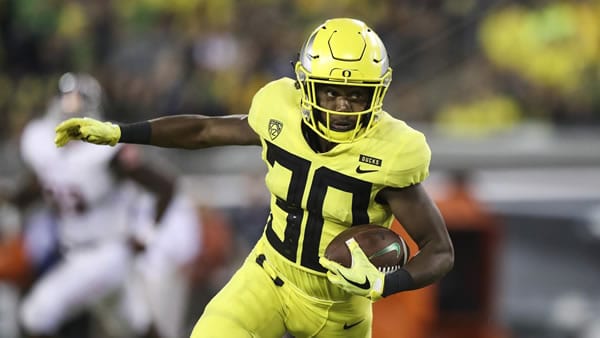 Oregon Ducks (3-0 SU, 2-1 ATS) vs. Oregon State Beavers (1-2 SU, 2-1 ATS)
College Football Week 13
Date and Time: Friday, November 27, 2020 at 7PM EST
Where: Reser Stadium, Corvallis, Oregon
TV: ESPN
Point Spread: ORE -13.5/ORST +13.5 (MyBookie - Score a 100% bonus on your first deposit of $100 to $300 when you use bonus code PREDICT100)
Over/Under Total: 62
The Oregon Ducks come to Corvallis for an in-state Pac-12 matchup with the Oregon State Beavers. Only four other sets of rivals have played each other as many times as these teams, and Oregon State's win in 2016 is their only win in this matchup in the last dozen seasons, including last season's 24-10 win for the Ducks in Eugene. And they are 3-0 this season, following their narrow 38-35 win over UCLA on Saturday at home. Oregon State manages to enter this game with some momentum, following a 31-27 win at home over Cal. Can they give the unbeaten Ducks a run for their money?
Why The Beavers Can Hang in There
Getting the win over Cal was a necessary win after playing well the first two games to no avail. They were out of sorts in a season-opening loss to Washington State but really gave the Huskies a run for their money the following week in a 27-21 loss. But with two touchdowns in the fourth quarter on Saturday, they were able to close strongly. They are home for the second straight week, having left this stadium only once this season, as they are nice and dug in for this big game.
Oregon St. will have issues on offense as they work in new starting QB Tristan Gebbia. His two picks on Saturday almost undermined the entire team effort. But for a young QB to be able to rely on a back like Jermar Jefferson really goes a long way. Jefferson appears to have rediscovered his 2018 form when he was one of the best backs in the conference. He had 196 yards against Cal and will be a big part of this offense.
Is Oregon a Little Overrated?
When a team is 3-0 with a lot of new pieces, including a new starting QB, you can only say so much. That's especially the case when in the last two weeks, they showcase strong late-game play on both sides of the ball to help steer the win into their column. But let's put things into context. A conclusive season-opening win over Stanford only counts for so much. In laboring against both Washington State and UCLA in consecutive weeks, they look anything like an elite team.
One could be inclined to give them a pass against Washington State, a team that has typically played Oregon very tough in recent years. And while UCLA might be coming around slightly, one would have expected more. A revamped defense isn't doing horribly, but we're starting to see some issues in the run game. After giving up 267 yards rushing to the Bruins, how is that going to work out this week against Jefferson? And at home against that UCLA run-defense, it was alarming to see how poorly the offensive line was opening up holes for CJ Verdell and Travis Dye, both of whom were conspicuously quiet on the afternoon.
LSU at Texas A&M Spread Pick >>>
Oregon starter Tyler Shough was again solid, throwing for 334 yards and three TDs. He has shown nice chemistry with an experienced Oregon pass-catching crew, even creating some new stars, like Devon Williams, who had 123 yards and a score on Saturday. But there is a palpable depreciation from the team we saw last season. Having to replace so many starters on defense, the guys sitting out, the departures, the revamped offensive line, and an inexperienced QB who is capable, while not always getting the most out of what he has, is starting to show a little bit. You see all these big names on offense—proven longtime contributors. And it's easy to forget about some of the things holding them back from being a real top team.
What Can Oregon State Do About It?
On the surface, their hopes would appear to be somewhat-bleak. The Beavers are also working in a lot of new stuff. Former Beavers QB and current head coach Jonathan Smith went from two wins to five last season and is trying to upgrade the program to some level of prestige. A win here would be gigantic; they're at home and coming off a win. Oregon laboring with teams like WSU and UCLA at least suggests that a home-Beavers team that is pumped up might not be as out of their element as one might think.
While not stifling opposing offenses, the Oregon State "D" has been offering some resistance in stretches, while also making a lot of big plays. It hasn't come together all that well, and it's the big concern in this game. But the Cougars' and Bruins' defenses weren't considered all that iron-clad, and Oregon still labored in spots with an offense that has yet to truly get in sync. Reputation and bottom-line results help create this stark image between the two teams. You have an Oregon team that was in CFP contention until the end of last season, facing a Beavers' team that has been a division doormat for the better part of a decade. I'm just not sure the actual gap between the two teams is as vast as some of these facts indicate.
Take the Points on the Home Dog
There are a few different ways of looking at this. It's entirely possible that Oregon playing somewhat-tight with middling conference teams is a mirage, and it's just the byproduct of a team that's in a state of some transition. It's a team that could start putting some things together, and let's face it, they usually get better-quality players to work with, as enticing blue-chippers to come to Corvallis isn't the easiest task. I just think Oregon is a little dicey and not as iron-clad in this spot as some might think. I'll take a stab on the Beavers this week.
Loot's Pick to Cover the Point Spread: I'm betting on the Oregon State Beavers plus 13.5 points. Did you know that you could be betting on games at -105 reduced odds rather than -110? Imagine how much money you would save at $5 in savings per $100 you bet? It doesn't matter if you bet $5 or $500 per game, the savings are MASSIVE! Take advantage of this huge money saving offer today at BetAnySports. You'll be so glad you made the switch!