Oregon Ducks vs. Oregon State Beavers Picks & Predictions 11/26/22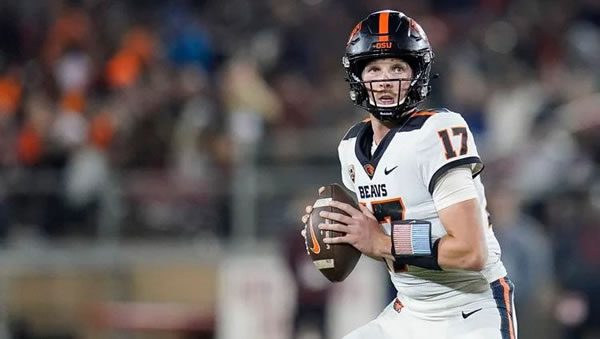 Oregon Ducks (9-2 SU, 8-3 ATS) vs. Oregon State Beavers (8-3 SU, 9-2 ATS)
College Football Week 13
Date and Time: Saturday, November 26, 2022 at 3:30PM EST
Where: Reser Stadium, Corvallis, Oregon
TV: ABC
Point Spread: ORE -3/ORST +3 (Bovada – Best live betting platform on the web! Offers a 50% real cash bonus up to $250! Rebates on ALL your bets; win or lose! TONS of prop bets! FAST payouts! What more could you ask for?)
Over/Under Total: 56.5
The Oregon Ducks come to Corvallis to take on the Oregon State Beavers in the latest version of the Oregon Classic. The Beavers won for the fifth time in six games on Saturday with a 31-7 win over Arizona State. They look to get their ninth win of the year in what would really give their season an air of success against the Ducks. A 20-17 win over Utah on Saturday gave the Ducks a little life after losing to Washington as they look to book a ticket to the Pac-12 title game against USC with a win on Saturday. Let's break it down!
Setting the Table
After a nice run leading up to 2008, the Beavers have been less competitive in this format recently, losing 12 of the last 14 of these matchups. That can be chalked up to a lot of things, and with a win as recently as 2020, they're in a better spot now than they were in most of those seasons. A good team that can run the heck out the ball and plays defense, they were really on the precipice, losing to both Washington and USC by a field goal in wins that would have them looking very different heading into this contest.
The Oregon trajectory is actually a little more concerning. After a flop the first week against Georgia, they spent the balance of the next few months on a tear. But right when it was time to make a charge at the College Football Playoff, they started falling flat—first with the loss to Washington at home and then the close call against the Utes last week. With quarterback Bo Nix nursing a hurt foot, he gutted it out against Utah for the big win, but you just have to wonder if it's all falling apart a little late for the Ducks. Still, this is the regular season finale for both squads. A win here lands Oregon in the title game against the Trojans. So, a lot is still on the table. A loss here gives Washington a chance to overtake them.
Matchup Issues for the Beavers
While the Beavers have seen an uptick aerially, they are an offense that largely depends on the run. Damien Martinez, Jam Griffin, and Deshaun Fenwick can really get after it. Through the air, QB Ben Gulbranson works efficiently with Tre'Shaun Harrison and Anthony Gould, and against this substandard Ducks' secondary, they could do damage. But the prospect of them being bundled up at the line of scrimmage when they try to run the ball is a realistic possibility. We've seen this against some of the better defenses they've faced this season, and the Oregon run defense is more than capable of duplicating some of those results. If that comes to pass, this will be an uphill battle for the Beavers.
Against some struggling teams, we have seen the Oregon St. offense thrive, with a big dose of the ground-game opening things up aerially. They enter this one in good form with 69 points scored in their last two games. It's just that we see different point-totals when they step up in the Pac-12, with 13 points against USC, 16 against Utah, and 21 against Washington (all losses). Again stepping up in competition, can they find answers? Because a point total along the lines we've been seeing in this context will lead to a loss and almost certainly a non-cover.
Possible Issues for the Ducks
It's not much of a road trip, but a road game is still a road game, and the last time Oregon was in Corvallis, they left without a win. Nix looks like he's gutting it out, but that doesn't mean he's in peak form, and he wasn't last Saturday against Utah. Momentum counts for something, and while a few weeks ago, it looked like it was all with the Ducks, that equation might have changed. Context is important, and against the teams, Oregon has been facing, it's likely the Beavers would have very different results these last few weeks, but this is a time of the year where you're looking for who is peaking and who is not and the Beavers might have the edge. And they need all of the edges they can get against their higher-ranked rivals.
We also see an Oregon State defense that has really elevated their form this season. Just as we see the Oregon St. offense not thrive in certain games, it's only fair to bring to light what the defense has done. Very rigid against the run, holding teams like USC to 17 points shows they have the capacity to curtail high-powered offenses. And after giving up a combined 17 points in their last two games, they also hit this spot in good form.
Take the Points
Granted, Oregon could easily snap out of this funk. Nix could be healthy and rearing to go. But I sense this late-season ebb will be something that is hard to shake out of for Oregon. And this is a bad part of the season to be going through that, taking on teams who can all exploit that if they play well. I sense the Oregon State defense can step up here and get enough big plays and drive-enders to keep Oregon from hitting the scoreboard with alarming regularity. I sense a close game where the Beavers do enough to cover the spread. I'll take the Beavers.
Loot's Pick to Cover the Point Spread: I'm betting on the Oregon State Beavers plus 3 points. Bet your Week 13 college football picks and Week 12 NFL predictions for FREE by scoring a 100% real cash bonus up to $300 by entering bonus promo code PREDICT100 at MyBookie Sportsbook!
Free computer-generated NCAA football game score predictions are offered each week of the season!