Oregon Ducks vs. Utah Utes Pick to Bet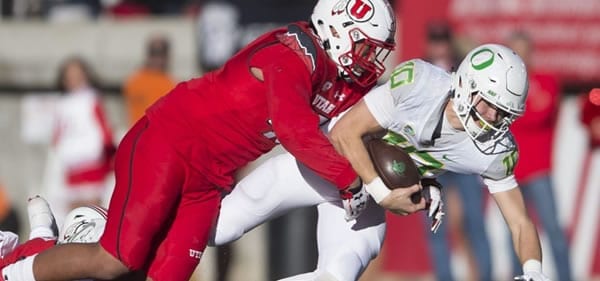 Oregon Ducks (6-3 SU, 3-6 ATS) vs. Utah Utes (6-3 SU, 5-4 ATS)
College Football Week 11
Date and Time: Saturday, November 10, 2018 at 5:30PM EST
Where: Rice-Eccles Stadium, Salt Lake City, Utah
TV: Pac-12
Point Spread: ORE +3.5/UTAH -3.5
Over/Under Total: 56.5
The Oregon Ducks come to Salt Lake City on Saturday for a week 11 Pac-12 matchup with the Utah Utes. Both teams are 6-3, but last week saw both sides in very different spots. Oregon was able to break a bad run with a nice 42-21 win over UCLA. Utah, however, entered last week as the team to beat in the Pac-12 South Division, as they now face an uncertain future after losing QB Tyler Huntley for the season. Still, I like Utah to cover the spread at home this weekend against the Jekyll and Hyde Ducks.
Changing Forms
Anyone paying any mind to the Pac-12 sees how kooky it is. Granted, Utah lost their QB last week, but Huntley had been in there for almost three quarters, and they didn't look that good against ASU. Go figure—they lose by 18 to the 4-4 Sun Devils after beating Stanford, Arizona, USC, and UCLA consecutively by a combined 95 points. Oregon, meanwhile, was looking ragged before the win/cover over the Bruins last week. And while a win of that caliber hardly signals a turnaround, they did look sharp. There isn't much consistency in this conference, but the Ducks have been awful lately on the road—not executing and seeming not into it mentally for long stretches of the game. They hope to turn it around here. They might not have the conference title in their crosshairs like Utah does, but there is a lot to play for.
Draw the Curtains on Utah?
The loss of Huntley would seem to be devastating. Utah always has a scrappy defense, which is usually good enough to make them a slightly above-average Pac-12 team or maybe a notch above that. As we saw an offense getting its act together throughout the season, it suggested a team that could flirt with elite-status. Huntley being lost for the season puts that in deep peril. Jason Shelley, a 5'11" redshirt freshman, now takes over. While his time behind center was limited, he didn't shine last week. Then again, it didn't seem to be the Utes' night whoever was behind center.
Is There Hope for the Utes?
First of all, they're home, and that takes a sad song and makes it a little better. Home-field advantage is the only conventional measuring-stick that has held any water this season when trying to predict what will happen in this wacky conference. Their success has been based on things other than standout QB-play. Zach Moss is a star back in the making and still a force. Shelley can also call on a robust and skilled front as he finds his bearings. The matchup also suits Shelley, as the Oregon defense isn't that fierce—at least not lately. The secondary has been readily-exploitable at this level, so maybe Shelley can hit the ground running as a starter. The run defense has also been leaky. This could be a spot for Utah to get their new-look offense off on the right foot.
Not to question Oregon's heart, as they have shown that at times this season. But the Utes have a lot to play for and are always a proud bunch that gets the most of what it has. At home, they should be on an emotional high. And Oregon can't always match that level of hunger or enthusiasm. Sometimes, it's not a matter of Xs and Os with the Ducks. It's more about the fire. Sometimes they bring it, sometimes they don't.
Can Utah's Defense Take Over?
Again, a good Utah team comes with a good defense already assembled. It's their calling card. Granted, the Oregon offense started to kick it into gear last week, but that was against a UCLA defense that bears little resemblance to the one they will see Saturday. Bradlee Anae is up-front applying the big pass-rush, with linebacker Cody Barton chipping in, as well. The middle is deep with talent, with difference-makers like Kavika Luafatasage and Sunia Tauteoli. Talented Julian Blackmon is a ball-hawk in the secondary. Oregon's Justin Herbert is ballyhooed as a potentially big deal at the next level, but at the same time, that talk has died down over the weeks. He's been less-accurate, and this seems like a weird time for that to improve. Utah is pretty good against the run, meaning this road Oregon offense could struggle to find answers against a Utah "D" that knows it has to now answer the call.
Can Oregon Be Oregon?
This team has been all over the place this season, able to hang with the best when they're on. They're just not on every week. Often times, they're not even close. A lot of that variance is based on the home-away dynamic, and that will need to be addressed for this week. This is their last stiff road test of the season, and they need this one. They wield a lot of talent, with receiver Dillon Mitchell a growing force. They have a versatile run-game with CJ Verdell, Travis Dye, and Tony Brooks-James. This run-game really had their way with the Utah defense last season, though Herbert stagnated.
Lay the Points on the Home Underdog
Maybe Utah's growing power on offense made some people neglect to fully notice how solid their defense is, giving up less than 20 points per game this season. They are really strong against the run, which is a big part of Oregon's success lately. Herbert could thrive in spots, but I see the Utah defense having a say in that area, as well. It's not hard to envision a tight sort of game where the scoring isn't terribly easy to come by. In the end, being home and having more to play for might be the right formula. I'm taking the Utes.
Loot's Pick to Cover the Point Spread: I'm betting on the Utah Utes minus 3.5 points.