[et_pb_dcsbcm_divi_breadcrumbs_module hide_homebreadcrumb="off" homebreadcrumbtext="Home" separator="sep-raquo" hide_currentbreadcrumb="off" homebreadcrumborientation="left" _builder_version="3.8″ fontsbreadcrumbs_font="Lato||||||||" fontsbreadcrumbs_text_color="#000000″ fontsbreadcrumbs_font_size="15px" fontsbreadcrumbs_line_height="16px" fontsseperator_font="||||||||" fontsbreadcrumblinks_font="||||||||" fontsbreadcrumblinks_text_color="#2567cf" custom_margin="25px|||" custom_margin_phone="30px|||" custom_margin_last_edited="off|desktop" custom_css_main_element="font-family: Helvetica Regular;" disabled="on" global_module="3641″ saved_tabs="all"][/et_pb_dcsbcm_divi_breadcrumbs_module]
PAC 12 Title: Utah Utes vs. Washington Huskies Pick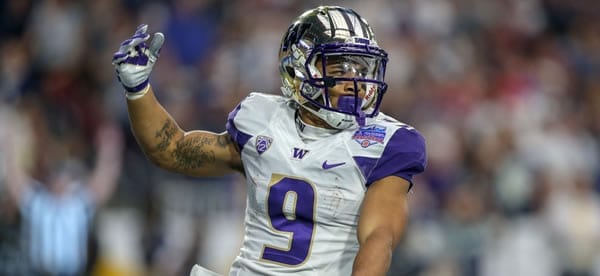 Utah Utes (9-3 SU, 7-5 ATS) vs. Washington Huskies (9-3 SU, 3-9 ATS)
Pac-12 Championship Game
Date and Time: Friday, November 30, 2018 at 8PM EST
Where: Levi's Stadium, Santa Clara, California
TV: Fox
Point Spread: UTAH +5/WASH -5
Over/Under Total: 43
The Utah Utes take on the Washington Huskies on Friday in the Pac-12 Conference Championship Game at Levi's Stadium. The 9-3 Utes have shown a lot of resolve this season and won the South division in the Pac-12. They beat the BYU Cougars on Saturday, 35-27. They will have to beat the North division champion Huskies; also 9-3, coming off a huge win over in-state rival Washington State, 28-15, to earn a spot in the conference title game. It hasn't been an easy path here for either team. We like the Huskies to get the win and cover in this one. Let's take a look as to why.
Washington Already Beat Utah This Season
Granted, by the time we get to the conference title portion of the season, what happened in mid-September might not matter much anymore. Still, there is something to be gleaned from Washington's 21-7 win over Utah. The game was in Salt Lake City, giving it even more teeth. We saw a still-feared Washington defense mostly control Utah's offense, and that was when Utah was at full power. Now with different injuries, they aren't the same team offensively. And with Washington coming off a road-showing where they held a high-octane Washington St. team to just 15 points, you have to wonder if the Utes can substantially improve upon their previous showing.
The Huskies Showed Some Mettle to Get Here
This whole season, it seemed like Washington was struggling to really turn the corner and be the best they could be. Their 3-9 record ATS attests to that, as they seldom lived up to expectations. And yet here they are, on the verge of winning their second conference title in three years. Even with a defense that is still tip-top and a great QB/RB battery with longtime starters Jake Browning and Myles Gaskin, they struggled. They were beating conference opposition, though by painfully-small margins. A loss to Oregon signaled some rough times, and they appeared to hit rock-bottom with a 12-10 loss to Cal. They beat Stanford and Oregon State to rebound, before winning as underdogs against an excellent WSU team last week. Their cover against Washington St. was their first since September.
The Huskies have been through some hard times this season. But they showed a lot of guts and leadership in order to right the ship just in time and beat a strong Cougars bunch. A lot of what has made them a conference force worked. Browning made plays. Gaskin ran for 170 yards and three TDs. A playmaking Washington defense intercepted Gardner Minshew twice.
Matchup Issues for Utah
Utah does a lot of things well, but how will they resonate in this game? All season, the Utes have flashed an awesome run-defense, ranked in the top ten nationally. But it didn't mean much the first time around, with Gaskin going off for a big game for the Huskies. And with him back in great form, he should again be a factor. And even as redshirt freshman QB Jason Shelley has done well in relief of Tyler Huntley, they are still a group that struggles against the better defenses they play.
The Heart of Utah
You can't undersell a Utah team that had to fight to get here. Sure, it helps that no team in the South division was really able to string together much success this season. But after losing Tyler Huntley in a loss to ASU on November 3, the prospects looked dim. Losing playmaker RB Zack Moss shortly thereafter didn't help. And they went on to crush their next two conference foes, covering the spread both times, before beating BYU to close out the regular season. Their defense stepped up, as did Shelley, along with the line, backs Armand Shyne and TJ Green, and receivers Britain Covey and Samson Nacua. They have scored 97 combined points in the last three games.
We started to see more of an emphasis on offense from Utah this season, a team that traditionally relied on "D" to get to the winner's circle. The loss of Huntley was a major loss, and so was Moss. But in striving for more diversity on offense this season, they built some depth, allowing them to keep their head up in this difficult time. Again, it just seems hard to envision them thriving against Washington's defense, based on the first game and how strong the Huskies looked last week. But Utah has earned the right to withhold some hope. No matter what has happened this season, they managed to find answers.
Beating Washington Asking Too Much?
Utah has a source for hope, but this might qualify as asking for too much. Their offense can thrive against the teams they've been playing—not exactly the cream of the Pac-12 as far as "D" goes. The balance of the Washington defense presents a ton of problems for the Utah offense. And while Utah was able to keep a lid on Browning the first time around, they still had no answers for Gaskin, who looks as sharp as he has all season and is certainly pining to make an impression on pro scouts as he nears the end of his illustrious college career.
Lay the Points on the Huskies
Utah is a champion for getting here. But they did benefit from being in a weak division, whereas Washington really had to earn this spot. It's not easy typically to take a team that has been so lousy to bet on against a team like Utah that is all heart. But even as Washington has been a bust at the betting windows all season, now might be a good time to hop aboard. I see the Huskies getting the win and cover in this one.
Loot's Pick to Cover the Point Spread: I'm betting on the Washington Huskies minus 5 points.
<div class="clickable CTA" style="margin: 0 auto; background: #fff; border-radius: 10px; text-align: center; padding: 10px 20px 20px 20px;"><!-- [et_pb_line_break_holder] --> <img src="https://www.predictem.com/wp-content/uploads/2018/05/mybookie-logo.png" alt="MyBookieer" class="cta-image" /><!-- [et_pb_line_break_holder] --> <p style="margin-top: 5px; font-size: 22px; line-height: 30px;"><!-- [et_pb_line_break_holder] --> $1,000 Free Play Offer<!-- [et_pb_line_break_holder] --> </p><!-- [et_pb_line_break_holder] --> <hr class="cta-divider"><!-- [et_pb_line_break_holder] --> <p style="padding-bottom: 20px; font-size: 15px; line-height: 20px"><!-- [et_pb_line_break_holder] --> $1,000 Football Sign Up Bonus<br>Free Play - 15X Rollover<!-- [et_pb_line_break_holder] --> </p><!-- [et_pb_line_break_holder] --> <a href="https://www.predictem.com/out/Mybookie" rel="nofollow" target="_blank"><button class="et_pb_button" style="color: #fff; cursor: pointer; width: 90%;"><!-- [et_pb_line_break_holder] --> Bet Here<!-- [et_pb_line_break_holder] --> </button></a><!-- [et_pb_line_break_holder] --></div>
<div style="width:340px; margin: 0 auto;"><!-- [et_pb_line_break_holder] --> <a class="twitter-timeline" data-width="340" data-height="500" data-link-color="#008156" href="https://twitter.com/PredictemPicks?ref_src=twsrc%5Etfw">Tweets by PredictemPicks</a> <script async src="https://platform.twitter.com/widgets.js" charset="utf-8"></script><!-- [et_pb_line_break_holder] --></div>