[et_pb_dcsbcm_divi_breadcrumbs_module hide_homebreadcrumb="off" homebreadcrumbtext="Home" separator="sep-raquo" hide_currentbreadcrumb="off" homebreadcrumborientation="left" _builder_version="3.8″ fontsbreadcrumbs_font="Lato||||||||" fontsbreadcrumbs_text_color="#000000″ fontsbreadcrumbs_font_size="15px" fontsbreadcrumbs_line_height="16px" fontsseperator_font="||||||||" fontsbreadcrumblinks_font="||||||||" fontsbreadcrumblinks_text_color="#2567cf" custom_margin="25px|||" custom_margin_phone="30px|||" custom_margin_last_edited="off|desktop" custom_css_main_element="font-family: Helvetica Regular;" global_module="3641″ saved_tabs="all"][/et_pb_dcsbcm_divi_breadcrumbs_module]
Pick: Florida State Seminoles vs Syracuse Orange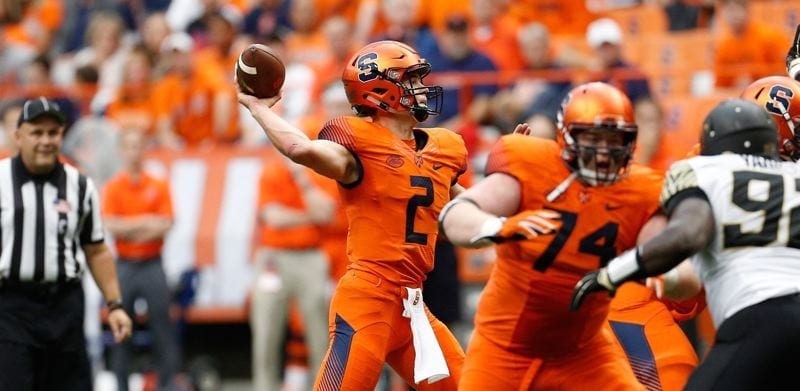 When: Saturday, 12 PM ET, 9/15/18
Where: Carrier Dome. Syracuse, New York.
TV: ESPN
Spread: Florida State -3 (-110 @ MyBookie) / FSU +3 (-105 @ 5dimes) 
Total: 68
It's the ACC opener for Syracuse at the Carrier Dome, Saturday at noon, when the Florida State Seminoles come to town. The Orange and returning star Quarterback Eric Dungey took care of business in their first two weeks, taking down Western Michigan on the road and Wagner at home. Florida State looked awfully shaky, splitting their first two home games versus Virginia Tech and Samford. First-year Seminoles Coach Willie Taggart needs to shore up the defensive side of the ball heading into FSU's first road test of the year against a potent Syracuse offensive attack. Syracuse lost a nail-biter in Tallahassee last year 27-24 but covered the spread in the process. This time, the Orange look to squeeze the vulnerable Seminoles at the Dome and kick-start their road to the first Bowl Game appearance in four years.
bitcoin Sportsbooks: Time is Money
Where's Jimbo?
Florida State fans weren't happy when National Championship winning coach Jimbo Fisher bolted for Texas A&M in the off-season, but there was optimism when the Seminoles hired former FSU-standout Willie Taggart to take over the reigns. After two games, that optimism has waned into a precarious fear for the future of this tremendous college football program.
In the home-opener, FSU got blasted by visiting Virginia Tech 24-3 at Doak Campbell Stadium. The Seminoles were favored by a touchdown, but they were clearly the inferior team and the shellacking was not surprising. Turnovers were a problem for Taggart's newly-implemented up-tempo, spread offense. FSU lost two fumbles and Junior Quarterback Deondre Francois threw three interceptions. While it's easy to point the finger at the quarterback, running backs and wide-receivers, the tenuous offensive line for the Seminoles was a problem and will continue to be throughout the 2018 campaign.
After the stunning beatdown in game-one of the season, the Seminoles looked even worse hosting Samford last week. As a 33-point favorite, the 'Noles trailed 23-21 at half and 26-21 halfway thru the fourth quarter. However, FSU rallied, scoring two unanswered touchdowns in the last 4:03 to win 36-26. Taggart's club allowed 525 yards of offense to Samford! Luckily, Florida State won the turnover battle 1 to 5. Otherwise, this team which was erroneously picked to finish in the top-two of the ACC preseason would be winless.
Big 12 Pick! Oklahoma vs. Iowa State
FSU has a formidable runningback duo of Cam Akers and Jacques Patrick. Both are members of the 1,000-yard rushing club and Akers broke the Seminoles Freshmen rushing-record last year. Both have been solid thru two games, but Akers has lost a fumble in consecutive games which is cause for concern. As stated before, the only way these two talented backs will succeed is if Taggart finds a way to shore up the offensive line problems that plague this squad. It's no secret that Taggart likes to run and run often. In his last three seasons, his teams have ranked in the Top-12 in rushing yardage.
At the start of this season, it seemed like a given that this year's FSU squad would improve upon their dismal 7-6 record from last season. After two weeks, a lot of people might pray to duplicate that record. Florida State has a tremendously difficult slate ahead of them, and we'll see how they face adversity in their first road test this season versus a hungry Syracuse team.
Senior QB Dungey leads Cuse
Head Coach Dino Babers enters his third-year at the helm for the Orange, who appear poised for a breakout season in 2018. Syracuse covered the spread and got the "W" at Western Michigan in the season opener, despite allowing 621 yards of offense. Star Quarterback Eric Dungey went 7 for 17 for 187 yards and threw two touchdowns juxtaposed with no picks. Dungey also led the way in the ground-game, rushing for 200 yards and a touchdown on 15 carries for the Orange.
In last week's home opener versus Wagner, Syracuse rolled 62-10. Dungey had another solid game, going 23 of 32 for 218 yards with five touchdowns and one interception. The Senior-leader had another quality day on the ground with 11 carries for 42 yards. Having him as a dual-threat Quarterback adds another dimension for this highly potent Syracuse offense.
Offensively, this Syracuse team is poised and an ominous threat to opposing defenses. Eric Dungey is an experienced starter, who's one of the best signal callers amongst ACC-QB's. Syracuse allowed over 30 points per game last year. If they can shore things up on the defensive side of the ball, this could be one of season's surprise teams in the ACC. Remember, this is an Orange team that shocked the Clemson Tigers at the Carrier Dome last season.
The Pick: Syracuse +3 
Florida State is not to be trusted until they prove otherwise. Syracuse almost got them last year in Tallahassee and I'm surprised the Seminoles are favored here after their less than stellar display thru two weeks. Eric Dungey is the better quarterback here, and that's going to be a big advantage in a game which is sure to be a shootout. The spread came out as Florida State -3.5 and it's already trending back so far this week. I think Syracuse will win this game straight up, so getting them with three free points is a nice gift. Syracuse +3 is the prudent play in this ACC showdown on ESPN.
<div class="widget105"><!-- [et_pb_line_break_holder] --><h4 class="parlays">Best Parlays</h4><!-- [et_pb_line_break_holder] --><!-- [et_pb_line_break_holder] --><table id="parlay"><!-- [et_pb_line_break_holder] --> <tr><!-- [et_pb_line_break_holder] --> <th><span class="team"></span></th><!-- [et_pb_line_break_holder] --> <th>2 Team Parlay</th><!-- [et_pb_line_break_holder] --> <th>3 Team Parlay</th><!-- [et_pb_line_break_holder] --> <th>4 Team Parlay</th><!-- [et_pb_line_break_holder] --> </tr><!-- [et_pb_line_break_holder] --> <tr><!-- [et_pb_line_break_holder] --> <td><a href="https://www.predictem.com/out/SportbetP"><img src="https://www.predictem.com/wp-content/uploads/2018/06/sportbet-sm.png"></a></td><!-- [et_pb_line_break_holder] --> <td>2.74 to 1</td><!-- [et_pb_line_break_holder] --> <td>6.24 to 1</td><!-- [et_pb_line_break_holder] --> <td>13 to 1</td><!-- [et_pb_line_break_holder] --> </tr><!-- [et_pb_line_break_holder] --> <tr><!-- [et_pb_line_break_holder] --> <td><a href="https://www.predictem.com/out/BovadaP"><img src="https://www.predictem.com/wp-content/uploads/2018/06/bovada_sm.png"></a></td><!-- [et_pb_line_break_holder] --> <td>2.64 to 1</td><!-- [et_pb_line_break_holder] --> <td>6 to 1</td><!-- [et_pb_line_break_holder] --> <td>12.3 to 1</td><!-- [et_pb_line_break_holder] --> </tr><!-- [et_pb_line_break_holder] --> <tr><!-- [et_pb_line_break_holder] --> <td><a href="https://www.predictem.com/out/MybookieP"><img src="https://www.predictem.com/wp-content/uploads/2018/06/mybookie-sm.png"></a></td><!-- [et_pb_line_break_holder] --> <td>2.64 to 1</td><!-- [et_pb_line_break_holder] --> <td>6 to 1</td><!-- [et_pb_line_break_holder] --> <td>12 to 1</td><!-- [et_pb_line_break_holder] --> </tr><!-- [et_pb_line_break_holder] --></table><!-- [et_pb_line_break_holder] --><div class="widget-footer"><a href="https://www.predictem.com/best-sportsbooks/parlays-odds/">See all Sportsbook Parlays</a></div><!-- [et_pb_line_break_holder] --></div><!-- [et_pb_line_break_holder] --><!-- [et_pb_line_break_holder] --><!-- [et_pb_line_break_holder] --><style><!-- [et_pb_line_break_holder] --> #parlay {border-collapse: collapse;<!-- [et_pb_line_break_holder] --> width: 100%; border: 0px;<!-- [et_pb_line_break_holder] --> font-size: 14px!important;}<!-- [et_pb_line_break_holder] --> #parlay td, #parlay th {<!-- [et_pb_line_break_holder] --> border: 0px;<!-- [et_pb_line_break_holder] --> padding: 8px;<!-- [et_pb_line_break_holder] --> text-align: left;}<!-- [et_pb_line_break_holder] --> #parlay th {<!-- [et_pb_line_break_holder] --> padding-top: 5px;<!-- [et_pb_line_break_holder] --> padding-bottom: 5px;<!-- [et_pb_line_break_holder] --> font-weight: bold;<!-- [et_pb_line_break_holder] --> line-height: 14px;<!-- [et_pb_line_break_holder] --> text-align: center;<!-- [et_pb_line_break_holder] --> color: #000;}<!-- [et_pb_line_break_holder] --> #parlay tr {border-bottom: 1px solid #edeef0;}<!-- [et_pb_line_break_holder] --> .team {font-size: 16px;}<!-- [et_pb_line_break_holder] --></style>
<h4 class="widgettitle">More NFL Picks</h4><!-- [et_pb_line_break_holder] -->