[et_pb_dcsbcm_divi_breadcrumbs_module hide_homebreadcrumb="off" homebreadcrumbtext="Home" separator="sep-raquo" hide_currentbreadcrumb="off" homebreadcrumborientation="left" _builder_version="3.8″ fontsbreadcrumbs_font="Lato||||||||" fontsbreadcrumbs_text_color="#000000″ fontsbreadcrumbs_font_size="15px" fontsbreadcrumbs_line_height="16px" fontsseperator_font="||||||||" fontsbreadcrumblinks_font="||||||||" fontsbreadcrumblinks_text_color="#2567cf" custom_margin="25px|||" custom_margin_phone="30px|||" custom_margin_last_edited="off|desktop" custom_css_main_element="font-family: Helvetica Regular;" global_module="3641″ saved_tabs="all"][/et_pb_dcsbcm_divi_breadcrumbs_module]
Wednesday NCAAF Pick: Toledo vs. Northern Illinois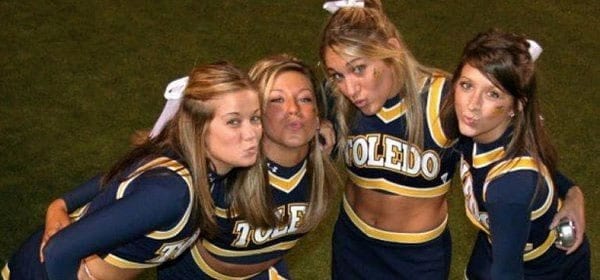 Toledo Rockets (5-4 SU, 4-5 ATS) vs. Northern Illinois Huskies (6-3 SU, 5-4 ATS)
NCAA Football Week 10
Date/Time: Wednesday November 7th, 2018. 8:00PM (EST)
Where: Huskie Stadium DeKalb, I.L
TV: ESPN2
Point Spread:TOL +3/NIU -3
Over/Under Total: 55.5
The Northern Illinois Huskies could nearly wrap up the MAC West Division with a victory Wednesday night as they look to remain unbeaten in conference play. However, the challenge will not be easy when the Toledo Rockets come into Huskie Stadium. The Rockets have knocked off two straight wins in recent weeks and also sport a two-game winning streak over Northern Illinois specifically in head to head meetings. Both of these teams are very familiar with each other and play each other well with 5 of the last 7 games being decided by one score or less. Currently, oddsmakers expect another similar close meeting with the Huskies favored by just 3 points. Time to discuss the breakdown of this Wednesday's meeting and which should of the betting line you should be on!
Injury Impact: QB Mitchell Guadagni
One of the important storylines heading into Wednesday's showdown is that Toledo expects quarterback Mitchell Guadagni to be sidelined with a shoulder injury. Guadagni is currently listed as doubtful, but Head Coach Jason Candle reported on Monday that Guadagni likely would not be ready for this early week contest. Instead, Toledo will put their faith into the hands of sophomore quarterback Eli Peters. While Peters is not the better quarterback, he has played a significant amount of time this year which makes the impact a little less significant. However, Peters biggest downside is that he has been prone to turnovers. In last week's 45-13 win over Ball State, Peters went 25 of 34 for 327 yards. Those numbers are pretty strong but among those 9 incomplete passes were also 4 interceptions which will be a big concern in a game that is expected to be much closer.
Huskie defense provides an edge
When I really look into the depths of these matchups, I see a lot of similarities and one major difference. The major difference revolves around the Northern Illinois defense which has been extremely solid this year giving up just 21 points per game. More importantly, the Huskies defense has been really stout against the run allowing just 103 yards per game which ranks 12th in the FBS. This is a significant stat because the majority of Toledo's wins this season have been aided by a strong rushing performance on the ground. If the Huskies defense can limit Toledo running back Bryant Koback's big play potential, they can put backup quarterback Eli Peters into very difficult situations.
From an offensive standpoint, both teams find ways to produce. Toledo has been decent on the ground and has averaged 235 yards per game through the air despite splitting time between two quarterbacks. Meanwhile, Northern Illinois is in a pretty similar situation on offense. Huskies quarterback Marcus Childers is decent but not great. Childers has passed for just 1,252 yards with 9 scores and 5 picks on the season. The Huskies are more inclined to run the football with running backs Tre Harbison and Marcus Jones. Childers is a decent runner as well. Like Toledo, it is not pretty at times, but they find ways to score. Therefore, I really think the overall difference is this game is the upside provided by the Huskies defense. Otherwise, it is a pretty close matchup.
Toledo vs. Northern Illinois Betting Trends
From a trends standpoint, Toledo has put together some nice marks including 17-7 ATS in their last 24 road games. Meanwhile, Northern Illinois is 4-1 ATS in their last 5 games but just 2-5 ATS in their last 7 home games. In head to head meetings between the Rockets and Huskies, the under has hit in 5 of the last 7 games while Toledo has covered 7 of the last 9 games.
Jay's Pick to Cover the Point Spread: Again, the match-up is pretty close. However, I am trusting the Huskies defense to pull this one out. Take N. Illinois -3 at a sportsbook that offers reduced juice!
<div class="widget105"><!-- [et_pb_line_break_holder] --><h4 class="parlays">Best Sportsbooks for Parlays</h4><!-- [et_pb_line_break_holder] --><!-- [et_pb_line_break_holder] --><table id="parlay"><!-- [et_pb_line_break_holder] --> <tr><!-- [et_pb_line_break_holder] --> <th><span class="team"></span></th><!-- [et_pb_line_break_holder] --> <th>2 Team Parlay</th><!-- [et_pb_line_break_holder] --> <th>3 Team Parlay</th><!-- [et_pb_line_break_holder] --> <th>4 Team Parlay</th><!-- [et_pb_line_break_holder] --> </tr><!-- [et_pb_line_break_holder] --> <tr><!-- [et_pb_line_break_holder] --> <td><a href="https://www.predictem.com/out/SportbetP"><img src="https://www.predictem.com/wp-content/uploads/2018/06/sportbet-sm.png"></a></td><!-- [et_pb_line_break_holder] --> <td>2.74 to 1</td><!-- [et_pb_line_break_holder] --> <td>6.24 to 1</td><!-- [et_pb_line_break_holder] --> <td>13 to 1</td><!-- [et_pb_line_break_holder] --> </tr><!-- [et_pb_line_break_holder] --> <tr><!-- [et_pb_line_break_holder] --> <td><a href="https://www.predictem.com/out/BovadaP"><img src="https://www.predictem.com/wp-content/uploads/2018/06/bovada_sm.png"></a></td><!-- [et_pb_line_break_holder] --> <td>2.64 to 1</td><!-- [et_pb_line_break_holder] --> <td>6 to 1</td><!-- [et_pb_line_break_holder] --> <td>12.3 to 1</td><!-- [et_pb_line_break_holder] --> </tr><!-- [et_pb_line_break_holder] --> <tr><!-- [et_pb_line_break_holder] --> <td><a href="https://www.predictem.com/out/MybookieP"><img src="https://www.predictem.com/wp-content/uploads/2018/06/mybookie-sm.png"></a></td><!-- [et_pb_line_break_holder] --> <td>2.64 to 1</td><!-- [et_pb_line_break_holder] --> <td>6 to 1</td><!-- [et_pb_line_break_holder] --> <td>12 to 1</td><!-- [et_pb_line_break_holder] --> </tr><!-- [et_pb_line_break_holder] --></table><!-- [et_pb_line_break_holder] --><div class="widget-footer"><a href="https://www.predictem.com/best-sportsbooks/parlays-odds/">See all Sportsbook Parlays</a></div><!-- [et_pb_line_break_holder] --></div><!-- [et_pb_line_break_holder] --><!-- [et_pb_line_break_holder] --><!-- [et_pb_line_break_holder] --><style><!-- [et_pb_line_break_holder] --> #parlay {border-collapse: collapse;<!-- [et_pb_line_break_holder] --> width: 100%; border: 0px;<!-- [et_pb_line_break_holder] --> font-size: 14px!important;}<!-- [et_pb_line_break_holder] --> #parlay td, #parlay th {<!-- [et_pb_line_break_holder] --> border: 0px;<!-- [et_pb_line_break_holder] --> padding: 8px;<!-- [et_pb_line_break_holder] --> text-align: left;}<!-- [et_pb_line_break_holder] --> #parlay th {<!-- [et_pb_line_break_holder] --> padding-top: 5px;<!-- [et_pb_line_break_holder] --> padding-bottom: 5px;<!-- [et_pb_line_break_holder] --> font-weight: bold;<!-- [et_pb_line_break_holder] --> line-height: 14px;<!-- [et_pb_line_break_holder] --> text-align: center;<!-- [et_pb_line_break_holder] --> color: #000;}<!-- [et_pb_line_break_holder] --> #parlay tr {border-bottom: 1px solid #edeef0;}<!-- [et_pb_line_break_holder] --> .team {font-size: 16px;}<!-- [et_pb_line_break_holder] --></style>
<div class="new-cta"><!-- [et_pb_line_break_holder] --> <a href="https://www.predictem.com/out/Youwager" rel="nofollow"> <img src="https://www.predictem.com/wp-content/uploads/2018/06/youwager-sm.jpg" alt="Youwager" /></a><!-- [et_pb_line_break_holder] --> <p style="margin-top: 5px; font-size: 22px; line-height: 30px;"><!-- [et_pb_line_break_holder] --> Create Your Own Prop Bets<!-- [et_pb_line_break_holder] --> </p><!-- [et_pb_line_break_holder] --> <hr class="cta-divider"><!-- [et_pb_line_break_holder] --> <p style="padding-bottom: 20px; font-size: 15px; line-height: 20px"><!-- [et_pb_line_break_holder] --> 100% Free Play Offer<br>Create Your Own Wagers<!-- [et_pb_line_break_holder] --> </p><!-- [et_pb_line_break_holder] --> <a href="https://www.predictem.com/betting-sites/youwager/"><button class="btn-widget-cta"><!-- [et_pb_line_break_holder] --> See Review<!-- [et_pb_line_break_holder] --> </button><!-- [et_pb_line_break_holder] --> </div></a>