Redbox Bowl Pick: Michigan State Spartans vs. Oregon Ducks 12/31/18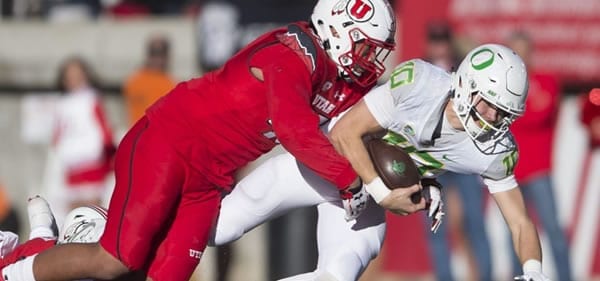 Michigan State Spartans (7-5 SU, 4-8 ATS) vs. Oregon Ducks (8-4 SU, 4-8 ATS)
Redbox Bowl
Date and Time: Monday, December 31, 2018 at 3PM EST
Where: Levi's Stadium, Santa Clara. California
TV: Fox
Point Spread: MSU +3/ORE -3
Over/Under Total: 48
The Michigan State Spartans face the Oregon Ducks on December 31 in the Redbox Bowl from Levi's Stadium. It's a closer trip for the 8-4 Ducks, while the Spartans cross the country looking for a strong finish to a strange season. They could never gain much traction this year, but look to get what would be a nice win over favored Oregon. The Ducks last played on the 23rd, with the Spartans having last seen the field a day later. I like the Ducks to get the cover in this game.
Stronger Season and Finish for Oregon
With two straight wins to finish the season, the Ducks finished strongly. They were erratic this season in the Pac-12. One week, they'd beat conference champion Washington, and then they'd lose to a sub-.500 Arizona team by 30 points. Despite QB Justin Herbert being hurt, they managed to beat in-state rival Oregon State by 40 in their last game. This could be Herbert's previous game with the team. Their only setback since October was a one-score road defeat to Pac-12 South division champ Utah.
Michigan State, on the other hand, lost to Ohio State by 20, to Nebraska, 9-6, and barely beat Rutgers to finish the season. The win over Rutgers was a low-point, with the Spartans digging deep at home to thwart a team that had lost 11 in a row with a late score in the fourth quarter. In their last three games, they managed to score a combined 26 points. They beat a good Utah State team early this season, while also scoring a really nice road-win at Penn State. Other than that, the highlights have been scarce. They'd win a game or two, lose a game or two, and on it went all season.
Style Issues for the Ducks
The Ducks won't have to win a shootout here. The Spartans are pretty flat on offense, having averaged less than 20 points a game. They rely on their defense, namely their strength against opposing ground-games. They are ranked first nationally, as even good backs haven't gotten much against this Michigan State run-stop. Kenny Willekes is a force on the edge and can get to quarterbacks. With Raequan Williams and Naquan Jones inside, that's a lot of beef. Joe Bachie and Andrew Dowell in the middle really get after it.
This presents problems for Oregon's versatile offense, but maybe it allows their overall balance to come to the forefront. If the run fails to materialize, Herbert is one of the top NFL quarterback prospects for a reason. On the ground, the Ducks still have some talent, with CJ Verdell's (questionable) 975 yards and ten touchdowns, along with a nice flair for catching balls. Also running the ball is Travis Dye, who had 721 yards, along with dangerous back/return-man Tony Brooks-James, who was a part of the last game these two teams played way back in 2015 when the Spartans beat the Ducks in Lansing, 31-28. I look for the run to at least help set up Herbert with his big cast of receivers, some big and some more of the speedster-type. Leading the way is Dillon Mitchell and his 1114 yards receiving.
The Superior Balance of Oregon
Before touting the Ducks, let's get it out of the way that they don't always show up. Especially away from home, we've seen it time and again, where they simply don't bring it. You'd like to think this wouldn't be one of those spots, but it's a team-problem. That said, there are things to like on both sides of the ball. The defense isn't great, but it won't have to be in this game against a pedestrian Michigan State offense. Spartans' QB Brian Lewerke should be back for this after his shoulder prevented him from playing QB in their last game. With less than 55% completions and a TD/INT ratio of 8/10, he was far from adequate, and his backup Rocky Lombardi was of no relief. Connor Heyward and his 520 yards on the ground lead the run-game, but their aerial production has been even worse. The duo of big-framed pass-catchers Cody White and Darrell Stewart, Jr. just haven't produced much.
The Ducks will counter a tepid Mich St. offense with a defense that wasn't that strong, frankly. Against the pass, they were exploitable, but against far more high-powered offenses than what they face in this game. Oregon's secondary might not be very rigid, but their playmaking ability with Thomas Graham, Ugo Amadi (2 TDs), Jevon Holland (4 INTs), and Deommondore Lenoir could wreak havoc on Lewerke and Michigan State. The Oregon run-defense isn't bad, and Troy Dye and Justin Hollins comprise a LB-duo that makes a lot of plays. I think Oregon's playmaking ability might be a more significant factor here than their weak pass-defense, something Michigan St. might not even bring to light.
On offense, I see Oregon's balance tipping the scale in their direction. It won't be dramatic, but I don't see a shutdown-showing from the Spartans' "D" in this spot. Meanwhile, the Michigan State offense isn't in a position of taking advantage of Oregon's Achilles heel on defense, which is against the pass, but they can't run the ball much, either. And if they could, that's a part of Oregon's defense that has been better lately.
Lay the Points on the Ducks
Beyond breaking down all the ins and outs of the game is the hard-to-escape notion that the Spartans just aren't very good. Good run-defense or not, to manage no touchdowns against Ohio State or especially Nebraska, leading into a dreadful win over Rutgers, who is probably the worst team in the Power 5, is so bad it's hard to overstate. Oregon has their own issues, as well. Both sides only covered four spreads this season, so let's not sugar-coat things. The Ducks don't always play with a ton of heart and can have points put up in abundance against their defense. I see them having enough; however, to hold off a Michigan State team that really sagged to the finish line of a tough season. I'll lay the points on Oregon.
Loot's Pick to Cover the Point Spread: I'm betting on the Oregon Ducks minus 3 points.