Stanford Cardinal vs. Oregon Ducks Spread Bet & Analysis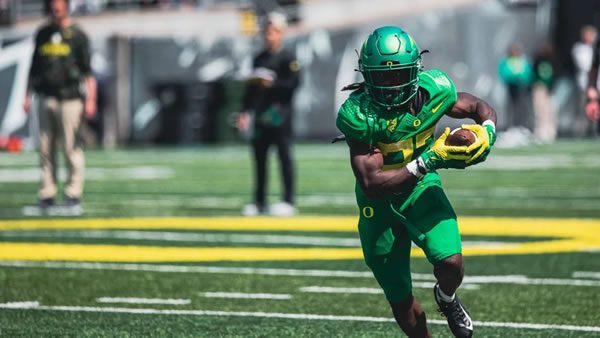 Stanford Cardinal (1-2 SU, 0-3 ATS) vs. Oregon Ducks (3-1 SU, 2-2 ATS)
College Football Week 5
Date and Time: Saturday, October 1, 2022 at 11PM EDT
Where: Autzen Stadium, Eugene, Oregon
TV: Fox Sports 1
Point Spread: STAN +16.5/ORE -16.5 (Bovada)
Over/Under Total: 62.5
The Stanford Cardinal take on the Oregon Ducks in Eugene in a Pac-12 battle on Saturday. Stanford returned to the field last week after a break and dropped a 40-22 game to the Huskies, losing their second straight conference game to start a season where they have yet to cover a spread. They now face a trip north to Eugene to take on a Ducks squad that has looked pretty good since losing their opener to Georgia. They are coming off a 44-41 shootout win over Washington State on the road and look to return home this week to keep their upward momentum going. Who can get it done at Autzen Stadium on Saturday?
Stanford: As Bad as it Looks?
It's early to say for sure, but it's a safe bet that this isn't one of those good Stanford teams we've seen under current head coach David Shaw. And they haven't been that good for a while. Most upsetting is what they've become on defense, which at this point is nothing special. They are especially leaky against the run, something we saw last week against Washington. Against the versatile and diverse Oregon run-game, this looks to be a possible problem area for the Cardinal this week, as well as those trying to cover the spread with the Cardinal.
The thing about this conference is that it has a funny way of flipping the script once you start to notice a pattern. You see Stanford scoring in the twenties in conference games, as their opponents score in the forties. Why would a road spot in Eugene yield different results? If anything, it should be more exaggerated, given the landscape of this battle. But then we're falling right into the fallacy in a way. Because whatever you think is going to happen, this conference has a way of making a joke out of that. And now that there's a big enough body of work to start forming opinions, that's usually when things start getting weird in the Pac-12.
One possible source for a Stanford upsurge that wouldn't have been easy to see coming is the Stanford offense. Tanner McKee has some experience and know-how in this offense. He might be starting to assemble a decent cast, though time will tell. Still, running back Casey Filkins was able to run for 100 yards last week, giving at least a hint that Stanford could get some good RB showings in coming weeks, something they've been without recently. Wide receiver Michael Wilson, an old hand in this Cardinal offense, went for 176 yards and two touchdowns. So we're at least starting to see some things, even if the corresponding results haven't been present. And with Oregon allowing some big numbers in the passing game to Washington State last week, maybe their cause isn't as hopeless as it seems.
More Picks: LSU at Auburn Week 5 game analysis and predicted spread winner
Why Oregon Might Be Too Much
First, they get this at home, which is doing Stanford no favors right off the top. Their performance against Washington State on the road last week could be a sneak preview of what's to come this week. Quarterback Bo Nix threw for 428 yards, with Troy Franklin continuing to get a lot of work aerially. On the ground, we see Mar'Keise Irving and Noah Whittington starting to get loose in the backfield. They have a deep cast of weapons to wield on a Stanford "D" that might be out of its element against the more-vital offenses they face this season. As we see the Ducks' offense finding more of a groove with each passing week, conference opponents might end up finding themselves in footraces where they can't keep up.
But again, this is the Pac-12, where things aren't always what they seem. While one could take a bleak outlook on Stanford this week and have ample ammo in which to do so, there are at least hints that this game could go a different way. We see Stanford starting to put up numbers, even if they're not seeing it manifest into scores as often as they'd like. Then we see Oregon allowing big numbers to the Washington St. offense, and maybe it wouldn't take the world to flip on its head in order for the Cardinal to find themselves in this game. But even if Oregon's defensive showing last week offers some hope to Stanford, it's still a defense that could draw some mistakes out of a Stanford offense that makes a lot of them. And how above their heads would the Stanford "D" need to play this week to give their offense enough room with which to work?
Take the Points
This doesn't solely come down to Stanford's 31-24 OT win over the Ducks last season, but seeing Tanner McKee have one of his best games of the season doesn't hurt. Neither does the fact that regardless of either team's station in life, it's not uncommon to see the Cardinal not only play over their heads against the Ducks but play way over their heads. This could follow the script dutifully, as a better Oregon team just romps at home against what is, for all purposes, a bottom-half conference team. But I see Stanford's scrappiness and a recent uptick in offensive potential being enough to keep Stanford in the picture so that they cover in Eugene. I'll take the Cardinal.
Loot's Pick to Cover the Point Spread: I'm betting on the Stanford Cardinal plus 16.5 points.