[et_pb_dcsbcm_divi_breadcrumbs_module hide_homebreadcrumb="off" homebreadcrumbtext="Home" separator="sep-raquo" hide_currentbreadcrumb="off" homebreadcrumborientation="left" _builder_version="3.8″ fontsbreadcrumbs_font="Lato||||||||" fontsbreadcrumbs_text_color="#000000″ fontsbreadcrumbs_font_size="15px" fontsbreadcrumbs_line_height="16px" fontsseperator_font="||||||||" fontsbreadcrumblinks_font="||||||||" fontsbreadcrumblinks_text_color="#2567cf" custom_margin="25px|||" custom_margin_phone="30px|||" custom_margin_last_edited="off|desktop" custom_css_main_element="font-family: Helvetica Regular;" disabled="on" global_module="3641″ saved_tabs="all"][/et_pb_dcsbcm_divi_breadcrumbs_module]
Syracuse Orange vs. Notre Dame Fighting Irish Pick ATS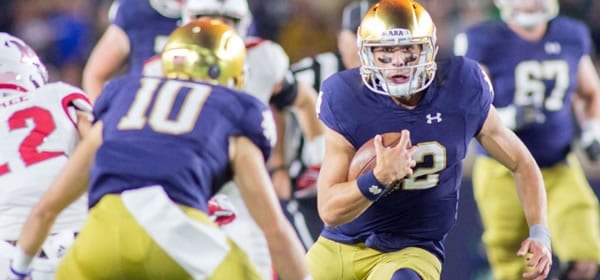 Syracuse Orange (8-2 SU, 7-2-1 ATS) vs. Notre Dame Fighting Irish (10-0 SU, 6-4 ATS)
Date/Time: Saturday, November 17th, 2:30 PM
Where: Yankee Stadium, Bronx, NY
TV: NBC
Point Spread: SYR +10 / ND -10
Over/Under Total: 61.5
Notre Dame and Syracuse meet at Yankee Stadium in this year's installment of the Shamrock Series. The Irish lead all time 5-3 against the Orange with wins in the last two games in 2014 and 2016 by at least 16 points in each.
Syracuse comes into the game riding a wave of momentum after beating up on Louisville this past weekend for what was their fourth win in a row. They now find themselves sitting in second place in the ACC Coastal division and with a record of 8-2 are ranked 12th in the polls. If they can end their season with wins against Notre Dame and Boston College they will put themselves in a definite position for a New Years Six Bowl game.
DUNGEY LEADING THE WAY
A significant driving force toward the Syracuse success is quarterback Eric Dungey. On the season the senior signal caller has thrown for fourteen touchdowns compared to five interceptions while rushing for an additional twelve scores. His success has had a direct correlation to that of his team, as they are 9-1 in his last ten starts when he throws for more touchdowns than interceptions in a game.
ORANGE RUN
Dungey is second on the team in rushing amongst in what is a crowded Orange backfield. Leading the way is junior Moe Neal, who has 716 yards rushing and five touchdowns on the season so far. He is joined by Dontae Strickland and Jarveon Howard, both of whom have scored six touchdowns apiece this year. The Syracuse passing attack ranks 36th in the country in yards per game and has many targets for Dungey to pick from. Jamal Curtis, Sean Riley, Nykeim Johnson, and Taj Harris are all viable options and will have their work cut out for them against Julian Love and a tough Notre Dame pass defense.
Missing Ian Book against Florida State due to injury did nothing to slow down the Irish offense against Florida State. Brandon Wimbush did well in his place, throwing for three touchdowns and leading the way to an early lead that proved insurmountable for the Seminoles. Ian Book is expected back this week against the Orange, and through the air is one area where the Irish may be able to find an advantage considering the Syracuse defense ranks 107th against the pass and 99th in total yards allowed.
INJURY RETURN
A big boost to the passing game was the return of Alize Mack, who was back after concussion issues and celebrated his return with two touchdowns against FSU. He combines with Chris Finke to form a two-pronged attack at tight end, and along with Myles Boykin and Chase Claypool provide Ian Book ample weapons to attack the weak Orange pass defense. Things are looking good for Boykin to continue his recent scoring streak, with touchdowns in his last six straight games and putting up eight total in that time span.
IRISH BACKFIELD
The Syracuse rush defense isn't significantly better than the pass game, ranking 70th in the country in yards allowed per game on the ground. This is welcome news for an Irish rushing attack that just put up a season-high 365 yards on the ground a week ago. The focal point of the backfield continues to be Dexter Williams, who has ten touchdowns on the season and has scored in five of six games played so far this year. He is far from alone, as they still have a change of pace backs Tony Jones Jr. and Jafar Armstrong backing him up and fully capable of spelling whenever Williams is off the field for rest.
THE FINAL DECISION
Notre Dame still finds themselves in the ideal position of just needing to win out to ensure a spot in the BCS Playoffs. Much has been made of the debate of what would happen if Alabama fell to Georgia in the SEC title game, and the fourth spot came down to Notre Dame or Michigan. However, that argument doesn't matter in the long run as Alabama has one of the best teams seen in recent years and has little to no chance of losing to the Bulldogs. While I do believe the Irish will get the win this week against Syracuse, I think the Orange with a double-digit head start is the one to back financially.
Mike's Pick to Cover the Point Spread: Syracuse +10. Get more betting opinions in our posting forum >>> Members Sports Picks
<div class="widget105"><!-- [et_pb_line_break_holder] --><h3>Top -105 Reduced Juice Sportsbook</h3><!-- [et_pb_line_break_holder] --><div class="widgetlist"><!-- [et_pb_line_break_holder] --> <div class="col1"><!-- [et_pb_line_break_holder] --> <img src="https://www.predictem.com/wp-content/uploads/2018/06/5Dimes-logo.png" width="150" alt="" /><!-- [et_pb_line_break_holder] --> </div><!-- [et_pb_line_break_holder] --> <div class="col2"><!-- [et_pb_line_break_holder] --> <div class="widget-center-col"><!-- [et_pb_line_break_holder] --> <span class="list">Easy Bet Cart</span><br><!-- [et_pb_line_break_holder] --> <span class="list">Quick Wagers</span><br><!-- [et_pb_line_break_holder] --> <span class="list">Top Bonuses</span><!-- [et_pb_line_break_holder] --> </div><!-- [et_pb_line_break_holder] -->  </div><!-- [et_pb_line_break_holder] -->  <div class="col3"><!-- [et_pb_line_break_holder] --> <button class="btn-widget" href="#">Review</button><!-- [et_pb_line_break_holder] --> </div><!-- [et_pb_line_break_holder] --></div><!-- [et_pb_line_break_holder] --> <!-- [et_pb_line_break_holder] --><div class="widgetlist"><!-- [et_pb_line_break_holder] --> <div class="col1"><!-- [et_pb_line_break_holder] --> <img src="https://www.predictem.com/wp-content/uploads/2018/06/mybookie-logo.png" width="150" alt="" /><!-- [et_pb_line_break_holder] --> </div><!-- [et_pb_line_break_holder] --> <div class="col2"><!-- [et_pb_line_break_holder] --> <div class="widget-center-col"><!-- [et_pb_line_break_holder] --> <span class="list">Easy Bet Cart</span><br><!-- [et_pb_line_break_holder] --> <span class="list">Quick Wagers</span><br><!-- [et_pb_line_break_holder] --> <span class="list">Top Bonuses</span><!-- [et_pb_line_break_holder] --> </div><!-- [et_pb_line_break_holder] -->  </div><!-- [et_pb_line_break_holder] -->  <div class="col3"><!-- [et_pb_line_break_holder] --> <button class="btn-widget" href="#">Review</button><!-- [et_pb_line_break_holder] --> </div><!-- [et_pb_line_break_holder] --></div><!-- [et_pb_line_break_holder] --><!-- [et_pb_line_break_holder] --><div class="widgetlist"><!-- [et_pb_line_break_holder] --> <div class="col1"><!-- [et_pb_line_break_holder] --> <img src="https://www.predictem.com/wp-content/uploads/2018/06/bovada-logo.png" width="150" alt="" /><!-- [et_pb_line_break_holder] --> </div><!-- [et_pb_line_break_holder] --> <div class="col2"><!-- [et_pb_line_break_holder] --> <div class="widget-center-col"><!-- [et_pb_line_break_holder] --> <span class="list">Easy Bet Cart</span><br><!-- [et_pb_line_break_holder] --> <span class="list">Quick Wagers</span><br><!-- [et_pb_line_break_holder] --> <span class="list">Top Bonuses</span><!-- [et_pb_line_break_holder] --> </div><!-- [et_pb_line_break_holder] -->  </div><!-- [et_pb_line_break_holder] -->  <div class="col3"><!-- [et_pb_line_break_holder] --> <button class="btn-widget" href="#">Review</button><!-- [et_pb_line_break_holder] --> </div><!-- [et_pb_line_break_holder] --></div><!-- [et_pb_line_break_holder] --><!-- [et_pb_line_break_holder] --><div class="widget-footer"><a href="#">See all sportsbook bonuses</a></div><!-- [et_pb_line_break_holder] --> <!-- [et_pb_line_break_holder] --></div>
<div style="width:340px; margin: 0 auto;"><!-- [et_pb_line_break_holder] --> <a class="twitter-timeline" data-width="340" data-height="500" data-link-color="#008156" href="https://twitter.com/PredictemPicks?ref_src=twsrc%5Etfw">Tweets by PredictemPicks</a> <script async src="https://platform.twitter.com/widgets.js" charset="utf-8"></script><!-- [et_pb_line_break_holder] --></div>