Thursday AAC: Temple vs. UCF Pick ATS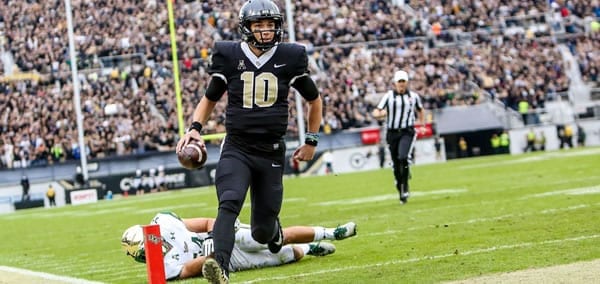 Temple Owls (5-3 SU, 6-2 ATS) vs. No. 9 UCF Knights (7-0 SU, 5-2 ATS)
NCAA Football Week 10
Date/Time: Thursday November 1st, 2018. 7:30PM (EST)
Where: Spectrum Stadium Orlando, F.L.
TV: ESPN
Point Spread:TEM +10.5/UCF -10.5
Over/Under Total: 60
On Thursday, the no. 9 UCF Knights will try to keep their name in the debate for the College Football Playoffs when they host the Temple Owls at Spectrum Stadium. Despite being unbeaten and in the midst of the nation's longest winning streak (20 games), UCF will likely not make the playoffs even if they run the table for the 2nd season in a row thanks to perception around their inferior schedule. However, rest assured UCF will "proclaim" another National Championship if that situation unfolds. In order to keep the debate alive for the immediate future, UCF has to deal with the Temple Owls this week who come in on the heels of an upset victory over no. 20 Cincinnati.
The Owls have been playing solid football over the last several weeks and remain unbeaten in the conference despite a 5-3 SU record. In fact, the winner of this Thursday's showdown between UCF and Temple will decide who has total control of the American Athletic East Division. The Owls have won 5 of their last 6 games and are poised to make a run at another upset bid this week especially if their defense continues to play at a high level. Currently, the Temple defense ranks 30th in the FBS and has not given up more than 17 points in 5 of their last 6 games. If they can put together another similar performance similar to those defensive numbers, they may give UCF fans a scare.
CLICK HERE
to get a huge 100% deposit bonus up to $500 FREE!
UCF Injury Update: QB McKenzie Milton
One of the biggest action items to watch throughout the week is the status of UCF starting quarterback McKenzie Milton. As of Monday, Milton was listed as a game-time decision by first-year Head Coach Josh Heupel due to an undisclosed ankle injury. McKenzie carried a similar injury tag in the days before the East Carolina game and was later held out of the contest. Luckily, the Knights were able to handle East Carolina easily despite just 69 passing yards from backup quarterback freshman Darriel Mack. However in this more equally anticipated showdown with Temple, Milton's availability will be critical. If Temple's defense is allowed to stack the box without any threat of passing attack, the Owls odds of pulling the upset increase exponentially.
Key to the game - Turnovers
Despite McKenzie's unknown availability, the Knights still have a dynamic rushing attack that has averaged a whopping 261 yards per game on the ground. While the Knights' have a running back by committee approach between the likes of Adrian Killins Jr, Greg McCrae, and Taj McGowan make up their rushing success, Temple has a more traditional rushing attack focused around running back Ryquell Armstead. Both defenses will put the bulk of their focus towards stopping the run and dare the opposing offense to beat them through the air.
Because each defense will have a favorable match-up, I believe turnovers will play a huge factor in this game. Both Temple and UCF have been excellent towards forcing turnovers this season. UCF currently ranks 8th in the FBS with 18 forced turnovers on the season and Temple is not far behind with 15 forced turnovers (26th in FBS). Therefore, any short yardage situations that can be offered up by the defense stemming from a few turnovers could easily move the needle in deciding who wins or covers the spread this week. Temple's offense has been more suspect to giving up turnovers this year as Owls' quarterbacks have contributed to 14 interceptions this year. Therefore, this may be an area of concern for the Owls especially if they get into desperate passing situations playing from behind.
Temple vs. UCF Betting Trends
Temple is 5-0 ATS in their last 5 games and also 5-0 in their last 5 games on the road. Meanwhile, UCF is 4-1 ATS in their last 5 games and 4-1 ATS in their last 5 games at home. As double-digit favorites, the Knights are also 4-1 ATS in their last 5 games. In terms of meetings with Temple, UCF has covered the mark in 3 of the last 4 meetings.
Jay's Pick to Cover the Point Spread: I was already leaning towards Temple before the injury update with McKenzie. If McKenzie is unable to go, Temple's chances of winning outright are within reach. Even if McKenzie plays, Temple's match-up still has some upside because this game is likely to be highly contested which puts considerable value in taking the points! Take Temple +10.5 and get tht down at a sportsbook that offers reduced juice sports betting for a lower risk to reward.
<div class="widget105"><!-- [et_pb_line_break_holder] --><h4 class="parlays">Best Sportsbooks for Parlays</h4><!-- [et_pb_line_break_holder] --><!-- [et_pb_line_break_holder] --><table id="parlay"><!-- [et_pb_line_break_holder] --> <tr><!-- [et_pb_line_break_holder] --> <th><span class="team"></span></th><!-- [et_pb_line_break_holder] --> <th>2 Team Parlay</th><!-- [et_pb_line_break_holder] --> <th>3 Team Parlay</th><!-- [et_pb_line_break_holder] --> <th>4 Team Parlay</th><!-- [et_pb_line_break_holder] --> </tr><!-- [et_pb_line_break_holder] --> <tr><!-- [et_pb_line_break_holder] --> <td><a href="https://www.predictem.com/out/SportbetP"><img src="https://www.predictem.com/wp-content/uploads/2018/06/sportbet-sm.png"></a></td><!-- [et_pb_line_break_holder] --> <td>2.74 to 1</td><!-- [et_pb_line_break_holder] --> <td>6.24 to 1</td><!-- [et_pb_line_break_holder] --> <td>13 to 1</td><!-- [et_pb_line_break_holder] --> </tr><!-- [et_pb_line_break_holder] --> <tr><!-- [et_pb_line_break_holder] --> <td><a href="https://www.predictem.com/out/BovadaP"><img src="https://www.predictem.com/wp-content/uploads/2018/06/bovada_sm.png"></a></td><!-- [et_pb_line_break_holder] --> <td>2.64 to 1</td><!-- [et_pb_line_break_holder] --> <td>6 to 1</td><!-- [et_pb_line_break_holder] --> <td>12.3 to 1</td><!-- [et_pb_line_break_holder] --> </tr><!-- [et_pb_line_break_holder] --> <tr><!-- [et_pb_line_break_holder] --> <td><a href="https://www.predictem.com/out/MybookieP"><img src="https://www.predictem.com/wp-content/uploads/2018/06/mybookie-sm.png"></a></td><!-- [et_pb_line_break_holder] --> <td>2.64 to 1</td><!-- [et_pb_line_break_holder] --> <td>6 to 1</td><!-- [et_pb_line_break_holder] --> <td>12 to 1</td><!-- [et_pb_line_break_holder] --> </tr><!-- [et_pb_line_break_holder] --></table><!-- [et_pb_line_break_holder] --><div class="widget-footer"><a href="https://www.predictem.com/best-sportsbooks/parlays-odds/">See all Sportsbook Parlays</a></div><!-- [et_pb_line_break_holder] --></div><!-- [et_pb_line_break_holder] --><!-- [et_pb_line_break_holder] --><!-- [et_pb_line_break_holder] --><style><!-- [et_pb_line_break_holder] --> #parlay {border-collapse: collapse;<!-- [et_pb_line_break_holder] --> width: 100%; border: 0px;<!-- [et_pb_line_break_holder] --> font-size: 14px!important;}<!-- [et_pb_line_break_holder] --> #parlay td, #parlay th {<!-- [et_pb_line_break_holder] --> border: 0px;<!-- [et_pb_line_break_holder] --> padding: 8px;<!-- [et_pb_line_break_holder] --> text-align: left;}<!-- [et_pb_line_break_holder] --> #parlay th {<!-- [et_pb_line_break_holder] --> padding-top: 5px;<!-- [et_pb_line_break_holder] --> padding-bottom: 5px;<!-- [et_pb_line_break_holder] --> font-weight: bold;<!-- [et_pb_line_break_holder] --> line-height: 14px;<!-- [et_pb_line_break_holder] --> text-align: center;<!-- [et_pb_line_break_holder] --> color: #000;}<!-- [et_pb_line_break_holder] --> #parlay tr {border-bottom: 1px solid #edeef0;}<!-- [et_pb_line_break_holder] --> .team {font-size: 16px;}<!-- [et_pb_line_break_holder] --></style>
<aside><a href="https://www.docsports.com/picks/82945/free-sports-picks-predictions.html" target="_blank" rel="nofollow"><img src="https://www.predictem.com/images/300-250-docs-john-mackovich.jpg" alt="Free Picks From John Mackovich"></a></aside><!-- [et_pb_line_break_holder] -->