[et_pb_dcsbcm_divi_breadcrumbs_module hide_homebreadcrumb="off" homebreadcrumbtext="Home" separator="sep-raquo" hide_currentbreadcrumb="off" homebreadcrumborientation="left" _builder_version="3.8″ fontsbreadcrumbs_font="Lato||||||||" fontsbreadcrumbs_text_color="#000000″ fontsbreadcrumbs_font_size="15px" fontsbreadcrumbs_line_height="16px" fontsseperator_font="||||||||" fontsbreadcrumblinks_font="||||||||" fontsbreadcrumblinks_text_color="#2567cf" custom_margin="25px|||" custom_margin_phone="30px|||" custom_margin_last_edited="off|desktop" custom_css_main_element="font-family: Helvetica Regular;" global_module="3641″ saved_tabs="all"][/et_pb_dcsbcm_divi_breadcrumbs_module]
Tennessee Volunteers vs. West Virginia Mountaineers Week 1 Pick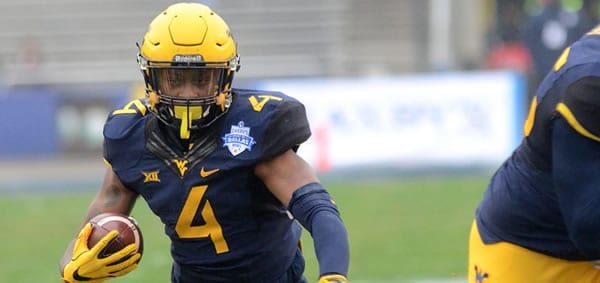 Tennessee Volunteers (2017 4-8 SU, 3-9 ATS) vs. No. 17 West Virginia Mountaineers (2017 7-6 SU, 6-7 ATS)
College Football Week 1
Date/Time: Saturday September 1st, 2018. 3:30PM (EST)
Where: Bank of America Stadium Charlotte, N.C.
TV: CBS
Point Spread: TENN +10/WVU -10
Over/Under Total: 61.5
The Tennessee Volunteers will kick off the Jeremy Pruitt era when they travel down to Charlotte to meet the no. 17 West Virginia Mountaineers at Bank of America Stadium in the season opener. The Volunteers finally kicked former Head Coach Butch Jones to the curb after years of mediocrity following by a collapse in 2017 that led to a 4-8 record. As new Head Coach, Jeremy Pruitt looks to rebuild the former SEC tyrant, the Volunteers will get their first taste of action against a West Virginia team that is overflowing with talent and the potential to shake things up in the Big 12 this season.
For the Mountaineers, they have an experienced group of starters returning on the offensive side of the ball that promises to provide some fireworks in Morgantown. The talent level is arguably the highest it has been since Head Coach Dana Holgorsen's debut season back in 2011. As a result, the Mountaineers have high expectations, and some believe they could make a run at the Big 12 Championship. The challenge in the imminent future will be managing a few solid early season test away from home starting with the Volunteers on the neutral terrain in Charlotte.
Reasons to bet West Virginia -10
The Mountaineers offenses is absolutely loaded, and it is going to post big numbers from the first snap of the football. Senior quarterback Will Grier returns healthy after an impressive junior campaign where he threw for 3,490 yards with 34 touchdowns and 12 picks in just 11 games. Along with Grier, the Mountaineers have two enormous receiving targets returning with Gary Jennings and All-American David Sills. Last year, Sills led the nation with 18 touchdown receptions, and Jennings posted team highs with 97 catches totaling 1,096 yards. With all 3 standouts returning, the trio is started to get some of the remembrances of Geno Smith, Tavon Austin, and Stedman Bailey who helped lead the Mountaineers to an Orange Bowl victory back in 2011.
Last year, West Virginia tallied 460 yards of total offense and produced over 35 points per game. The only loss the offense suffered was starting tailback Justin Crawford who arguably has a better replacement filling the void by way of junior Kennedy McCoy. As long as the offensive line holds up, this offense will have every opportunity to expand on those numbers from a season ago. Furthermore, consider the fact that Tennessee's defense has been a weak point for the program for years now, it does not provide promising hope for the Volunteers. For an opening game, this has disaster written all over it for Tennessee because they are going to need time to develop their talent and learn Pruitt's systems.
San Diego St vs Stanford Week 1 Selection
The Cupboard is Bare
Every year Tennessee has inflated expectations, and I believe that is the case again without any justification. Tennessee's biggest hopes are that they have a new coach/new attitude, they have some returning starters with experience, and potentially have a match-up against a questionable West Virginia defense. However, the harsh reality comes down to talent. Tennessee's football program has been depleted with talent over the last few years, and Butch Jones did not leave much room for hope with his departure. The quarterback position is still a battle between Jarrett Guarantano and transfer Keller Chryst. Not only is neither quarterback great but the entire offense lacks playmakers. Until a proven guy steps up, there is no way I believe that the Volunteers defense will keep them in this game. It's simply too much to hope for if you are a Tennessee fan.
Jay's Pick to Cover the Point Spread: West Virginia -10 at as my biggest play for the opening week of the season. Editors Note: If you're looking for a legit betting site to make large wagers on college or NFL football check out BetOnline who offers 2nd Half wagers up to $10,000! New players can also receive a deposit bonus up to $2500!
<div class="widget105"><!-- [et_pb_line_break_holder] --><h4 class="parlays">Best Parlays</h4><!-- [et_pb_line_break_holder] --><!-- [et_pb_line_break_holder] --><table id="parlay"><!-- [et_pb_line_break_holder] --> <tr><!-- [et_pb_line_break_holder] --> <th><span class="team"></span></th><!-- [et_pb_line_break_holder] --> <th>2 Team Parlay</th><!-- [et_pb_line_break_holder] --> <th>3 Team Parlay</th><!-- [et_pb_line_break_holder] --> <th>4 Team Parlay</th><!-- [et_pb_line_break_holder] --> </tr><!-- [et_pb_line_break_holder] --> <tr><!-- [et_pb_line_break_holder] --> <td><a href="https://affiliates.sportbet.com/tracking/Affiliate.aspx?idBook=2&mediaTypeID=220&AffUrlID=80&LandingPageID=55"><img src="https://www.predictem.com/wp-content/uploads/2018/06/sportbet-sm.png"></a></td><!-- [et_pb_line_break_holder] --> <td>2.74 to 1</td><!-- [et_pb_line_break_holder] --> <td>6.24 to 1</td><!-- [et_pb_line_break_holder] --> <td>13 to 1</td><!-- [et_pb_line_break_holder] --> </tr><!-- [et_pb_line_break_holder] --> <tr><!-- [et_pb_line_break_holder] --> <td><a href="https://record.bettingpartners.com/_5vfuDOH_H2wWPf2JTsWUjGNd7ZgqdRLk/1/"><img src="https://www.predictem.com/wp-content/uploads/2018/06/bovada_sm.png"></a></td><!-- [et_pb_line_break_holder] --> <td>2.64 to 1</td><!-- [et_pb_line_break_holder] --> <td>6 to 1</td><!-- [et_pb_line_break_holder] --> <td>12.3 to 1</td><!-- [et_pb_line_break_holder] --> </tr><!-- [et_pb_line_break_holder] --> <tr><!-- [et_pb_line_break_holder] --> <td><a href="https://record.webpartners.co/_jGZUKO3JWgwmunhzcKAZ62Nd7ZgqdRLk/1/"><img src="https://www.predictem.com/wp-content/uploads/2018/06/mybookie-sm.png"></a></td><!-- [et_pb_line_break_holder] --> <td>2.64 to 1</td><!-- [et_pb_line_break_holder] --> <td>6 to 1</td><!-- [et_pb_line_break_holder] --> <td>12 to 1</td><!-- [et_pb_line_break_holder] --> </tr><!-- [et_pb_line_break_holder] --></table><!-- [et_pb_line_break_holder] --><div class="widget-footer"><a href="https://www.predictem.com/best-sportsbooks/parlays-odds/">See all Sportsbook Parlays</a></div><!-- [et_pb_line_break_holder] --></div><!-- [et_pb_line_break_holder] --><!-- [et_pb_line_break_holder] --><!-- [et_pb_line_break_holder] --><style><!-- [et_pb_line_break_holder] --> #parlay {border-collapse: collapse;<!-- [et_pb_line_break_holder] --> width: 100%; border: 0px;<!-- [et_pb_line_break_holder] --> font-size: 14px!important;}<!-- [et_pb_line_break_holder] --> #parlay td, #parlay th {<!-- [et_pb_line_break_holder] --> border: 0px;<!-- [et_pb_line_break_holder] --> padding: 8px;<!-- [et_pb_line_break_holder] --> text-align: left;}<!-- [et_pb_line_break_holder] --> #parlay th {<!-- [et_pb_line_break_holder] --> padding-top: 5px;<!-- [et_pb_line_break_holder] --> padding-bottom: 5px;<!-- [et_pb_line_break_holder] --> font-weight: bold;<!-- [et_pb_line_break_holder] --> line-height: 14px;<!-- [et_pb_line_break_holder] --> text-align: center;<!-- [et_pb_line_break_holder] --> color: #000;}<!-- [et_pb_line_break_holder] --> #parlay tr {border-bottom: 1px solid #edeef0;}<!-- [et_pb_line_break_holder] --> .team {font-size: 16px;}<!-- [et_pb_line_break_holder] --></style>
<div style="width:340px; margin: 0 auto;"><!-- [et_pb_line_break_holder] --> <a class="twitter-timeline" data-width="340" data-height="500" data-link-color="#008156" href="https://twitter.com/PredictemPicks?ref_src=twsrc%5Etfw">Tweets by PredictemPicks</a> <script async src="https://platform.twitter.com/widgets.js" charset="utf-8"></script><!-- [et_pb_line_break_holder] --></div>