Texas Longhorns Season Wins O/U Pick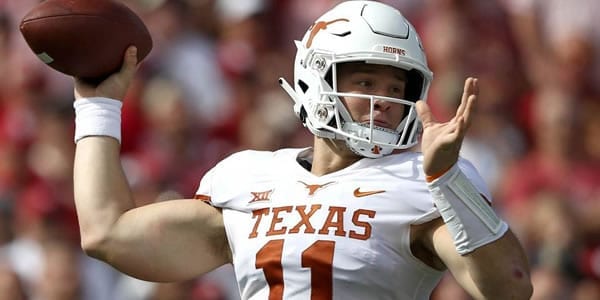 From 2001 to 2009 Texas had a nine-year streak of double-digit wins but then experienced a run of good but not great seasons, ending with a three-year stretch that saw them go under. 500 in each and led to the removal of Charlie Strong as head coach in 2016. In came Tom Herman, who in his second year as the Longhorns coach last season led them to a 10-4 record that included wins against Oklahoma in the Red River Rivalry and than ending things with a 28-21 upset win over Georgia in the Sugar Bowl as a twelve-point underdog.
A big reason for their success was the ability to win games against ranked teams, as they went 5-2 versus such opponents after going just 1-4 in the same situation in the previous season. This year Herman faces a test with a total of only eight starters returning combined on both sides of the ball, but with a strong recruiting class and plenty of talent throughout the roster, they should still find themselves in contention for what would be their first Big 12 Championship since 2009.
EHLINGER FOR HEISMAN
The biggest reason for Texas title hopes is at the quarterback position, with junior Sam Ehlinger one of the best in the country. Last season he threw for 3,292 yards while posting a 25/5 touchdown-to-interception ratio and also rushing for 16 additional scores. Even with Jalen Hurts transferring to Oklahoma, Ehlinger is expected by many to be the conferences' best quarterback, and with two of his top three receivers back from 2018, he will have a golden opportunity to not only improve on his stats but also set himself up in position for a first-round selection in next year's NFL Draft.
WEAPONS AT RECEIVER
Gone from last season is Lil' Jordan Humphrey and his 1176 yards receiving, but plenty of talent is still available at Ehlinger's disposal. Seniors Collin Johnson and Devin Duvernay both return this season after Johnson posted 985 yards and seven touchdowns while Duvernay had 546 yards and four scores. Johnson is projected to be one of the conferences' best at the position, and with Humphrey gone has the opportunity to really make a name for himself and much like Ehlinger, improve on his future draft stock.
BACKFIELD AND O-LINE
When your quarterback rushes for 16 touchdowns, it doesn't leave a lot of scoring production for the backfield. No running back had more than three rushing touchdowns in 2018, but with Tre Watson gone it opens up the door for sophomore Keontay Ingram to not only get in the endzone more but also try and become just the second Texas running back since 2007 to eclipse the 1000 yard mark in a season. The offensive line in front of him took a hit in the offseason with the departure of three starters, but thankfully for Ingram, Ehlinger and the rest of the team the two remaining players are a pair of the conferences' best at their position with seniors Zach Shackelford and Parker Braun both back for their final year.
NEW FACES TO BEGIN
Texas returns only three starters to their defense and expects to have six of their eleven to begin the game on the field to be either a freshman or sophomore. The backfield features a strong tandem at safety in sophomore Caden Sterns, the team leader in interceptions a season ago, and Brandon Jones, the top returning tackler on the team. In the middle are Joseph Ossai and Jeffrey McCulloch, while the front line features Malcolm Roach and Keondre Coburn. With Brandon Jones the only player back to finish the year in their top five in tackles, there is plenty of production to be made up amongst the bevy of new starters. A couple of tough tests await them in the first half of the season, so how quickly the newcomers get acclimated will go a long way in determining how successful Texas can be in 2019.
$100% Cash up to $500

SCHEDULE BREAKDOWN
The Longhorns benefit from a schedule that contains only four true road games, including their only difficult non-conference matchup when LSU comes to Austin in week two. The guaranteed two wins against Louisiana Tech and Rice are a welcome sign for a team that has gone just 10-13 in the past six years against non-Big 12 teams, but their early-season matchup against an LSU squad that returns twice as many starters (16) than Texas promises to be a difficult one. Oddsmakers agree as the Tigers are currently listed as a three-point favorite.
Within the Big 12, the Longhorns face a difficult situation as well. The top four teams in the conference, not including them (Oklahoma, Iowa State, TCU and Baylor), Texas will need to travel to face all of them. They have done well of late against Iowa State (7-0), and Baylor (4-0), but have struggled against TCU (1-4) and Texas (3-7). One area they will definitely need to improve on is winning the games they are supposed to, as four of their past five losses came as a favorite, two of which were by double-digits Maryland to begin the last two seasons.
Texas Team Wins Over/Under Prediction
The over/under for Texas wins this season is set at 9.5, and unlike in previous articles for Clemson and Oklahoma, it was not an easy decision on which way to bet with this Longhorns team. They are already set to be underdogs in two games (LSU and Oklahoma), though despite the road matchups will likely end up being favored against Iowa State, Baylor, and TCU and will be at least expected to win by double-digits in the remaining seven games. If things go as anticipated against LSU and Oklahoma, the 9.5 wins will leave them needing to run the table the rest of the way. All hope is certainly not lost against the Sooners and Tigers though, as three of their wins against Oklahoma in recent years have been as an underdog (+7, +12, and +16 points), and the fact they get the Tigers at home and the line is only a field goal certainly shows they have a decent chance of pulling the upset in that as well. With Tom Herman injecting promise into the program and Ehlinger leading the way at quarterback, I will be taking Texas to exceed their total of 9.5.
PICK: OVER 9.5 WINS
Get against the spread predictions from our team of experts each week throughout the season and best of all they're always free!